Percy Shakespeare (1906 – 1943) is Dudley's most notable artist. His paintings – many of which belong to Dudley Museum – depict Black Country life in the 1930s and 40s, seemingly portraying a social history of the region. His paintings also reflect the influence of Art Deco and he exhibited portraits at the Royal Academy and Paris Salon on numerous occasions. Surely this artist, who was so highly regarded during his lifetime, is deserving of wider recognition? It's a question I have been asking myself for some time. So, I started to do some research…and not just because Percy Shakespeare is about as good a name as I have ever heard!
Early life
Percy Shakespeare was born and brought up in council housing (Wikipedia refers to it as 'slums'!) in the Kate's Hill and Wren's Nest areas of Dudley. It was in 1920, after a chance meeting at the Dudley Museum and Art Gallery with Ivo Shaw, the principal of Dudley Art School, that he was offered a place at the school where his fees were waived for his eight years attendance. Here he showed a real talent for figure drawing and portraits. He then attended Birmingham School of Art, where he excelled in anatomical drawing under Harold Holden from 1923 to 1927. After qualifying as a teacher, he taught in Birmingham and Kidderminster.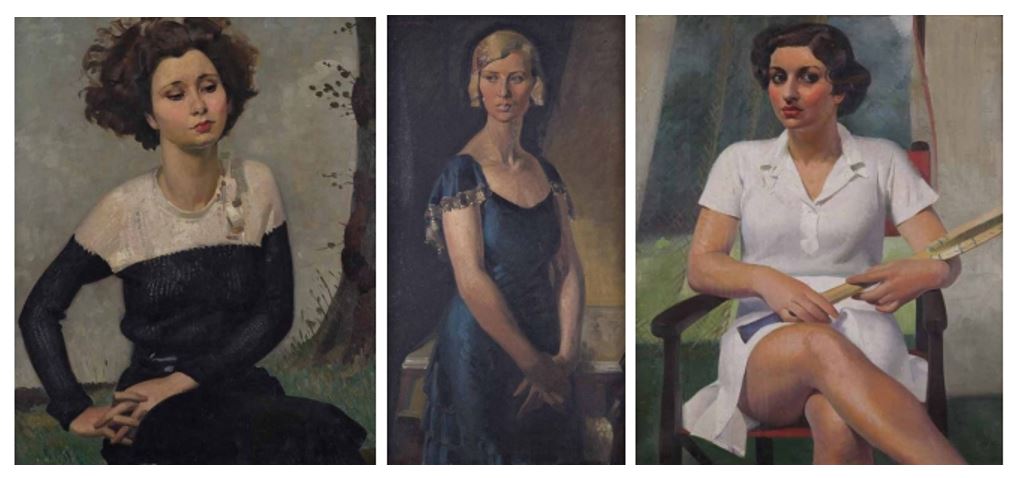 Percy's portrait paintings
Percy's portrait paintings are defined by a distinctive style: carefully organised, flatly painted compositions executed in oils, show great attention to detail and his skill as a draughtsman. Some are almost caricature-like, with an emphasis on the silhouette of the female form. Many of these, including 'A Mulatto', were exhibited at the Royal Academy between 1933 and the early 1940s. He also exhibited at the Paris Salon and the Royal Birmingham Society of Artists, of which he was elected an associate in 1936.
An Art Deco influence
The influence of Art Deco's elegant style is evident in Percy's portraits. Many of the works echo, for example, the designs of artist Romain de Tirtoff, aka Erté. Between 1915 and 1937, Erté designed more than two hundred magazine covers for publications such as Harper's Bazaar. His cover illustrations featured female figures with short, bobbed hair in the flapper style, with beautifully outstretched hands and arms, and poised model-like. There is a similar elegance and poise to the women of Percy Shakespeare's portraits, who appear stylish and romanticised, with delicate features and skin tones.
Life and leisure in the Black Country
Other larger paintings depict Dudley residents enjoying life in various leisure scenes: at the ice rink, boating, visiting the tropical bird house and Dudley zoo, or enjoying an evening in the music hall. As with his portrait paintings, there is an evocative and sensitive use of light in these artworks, creating an inviting atmosphere.
The question for me is whether these offer a social history of the 1930s & 40s in Dudley, reflecting everyday life, or whether they idealise suburban Britain during a difficult time? For example, he makes no mention of the Great Depression of the 1930s or the impending War.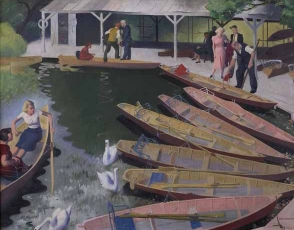 Neo-Romanticism
Perhaps Percy's paintings could be understood within the context of Neo-Romanticism….
During the late 1930s and 40s artists across Europe were responding to the rise of Fascism and to the outbreak of World War Two. While many British artists depicted scenes of pessimism, others used the canvas to create imagery of a utopian ideal. This new style is described as Neo-Romanticism.
Neo-Romantic artists embodied a desire to return to a more truthful representation of nature and traditional values (artists re-discovered their Romantic predecessors). For example, Victor Pasmore, Stanley Spencer and John Aldridge painted scenes that had remained intact, focusing on picturesque everyday life in rural Britain, idyllic countryside scenes and celebrating the 'essentially' English landscape.
In 1940 the government also launched an official scheme, entitled 'Recording Britain', employing talented young artists to depict the changing face of the villages across the country. What was produced was a veneration of the romantic past and an idealistic sense of the British landscape. This arcadian simplicity was paired with a yearning for beauty and innocence. Artists included Michael Ayrton, Paul Nash, John Piper and Graham Sutherland, amongst numerous others.
Percy's paintings could be understood in this context: his richly painted pictures have an idealistic, poetic quality. They celebrate traditional life and values. For example, in his detailed canvas of Dudley zoo, he portrays a traditional day out for the family, in bright, vibrant colours. Other scenes show young, well-dressed couples playing tennis at the country club, or basking in the sunshine in wooden boats on a lake. There is an almost dream-like quality to these paintings, which seem to show a belief in art's ability to change the world.
A life and talent cut short
Sadly, when World War II broke out in 1939, Percy enlisted in the Royal Navy. Aged just 37, he was killed during an air raid in Brighton. Given the quality of Percy's paintings, it's a shame that he is not included in art historical conversations about portraiture in the 1930s and 40s, Neo-Romanticism, and Art Deco's impact upon the fine arts. What he has left behind is a good number of artworks, now held by Dudley Council's archive, which need some more attention.
PhD on Percy Shakespeare anyone?