Why I'm digging Digbeth
My first experience of Digbeth was one I won't easily forget. 'The performance is about to start', a bearded curator told the group, ushering us into a darkened room. I spent the next 15 minutes watching grown men in black gimp suits emerging from green gunk, all the while sipping my wine and wondering what I was going to write about this for the review I had been asked for. Just a five-minute walk from the Bullring's consortium of chain restaurants and high-street shops, Digbeth is one of the main creative centres in the city. Embracing its industrial and cultural history, it's still more shabby than chic, but that's exactly its charm. It's a little like London's Shoreditch meets the unconventional arts scene of Berlin. From uber cool contemporary art events to the Digbeth Dining club, it's a changing space for the creatives (and hipsters) of Birmingham to come together.
Art
Alongside its impressive street art, Digbeth hosts some fantastic contemporary art spaces, and recent Arts Council investment has seen an increased programme of exhibitions, events and talks.
Eastside Projects is where I saw the gimp-suited performers: imagined and organised by artists, it commissions and presents (very) experimental contemporary art exhibitions. Eastside Projects is currently partnering with Birmingham Big Art Project on 'Public Art Thinking', to explore how artists and property developers can work together to create unique urban spaces as Birmingham develops, placing the city firmly on the world's cultural stage. On 22 November a public symposium is taking place in Birmingham, where you can join in with the conversation.
Inside the converted warehouses of Minerva Works you can find a unique cluster of artist-led initiatives, exhibition spaces, art shops, studios and more. Vivid Projects is a collaborative space supporting practice across the arts and media; Stryx is an artist led studio, project and exhibition space; Grand Union works with artists, curators and writers, placing an emphasis on commissioning new art, supporting career development and encouraging experimentation. Organised by the Polish Expats Association (PEA), Centrala Space presents art from Central, Eastern Europe and the UK, and its arty café often hosts live music.
A short walk away, BOM (Birmingham Open Media) is forging a new model of radical practice at the intersection of art, technology and science with measurable social impact. BOM connect world-class practitioners with activist research and communities through an astonishing programme of events, debates and exhibitions that will really make you think.
The best time to see these galleries is during Digbeth First Friday. Taking place on the first Friday of the month, it includes exhibitions, late-night openings, special events, culture, live music, and street food, which leads me on to…
Digbeth Dining Club at Spotlight
This award-winning street food event takes place every Friday and Saturday from 4pm until late. Set beneath Digbeth's many Victorian brick arches which surround Spotlight Bar, it acts as a bridge between post work drinking and night time revelry. Live music and a DJ adds to the atmosphere. Much of the street food is locally sourced and cooked fresh in front of diners. From the Meat Shack's stacked burgers to Street Souvlaki and Habaneros's Mexican street food, vendors change weekly, always allowing you to try something new. You can check out the enticing menu here.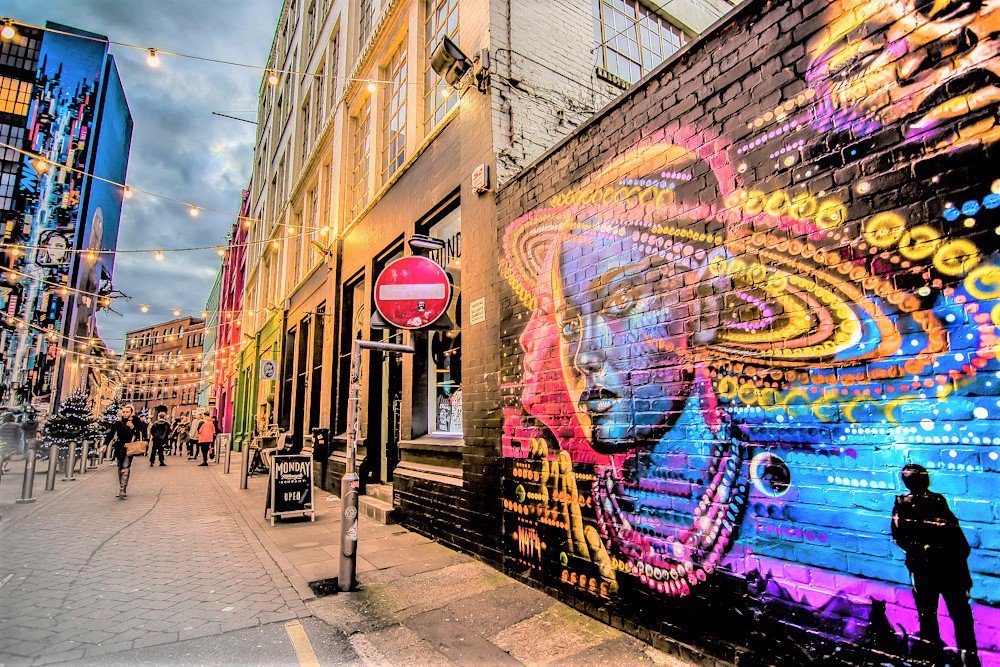 Weekend fairs & festivals
Almost every weekend the Custard Factory hosts fairs, festivals and markets with stalls, live music and entertainment. You can 'experience some of the cheesiest cheeses in the world' at Cheesefest, buy handmade Christmas gifts at the Etsy and Bert & Gert's Craft market or join fellow Jedi at a Star Wars party at the Mockingbird cinema. Starting this weekend, a co-operative of local artists, designers and makers are showcasing and selling their art at Digbeth Arts Market.
Café culture
There are an increasing number of independent cafés openings in Digbeth. Kanteen serves up street food, hotboxes and brunches overlooking the Custard Factory's brightly painted facades and fountains. More established is the café/bar Fazeley Social, which belongs to Fazeley Studios, where you can find a restored 1890s chapel decked out with sumptuous sofas and Pre-Raphaelite art in its archways.
If that's not enough reason to explore Digbeth, you can also join a Peaky Blinders walking tour, party in the renovated warehouses at The Rainbow or down a pint at Birmingham's oldest pub, the Old Crown.
Let me know what you love about Digbeth on Twitter @ruth_millington and make sure you download the Birmingham art map here