Blue/Orange is a play which centres around the themes of mental health and race. It premiered at the National Theatre nearly two decades ago, in 2000. I wondered if it would still feel relevant, or out-of-date, today. Here's my review of Blue Orange at Birmingham REP.
Two sides to the story
The play casts just 3 characters. The setting is a psychiatric hospital in London.
Senior consultant Robert is played by Richard Lintern (you may have seen him investigating forensic cases in Silent Witness).
Bruce, played by Thomas Coombes, is the hospital's junior specialist.
The third character is their patient, Christopher, played by Ivan Oyik.
Christopher has been sectioned and admitted to the psychiatric hospital. As his doctor and senior consultant debate the cause of his psychosis, he makes the startling revelation that he's the son of Ugandan dictator, Idi Amin.
The two specialists are divided in their diagnosis and fiercely defend their opposing positions. Their power struggle escalates into an exchange over racism, ideology, prejudice and egotism. With each new revelation, all three find their layers are peeled back to reveal increasingly uncomfortable truths within themselves.
At the centre of their debate, and the stage, is a bowl of oranges. Christopher thinks they're blue.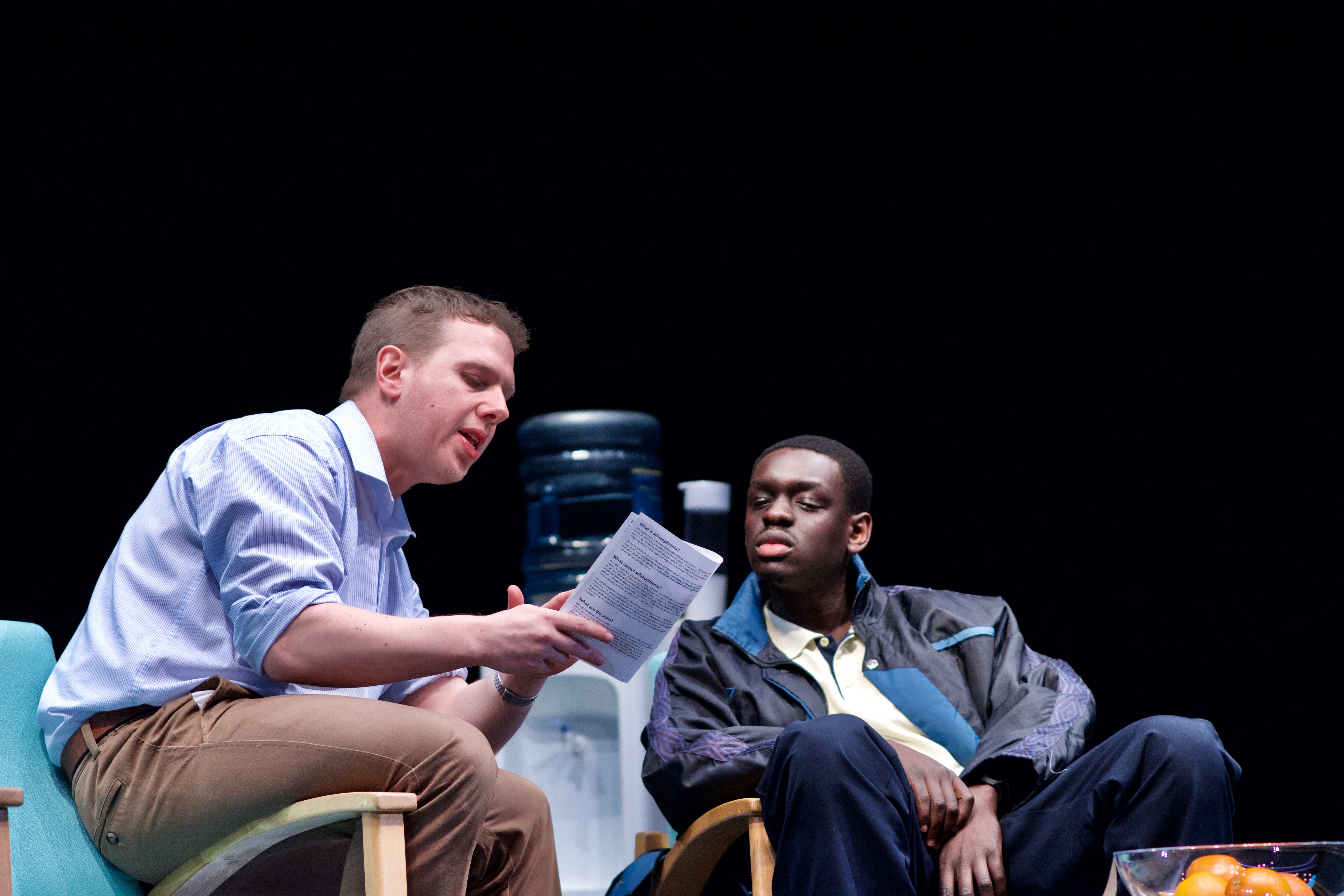 Mental health & racism in modern Britain 
Mental health continues to rise up on the political agenda. As does racism. Written 20 years ago, language has moved on. At times, you feel that the play is dated and a little clunky. But as Director Daniel Bailey points out:
"The reason we wanted to do the piece is that not much has changed…not so much has changed in how people are being treated. The reason we haven't tried to set the play in modern times is because it's more shocking it was written 20 years ago and not much has been done since". 
It reflects increasing concern that there are disproportionate levels of mental illness among society's most vulnerable groups, including young black men.
Oyik's portrayal references the institutional tendency to dehumanise people. "As a black male, sometimes we're not seen as humans, we're just a statistic", he explains. He is brilliant in the role, moving the audience between laughter and despair. It's disorientating, much as you imagine being sectioned in a hospital would be.
The play also forefronts power play in the workplace – between the two consultants. Coombes plays Bruce as a liberal, patient-centred consultant; Lintern plays sernior consultant Robert who is determined to get his own way, no matter what. But, he doesn't play him as an obvious baddie. This is a play where there is no black and white. Only blue and orange.
Want to catch Blue/Orange at Birmingham REP? It runs from 1 – 16th February 2019. Book your tickets here. 
Ruth x