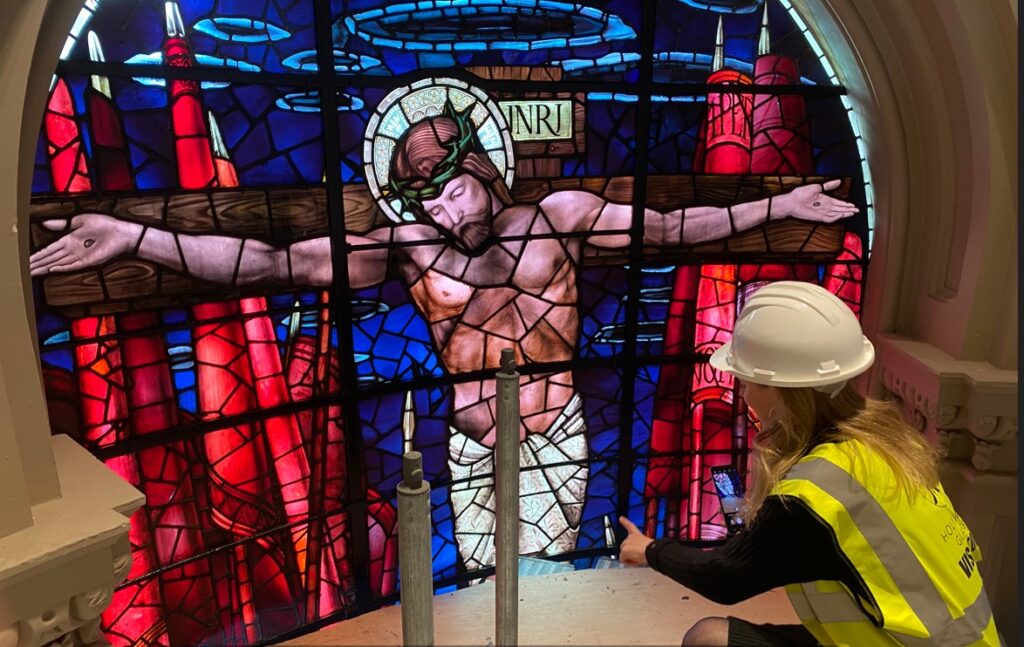 Earlier this month, I donned a hard hat and high-vis jacket, climbed several steep ladders, and peered through scaffolding – all in the name of art. As the morning sun streamed through Birmingham Cathedral, I stood face-to-face with some of the finest stained-glass windows in the world, finally restored to their former glory after 8 months of painstaking conservation, thanks to a major grant from the National Lottery Heritage Fund.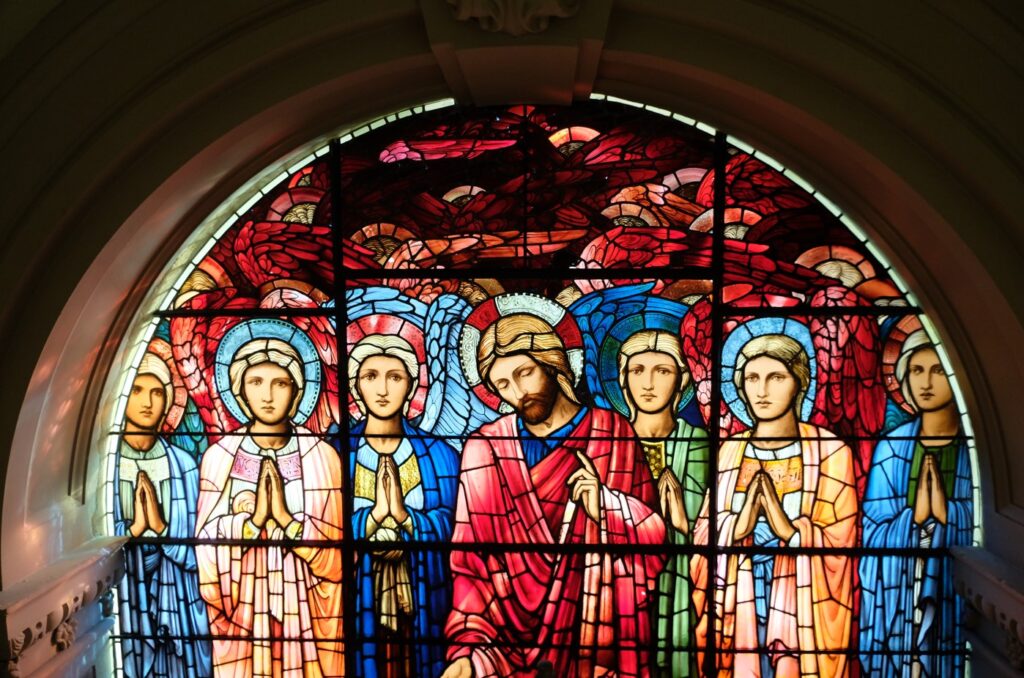 Originally installed between 1885 and 1887, the four windows were designed by Birmingham's great Pre-Raphaelite artist, Edward Burne-Jones. Each shows a well-known scene from the life of Christ: The Nativity, The Ascension, The Crucifixion, and The Last Judgement. As Burne-Jones said, through this major commission, he was "making God manifest", also pointing to his earlier career plans.
As a young man, he'd never had any intention of being an artist, much like his friend William Morris. Meeting in Oxford, where they both studied divinity, both men originally wanted to enter the church. However, they soon found that art was a better vehicle for them to express their ideas about myths, legends and theology.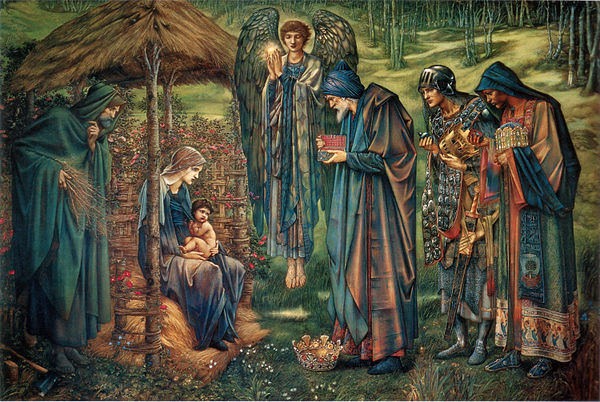 One of Burne-Jones' most significant works, which belongs to Birmingham Museum and Art Gallery, is the 'Star of Bethlehem' (c.1885–1890). The largest watercolour in the world, it depicts the Adoration of the Magi before patterns of flowering plants.
Over time, Burne-Jones' paintings became more ornamental, as he grew increasingly interested in the decorative arts. In 1861, he joined William Morris' new design firm of Morris, Marshall, Faulkner & Co. (reorganised as Morris & Company in 1875), as their leading figure designer for stained glass, working with his friend on important commissions across the world.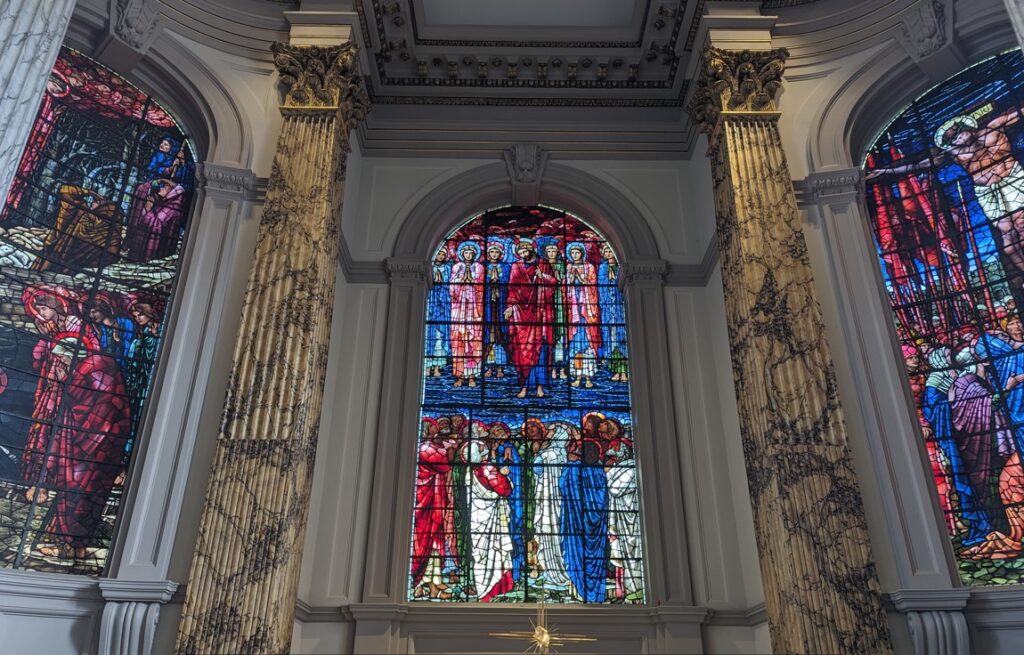 However, the greatest and final collaboration between Burne-Jones and Morris was Birmingham's stained-glass windows. Defined by Burne-Jones' painterly designs, Pre-Raphaelite-styled figures are grouped together in dramatic, biblical scenes. Climbing higher, up three ladders, I realised that their faces symbolically gaze towards the sky, inviting viewers to also do the same.
Looking closer, I could also see the hand of Morris – the figures are unusually dressed in botanical-patterned drapery. It is the recent cleaning of the windows which has revealed such intricacy, including the hand-painted decoration of Christ's loin cloth, which looks a well-placed advert for a Morris & Co fabric.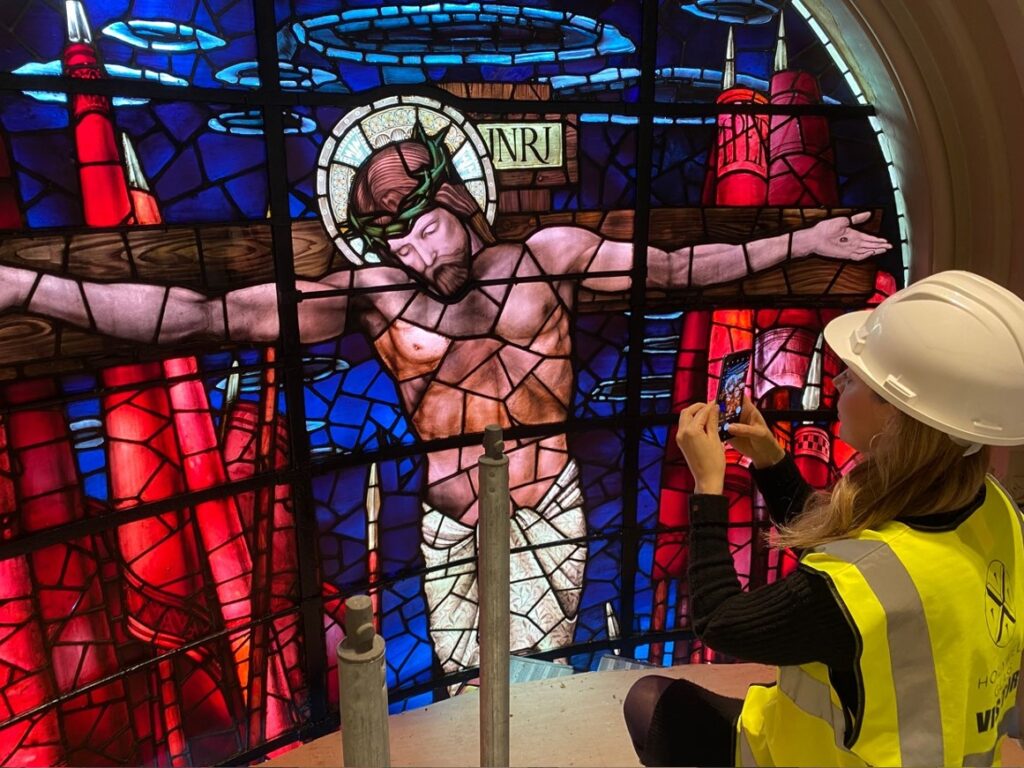 Not obvious before, this exquisite level of detail has been newly uncovered during repair work, as part of the Lottery-funded Divine Beauty Project. It is only through their cleaning and conservation that the windows have "given up some of their secrets", explains Project Manager Rhian Tritton.
Over the course of 500 days, experts from Holy Well Glass have cleaned, repaired and restored more than 20 panels – using specialist equipment, as well as the more humble material, cotton wool swabs – before re-installing them in the cathedral. They have also replaced the old protective grilles on the building, to improve both protection and the view of the windows from the outside.
The extensive conservation project has concluded with rewarding and astonishing results. As Holy Well Glass Director Jack Clare says, "It has been a real revelation and treat to work on these windows, which now have a real aesthetic difference and glow." In time for Christmas, when the scaffolding has finally been removed, audiences will be given that "big reveal, a wow moment".
If the windows in themselves aren't enough to wow audiences, an immersive show at Birmingham Cathedral will also bring their story to life. In January 2024, visitors will be invited to the sell-out light and sound experience 'Divine Beauty at Night', thanks to world-renowned light and sound projection company Luxmuralis.
Based on the Cathedral's four remarkable stained-glass windows, this experience will project colourful patterns and sections from the windows onto the inside of the building, accompanied by specially commissioned music, to highlight their imagery, symbolism, and history.
During the Christmas period, the windows will also offer an exceptional backdrop to festive celebrations, from traditional carol services to inspiring concerts, including Handel's Messiah. New for 2023, the Cathedral will be home to Cinema on the Square, which will see popular films, from Frozen to The Muppets Christmas Carol, screened inside the historic setting.
However, I know I will be happiest simply standing in awe, in front of the exceptional stained-glass windows which Burne-Jones recognised, quite rightly, as "masterpieces". Finally restored to their original beauty, panels of pink and gold, rich reds and cobalt blue glow as sunlight shines through the windows, illuminating crowds of angels, sheep, Christ and Mary. Unveiled at last, they are surely the greatest Christmas gift that Birmingham could have wished for this year.
Events celebrating the windows and their conservation will be ongoing until summer next year. This will include the return of the sell-out Luxmuralis light and sound experience Divine Beauty at Night on 4, 5 and 6 January 2024.