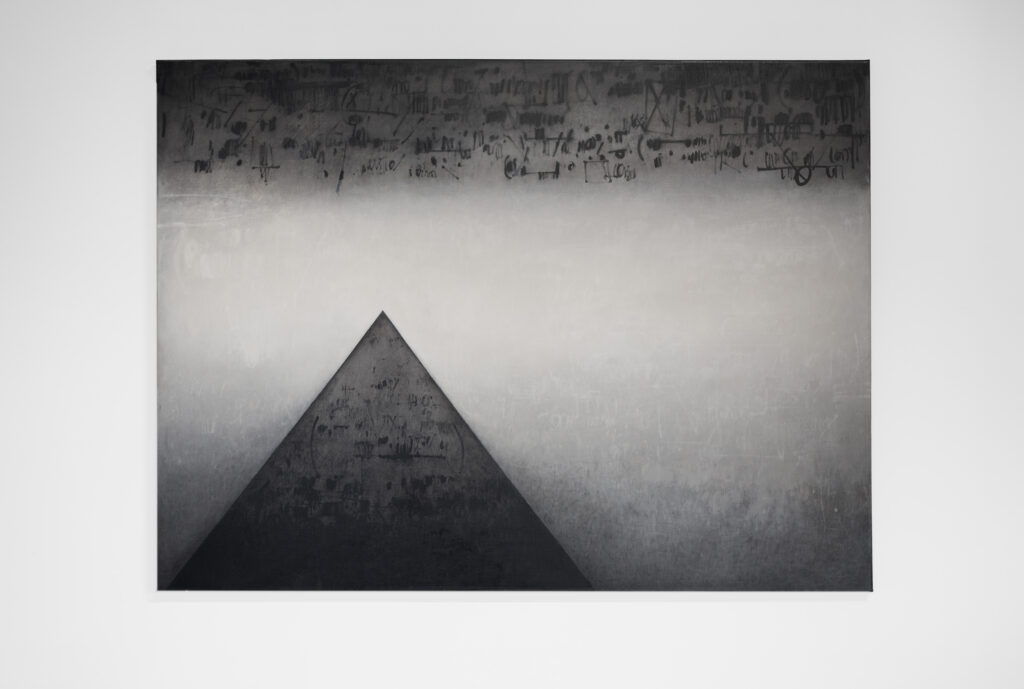 A dark pyramid-shaped structure rises sharply against a misty grey background; the horizon is covered, not in clouds, but black calligraphic marks. It's unclear if the painted surface of this brooding image portrays a real or virtual landscape. 'No title', 2023, is one of 46 monochromatic photographs, paintings and drawings in an atmospheric exhibition, 'Universe for Beginners', by British-based Polish artist Rita Rodner at Birmingham's RBSA Gallery.
In Rodner's intriguingly-titled solo show, there is an overriding sense of deliberate ambiguity. Her beautiful black and white compositions evoke landscapes, and the natural world is discernible in depictions of leaves, a flowering branch, mountains, and waves. But, dotted also with clusters and lines of code, what exactly is the nature of this mysterious world which she has created, and what type of information is she attempting to transmit?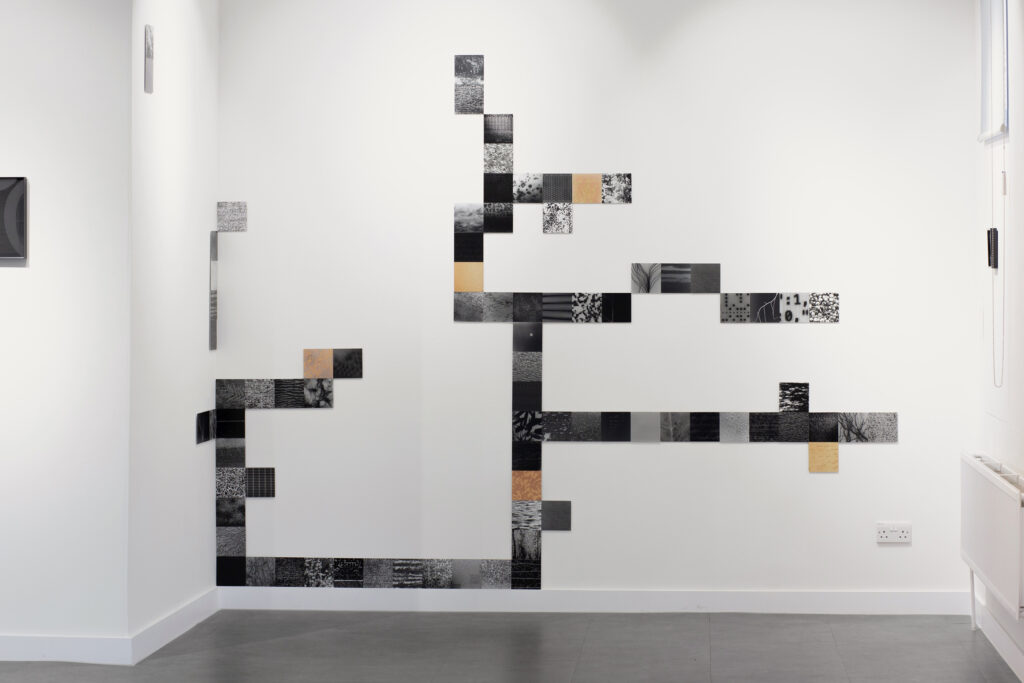 A clue emerges: 'Coexistence', 2023, comprises eighty-two photographic prints mounted on aluminium sheets, positioned to evoke a network of interconnected cells, some branching off, and all creeping across the white wall, like a growing plant, or a data structure. It reveals Rodner's interest in popular physics, binary code and information, which began during her MA in Photography at Falmouth University.
Reading books such as 'Information' by James Gleick and Paul Davies' 'The Demon in the Machine', she started to perceive the world as "a self-evolving and increasingly complex algorithm". Drawing comparisons between a virtual space and nature, Rodner gained a strong sense of the ever-growing complexity, randomness, and interdependence of events in the universe, communicating these ideas through her multi-media practice.
Simultaneously, Rodner recognised that her understanding of such complex topics was, and still is, "beginner-level", from which the show takes its poignant title. In fact, Rodner's exhibition makes an important point: "no matter how much we, and scientists, know about the universe, we are all beginners". She explains that, "The universe is too big and complex for us, and it's constantly changing. We are changing." Looking as if it might keep growing, the tree-like, open-ended configuration of 'Coexistence' cleverly illustrates this fundamental concept.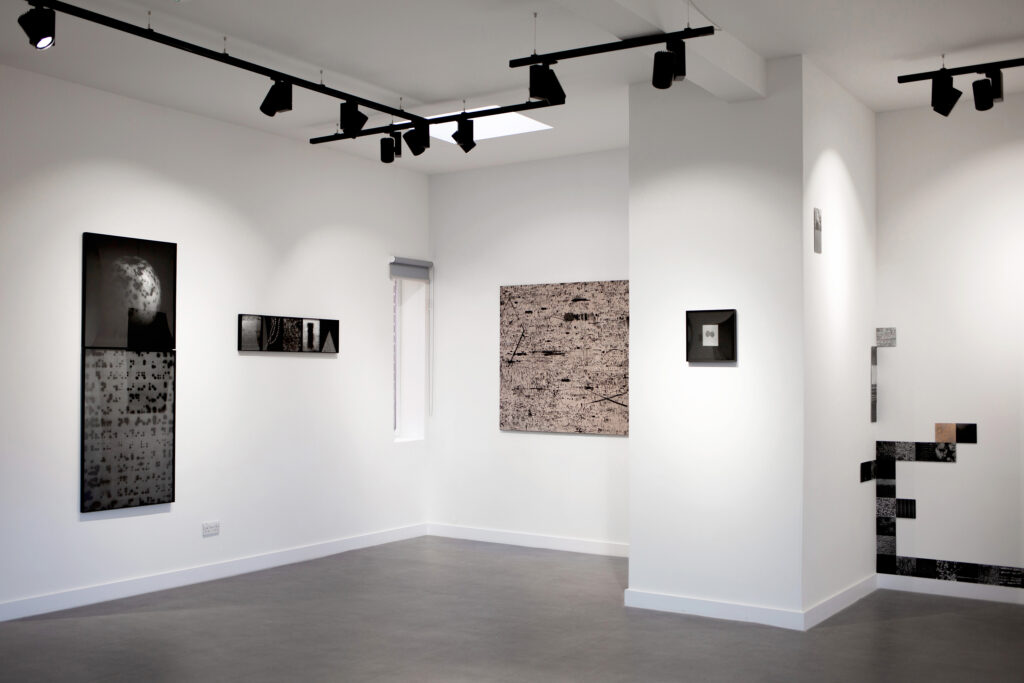 Yet, there is order within the chaos of Rodner's visual universe, which has been meticulously installed and curated by the artist herself. Across the space are nature's striking shapes –spheres, circles, stems – which are repeated, in harmonious dialogue with one another, across black and white representations of early binary codes such as Braille or Baudot-Murray.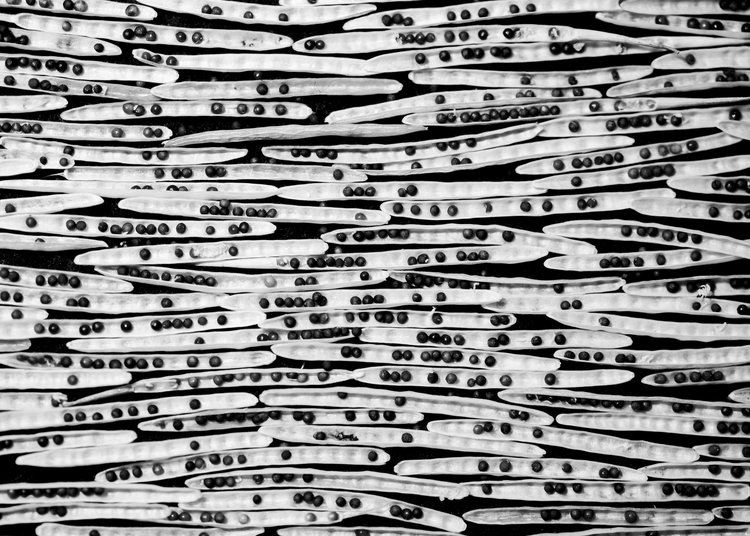 In one particularly striking work, 'Manuscript', 2021, hundreds of delicate, round peas line the inside of bean pods. Laid out in repeated rows and opened, as if waiting to be shelled, the mesmerising pattern in this monochromatic photograph offers a magnified shot of nature, evoking Karl Blossfeldt's surrealist photographs, in which he framed the underlying structures of nature.
Like Blossfeldt, Rodner shares a sense of wonder at the world. Her title, however, also invites viewers to seek more, and read the image as a manuscript, from left to right, along the coded pods. Working in a contemporary context, Rodner exploits visual comparisons between rhythmic patterns in nature and the geometric beauty of binary codes.
Rodner's deeper, scientific exploration is more explicit in the small darkroom collage divided into two, a flowering branch above is mirrored by rows of punched tape code. It reveals the thoughtful gaze of an artist who "sees patterns everywhere". While she records nature's own repeating forms through photography, by adding code Rodner suggests the common factor between them, inviting audiences to share her viewpoint and meditate on our planet's intrinsic structures.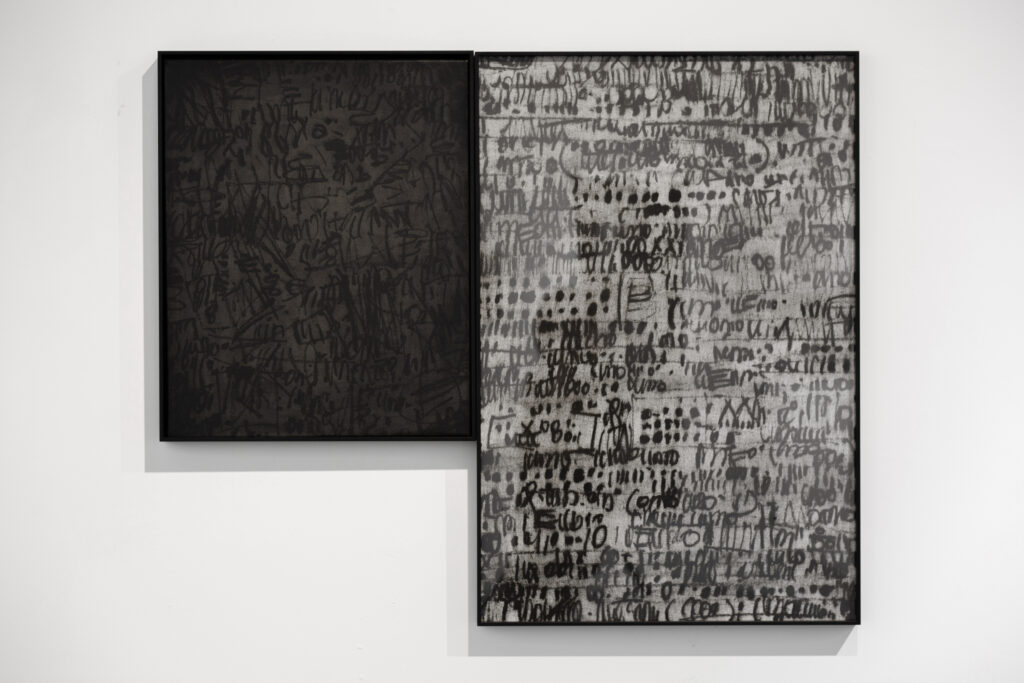 Working with an analogue, 35mm camera, Rodner takes nature-based photographs which she then develops in her own darkroom. However, she combines this traditional approach with far more inventive methods, exposing, for example, photographic paper to the light of her computer screen, on which she has loaded images of various digital forms. There is a surrealist quality to images made in this playful manner, in which beautiful, organic forms emerge from the data visualisation, purely by chance.
Photograms from her 2021 'Braille code' series have yet more layers of information to unpick, having been created using the first binary code, braille, which consists of 6 bits (the dots), reconfigured to make letters, words and sentences. Punched into paper, and in Rodner's hands, these dots also importantly let light in. Placing pages of braille on top of her photographic paper, the artist has achieved astonishing results, creating soft gradients in images which assume a more mystical quality.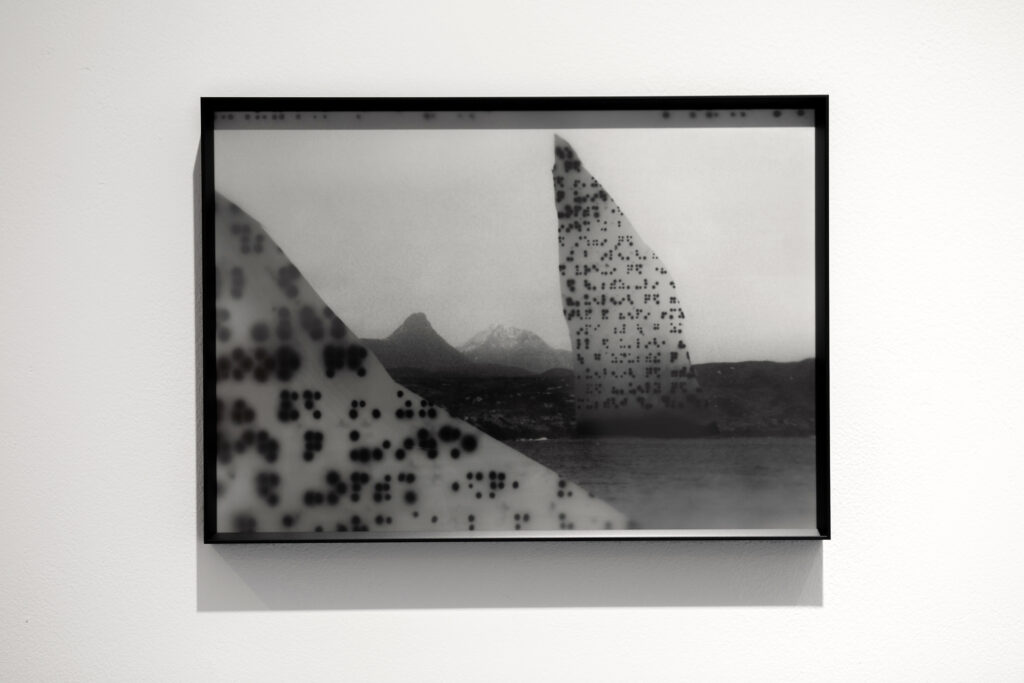 The codes of Rodner's creative output might be monochrome, but they are layered in meaning, with shades of grey; as such, they echo the blurred lines of Idris Khan's digital photography, which deals with themes of time and memory across cultures. In particular, 'Binary Garden – landscape V', 2020, is defined by two huge stone-like slabs, breaking apart the wider seascape. Dotted with black, braille-like code, these towering structures evoke the ancient Rosetta stone, covered in hieroglyphics, demotic script and Ancient Greek letters.
Operating in the liminal space between art and words, text and image, Rodner's hybrid approach also recalls the calligraphic art of Cy Twombly or Mira Schendel. In her lyrical paintings and evocative charcoal drawings, Rodner's scrawled symbols take on a life of their own, finding more freedom. These compositions stem from her sketchbook, where she works automatically, accessing shapes and forms, which have embedded themselves in her unconscious, before allowing them to unfold on the paper. Taking this imagery yet further, she evokes unreadable yet rhythmically-applied code on her canvases.
Leaving her Universe open to subjective interpretation, Rodner's abstracted landscapes evoke traditional notions of the sublime. For centuries, it's a subject that has fascinated artists who have painted awe-inspiring vistas to impress their audiences and capture nature's greatness. But, subverting such notions, the sublime exists here in the smaller details of the dark matter on display: exquisite patterns evoke the complex structures which we all exist in and evolve from.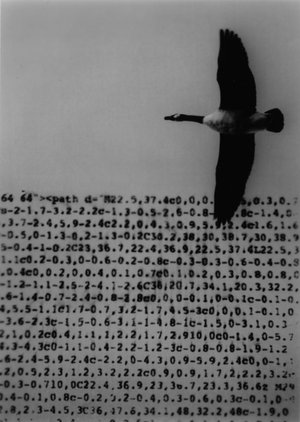 A poetic exploration of dichotomies, Rodner has captured the coexistence between dark and light, organic and man-made matter, chaos and ordered code; she explains the complexities and beauty of the world in a way that words simply cannot. Connecting art with science, there is humour in the branches of her universe, too. In 'Wild Goose', 2021, a bird flies over a field of code, carrying her message – such seemingly opposite forces and states of being are what lie beneath the visible world.
Yet, there are no neat answers for Rodner's viewers. Deliberately layered with confusion and ambiguity, her exhibition asks audiences to question what they are looking at: are these landscapes real or digitally coded? Are they, in fact, one and the same thing?  The more viewers look, the more they will see in the mesmerising, pattern-rich cosmos that Rodner has conjured up. Proving that there is more to the world than can ever meet the naked eye, Rita Rodner invites reflections on overlapping realms, where the natural and virtual intersect, encrypting beauty in her 'Universe for Beginners'.
To see more of Rita Rodner's work, you can visit her website or follow her on Instagram @ritarodner