I am excited to share this first look at brand-new artwork by Ashton Attzs, recently commissioned by B:Music!
Attzs's joyful illustration celebrates the return of choirs to Birmingham's Symphony Hall for the annual community choral project, Community Spirit. Run in partnership with Europe's finest female a cappella quintet Black Voices, it offers local community choirs the opportunity to share repertoire and perform as a collective in a large-scale concert in Symphony Hall. During the pandemic, live performances were paused. But Community Spirit will return to Birmingham, as part of the Commonwealth Games in July 2022.
The 23-year-old UK based painter and illustrator creates colourful, bold and joyful artworks celebrating moments of everyday life and what makes us who we are. Ashton's art covers a range of topics from LGBTQ+ advocacy, visibility, unity, positivity, music and mental health.
Ashton won The Evening Standard Art Prize in 2018 for their painting of transgender swimmers: "Don't Stay In Ya Lane". In 2020, Ashton collaborated with Universal Music for the BRIT Awards; creating an exclusive collection of illustrations for the design of the after-party invitations, special-edition prints gifted to Universal Music's nominees and the immersive installation and designs featuring at the event. Ashton is also known for their Community Hearts and Dalmation pride stickers that they created for Instagram in 2020 and are used by people all around the world.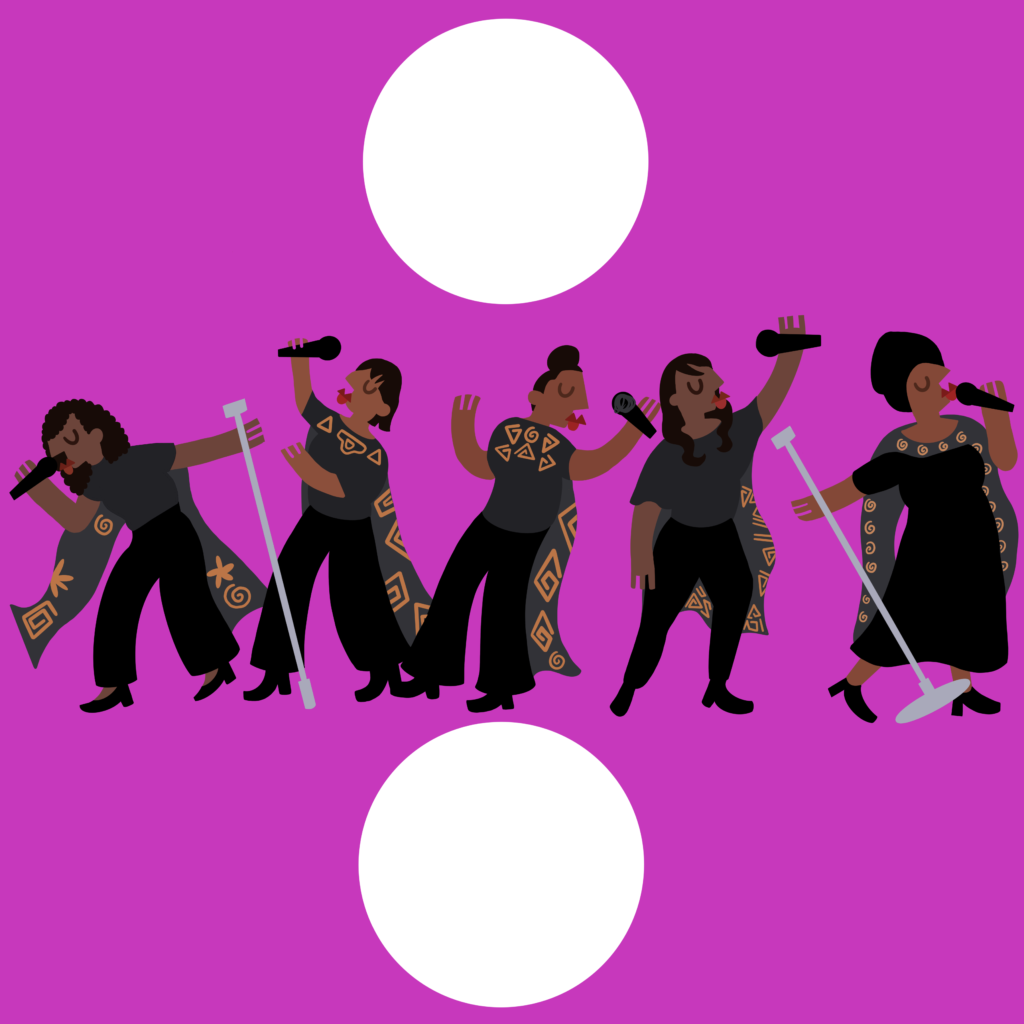 I caught up with Ashton Attzs to find out more about the commission…
How did you approach this commission for B:Music and Black Voices?
I wanted to create a piece of artwork which celebrates different groups of people coming together who share their love of music. Conveying the unity and camaraderie between different choirs and the power of song, I felt vibrant colours were a natural choice to create an uplifting vibe!
This commission is for an annual community choir project, what does Community mean to you?
I am part of the LGBTQ+ community, so for me it feels like there's a sense of belonging, even though we are all so different; there is just that mutual understanding and connection with other people. The majority of my friends are also LGBTQ+ so I can say that the community has brought me wonderful friendships too. I think for me it also means visibility; seeing others and feeling seen, in a really authentic way. It's such a special and diverse community and I am very proud to be part of it.
What music inspires you when you're working?
I absolutely love music and listen to it pretty much 24/7. I honestly have a very broad taste in genres and have always listened to a mix of stuff, from soundtracks and hip hop, to jazz, indie, classical and pop/kpop, the list is endless really! However I find myself listening most to BTS' incredible discography when I work, their music never fails to brighten my day.
Community Spirit 2022 will bring choirs from across the region together with the shared purpose of celebrating the power of singing. The project culminates with a large-scale concert at Symphony Hall, a B:Music venue on Sunday 10 July 2022.
Are you part of a Community choir in or around Birmingham?
Do you want to perform in the world-renowned Symphony Hall, a B:Music venue?
Would you like to be one of the first people to sing a brand-new commissioned anthem for the Birmingham 2022 Commonwealth Games?
Whether you and your choir sing classical, pop, rock, gospel, folk, reggae or barbershop, you're invited to bring your voices together for this shared experience. To find out how your choir can take part visit bmusic.co.uk/community-spirit