I'm often asked to recommend abstract art for sale. Online, there's a lot out there, especially large contemporary paintings. Most of it isn't worth investing in. However, I recently came across Jay Taylor, and this is an emerging artist I'm excited about.
Abstract 
Jay Taylor is pulling apart the tradition of painting. With his signature style, Taylor blends cultural references to contemporary life: graphics, gaming, digital influences, a still life or a portrait. He merges modern with tradition, present and past. During the process these initial reference points then give way to mark-making beyond control.
"My work is a process of letting go of thoughts, ideas and biases", he explains.
Working within a dialogue of destruction and self-reflection, after finishing each painting he will destroy and re-make it. This allows the paintings to escape original and imposed expectations.
It's an abstraction of anarchy.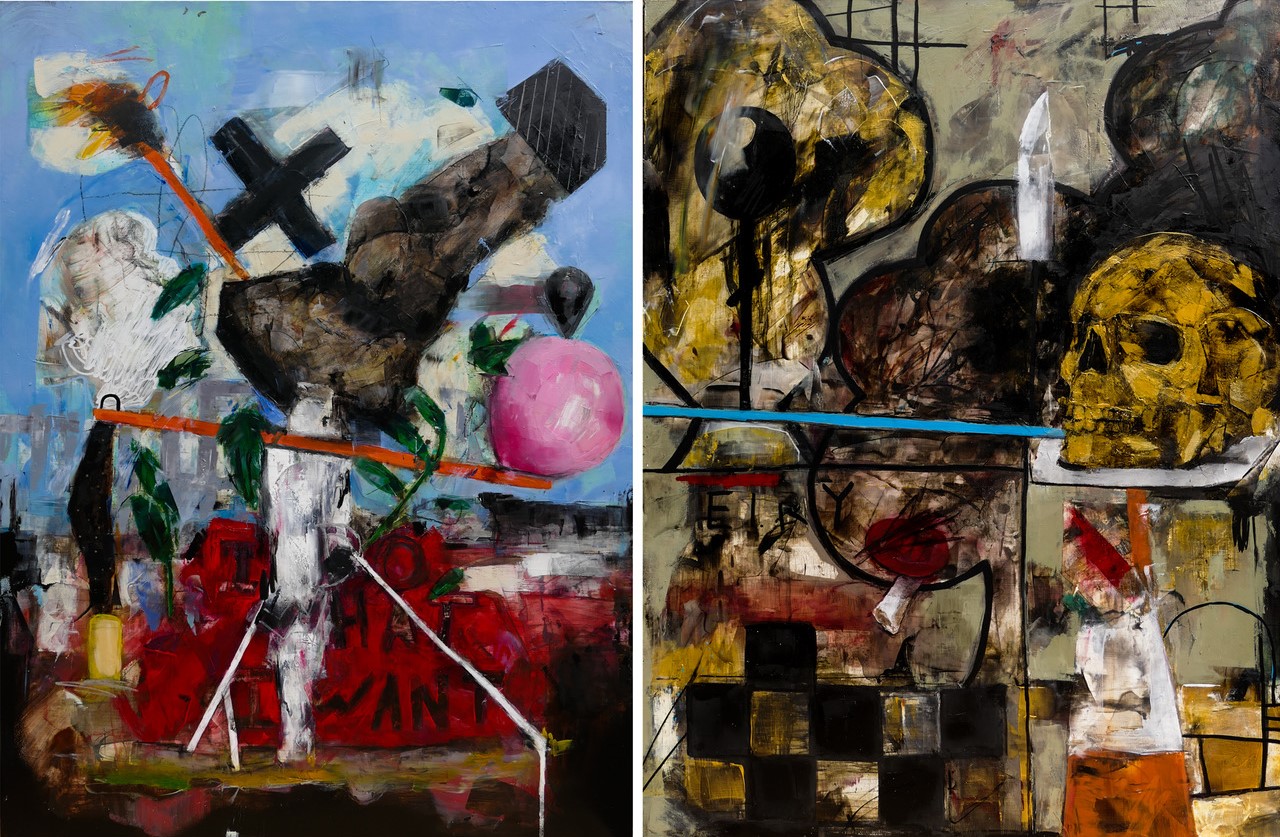 Fine art and illustration 
Following a degree in Illustration, Jay Taylor launched a hugely successful career in the creative sector as a professional illustrator. After graduation, his first client was the Guardian, followed by partnerships with big brands including Virgin, Channel 4, Ted Baker, Tatler and many more.
But whilst working in industry, Taylor always made paintings.
Today, these appear at the cross-section of fine art, illustration and graphics, with complex, multi-layered environments. Some appear more like giant drawings. "I scribble a lot" he explains. 'Balance', for example, includes a feminist banner he had seen on the news saying 'I do what I want'. This is entwined with green leaves and the stems of a still life. They appear fragmented and embedded in the impastoed paint. Elsewhere faces emerge, half-seen, half-submerged in the busy, sensory overload of his contemporary abstract paintings.
"I come from a very working-class background where high culture isn't as easily accessible, or understood, as it may be in other places. Around the time I started school, the Nintendo was released and I was hooked. I loved the challenges, the stories, the characters and used to read the magazines with how all of it was made, including the drawing and designs of the characters and environments. I also loved children's books, animation and comics, and had a natural fascination with the artwork and the worlds. I would spend hours in my room, drawing these characters and when that got boring, I would invent my own".
100 paintbrushes at a time
Taylor hardly uses paintbrushes, and when he does it's not in the usual way. Instead, he scrapes, pulls and pushes the paint around to build up a visceral, expressive image. While he will work in oil to finish each piece, he also combines this with quick pencil sketches to start, Conte Pastels for filling in areas of colour and Montana acrylic paint pens to enhance line work and scribble.
And many of his modern abstract art paintings are defined by furious scribbles etched onto the surface in sensational and evocatively charged lines.
"I don't use paintbrushes that much. I buy packs of 100 really cheap ones, as I destroy them so quickly with how rough I am with them. They are a tool for me to get paint from the palette to the support and fill areas in, but most of the marks I make are from scraping, pulling, smudging, wiping the paint around".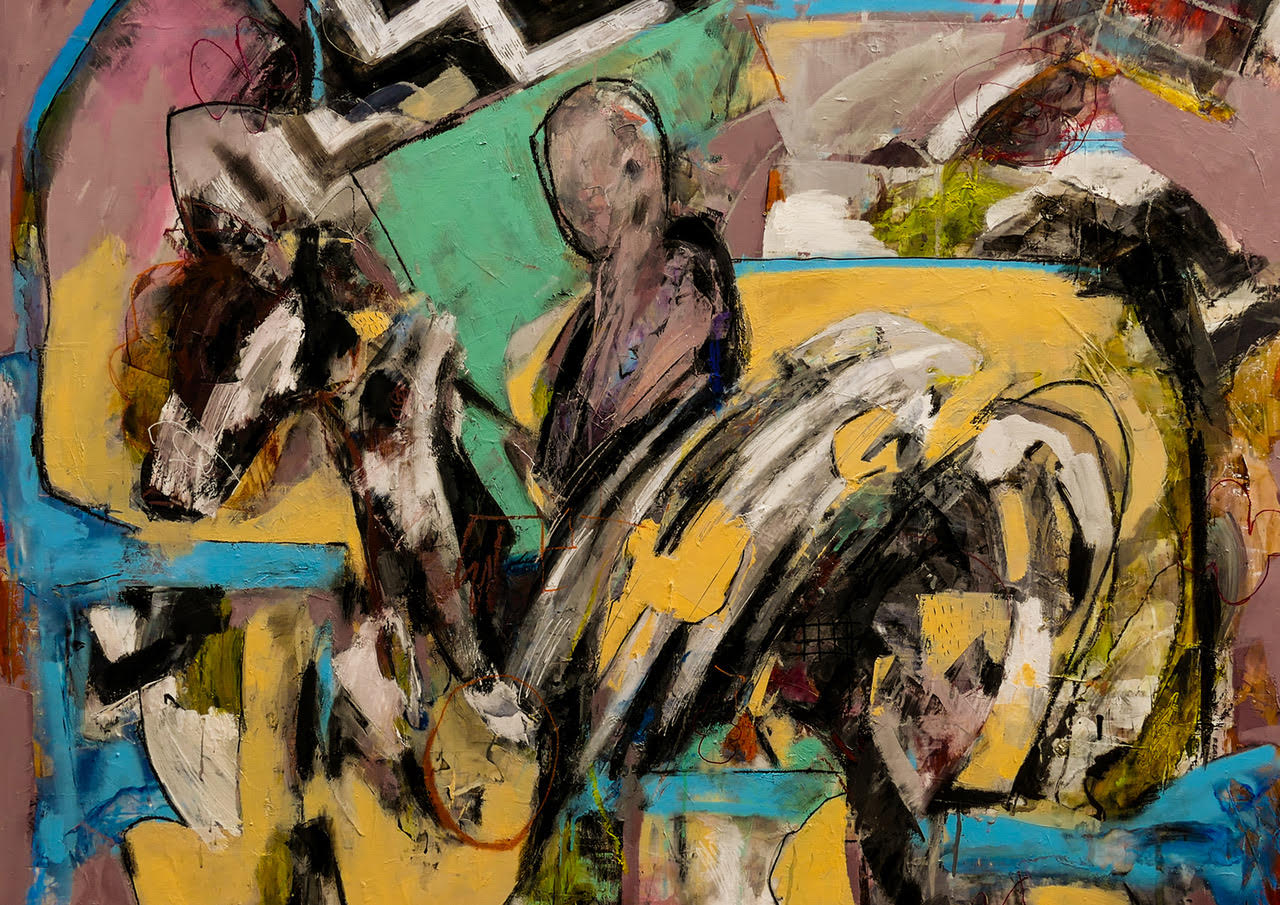 Away from the easel 
Taylor paints predominantly on the floor of his studio, away from an easel. He reveals that instead of using traditional canvas, he prefers to paint onto smooth aluminium panels. This creates an immediacy to his images.
"Aluminium panels are solid and super smooth to work on. I love them compared to canvas".
Tao Te Ching & titles
So how does Taylor begin each artwork? He starts with images or observations of everyday anxiety triggers, either from the media or life. He also shares his recent interest in the Tao Te Ching – an ancient Chinese text on philosophy, self-awareness and virtue. The titles of works such as 'Balance' and 'One stop to happiness' clearly reference his intrigue in this philosophy.
"I don't see myself as spiritual in any way, but I read the Tao Te Ching regularly. It wasn't that this book influenced how I think, it was that this book put it into words for me how I do think. I'm always complimented on my ability to not give too much of a shit about stupid stuff and have once or twice been accused of being too laid back, but in a lovely, eloquent way, the Tao Te Ching helped me realise that I am quite good at detaching myself from things that don't matter, which has never been more important than it is today".
Most of his titles are quite literal, and there is mischief in his messaging. He has a huge list of quotes which he takes from books he has read recently.
"It might be a statement that pops out or a passage that inspires a title for me to write. A lot of them are random and have no relation to the artwork and I love that. It's also really easy to name paintings and it blows the interpretation of the works wide open, so I suppose there's a bit of mischief about it".
It goes back to his notion of destroying the original painting, and re-building it. Taylor is removing the artwork from original intentions, allowing it to tell its own story instead. He's not forcing anything and it shows in the freely painted surfaces.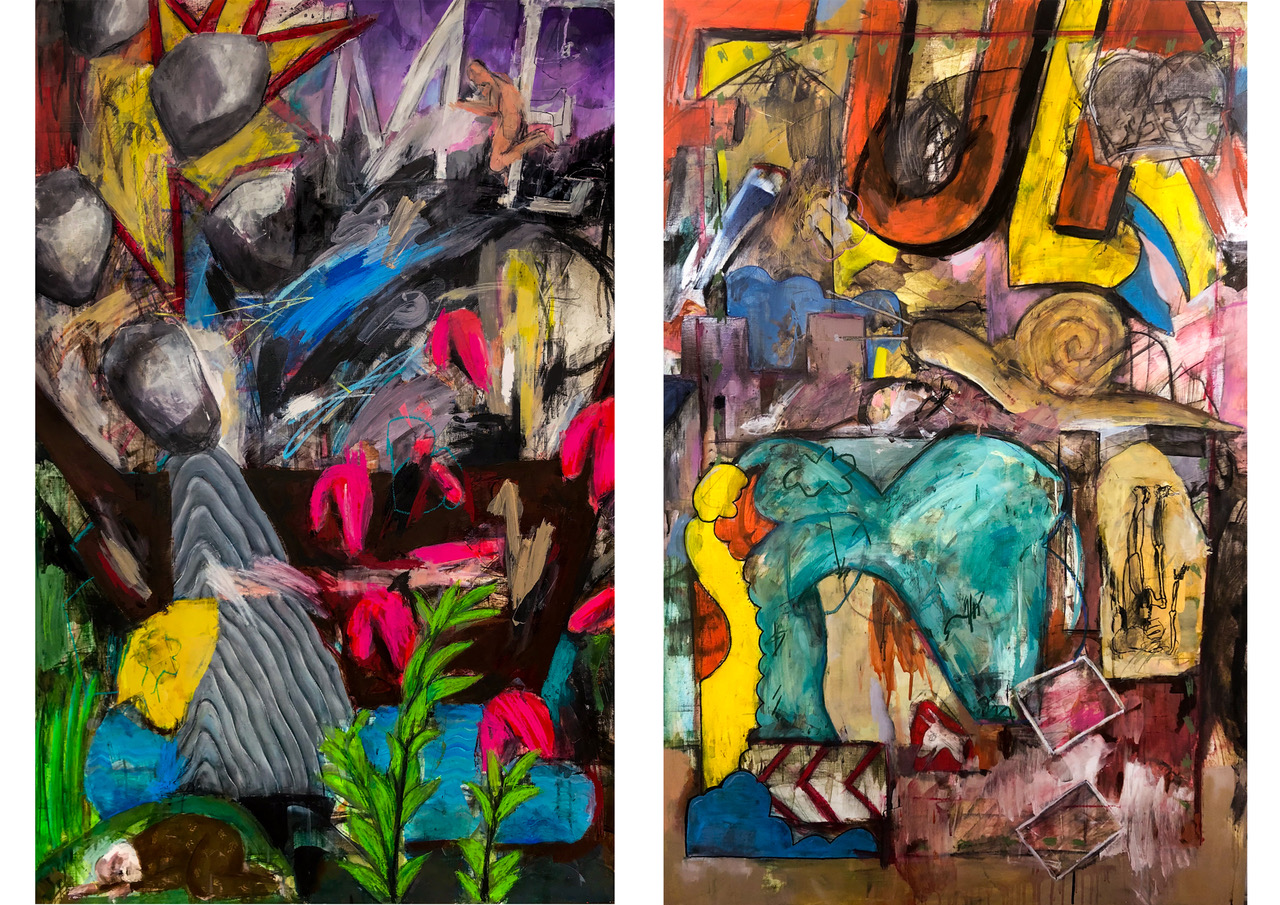 Stealing the modern masters
Taylor remarks that one of the main differences between exhibiting as an illustrator and as a fine artist is how audiences frame your work with their dialogues and interpretations.
"At an illustration event, people will come over to you and recommend artists you might like. At an art event, people come over to you and tell you who your work is similar to. At first, I thought I was being accused of copying but slowly realised it's part of the conversation. I can see the huge importance of understanding your art history and there are clear influences of Bacon, Auerbach, Basquiat and Cy Twombly to name a few in my work but it's not something I consciously consider too much. I'm stealing left right and centre from all areas of disciplines and my work is a regurgitation of all my inspirations".
It's easy to see the influence of the great artists Taylor mentions, and hard to not frame his practice in this way. His furious doodles echo the expressive mark-making of Cy Twombly; like Basquiat he brings a graffiti-esque, street art sense to his collage-style paintings; and his portrait-based images share the psychic quality of an Auerbach or Bacon.
But he brings modern master art up-to-date for today, with a more graphic rendering which reflects his background in illustration and digital media. By destroying and re-working his large paintings, each one becomes a rich mirage of imagery, marks, textures and colour.
His abstraction is anarchic and completely contemporary. Taylor leaves the viewer to unpick his narratives of blended, visual clues. And it's a pleasure to do so.
A CV of success
Taylor has exhibited across the globe, with shows at major galleries, including Soho Gallery and Coningsby Gallery in London and Van Der Plass Gallery in New York. He also recent held an exhibition at Stryx Gallery in Birmingham and is the Course Director for Fine Art & Illustration at Coventry University.
I'm excited to see what he will paint and where he will exhibit next.
And his abstract art is for sale
Are you looking for abstract art for sale? Online, you can visit his website. Prints start at £75 and originals are available, ranging from £250 to £3000, depending on their size.
His Instagram feed is also pretty special.
Want more advice on starting an art collection? Then head to feature on 15 of the best books on art collecting today, written by curators, art dealers and auction house experts.
Ruth x