If you had told me a year ago that I would soon add canal-themed art to my collection, I probably wouldn't have believed you. However, since moving to Birmingham I have discovered a group of printmakers, inspired by the city's waterways, whose canal art for sale caught my imagination. Each of the artists – Eric Gaskell, Paul Hipkiss, Lynn Jeffery and Peter Shread – use different printmaking techniques to respond to the rich environment of Birmingham, making traditional canal art contemporary. Their prints picture narrow boats passing by the backyards of abandoned, industrial factories and the atmospheric architecture of bridges, junctions and tunnels reflected in locks. They are all represented by the RBSA Gallery.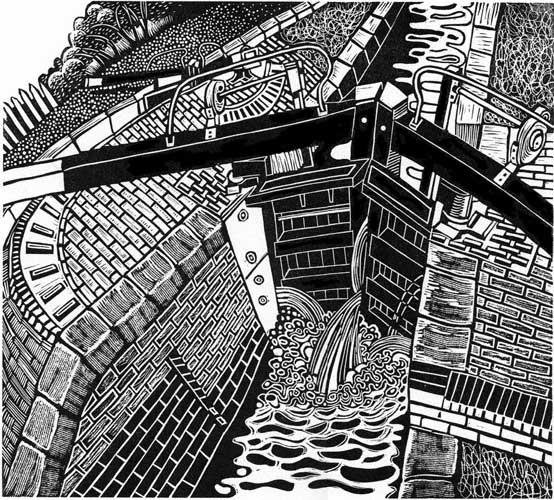 Eric Gaskell studied painting and printmaking at Wigan College and Sunderland University. He explains that "drawing is key" to his practice, and starts by sketching from life, which allows him to explore ideas, structure and composition before starting his print. He works primarily with linocuts to produce simple yet striking prints. His bold black and white images are defined by the rhythmic patterns of nature, and the textures and patterns of the pathways, trees and lock gates. His artwork combines all elements of the canal environment, balanced against one another, nature meeting and echoing the forms of man-made structures. In other works he includes strong blocks of colour, adding one layer at a time to the print, which can take many weeks. The addition of colour develops the image, giving it a more symbolic quality, whilst retaining the immediate, graphic appearance.
"I was brought up near canals, swimming and fishing in them as a child, and watching the coal barges chug past. I wanted to produce a series of works from all over the canal system, but in a different light to the traditional canal drawing or painting. I believe the graphic nature of the varying elements that make up the canal environments best suits a simple, bold linoprint style. The textures and patterns of the pathways, trees and lock gates, the swirling waters as the locks empty, the calm as they wait to be used, and the buildings and bridges that give our canals a backdrop. All these elements twist and blend to create simple yet striking prints. Each linoprint is handcut, handprinted, numbered and signed, by me" – Eric Gaskell.
You can find Eric Gaskell on Youtube, where he shows in short videos, such as 'The Regent's Canal', how he creates his linocuts, showing the proofs, blocks and process. He has also produced an illustrated book of his canal linocuts, which you can buy here. Eric is a newly elected Associate of the RBSA in Birmingham, where he will exhibit his work in a solo show from 7 May – 16 June 2018.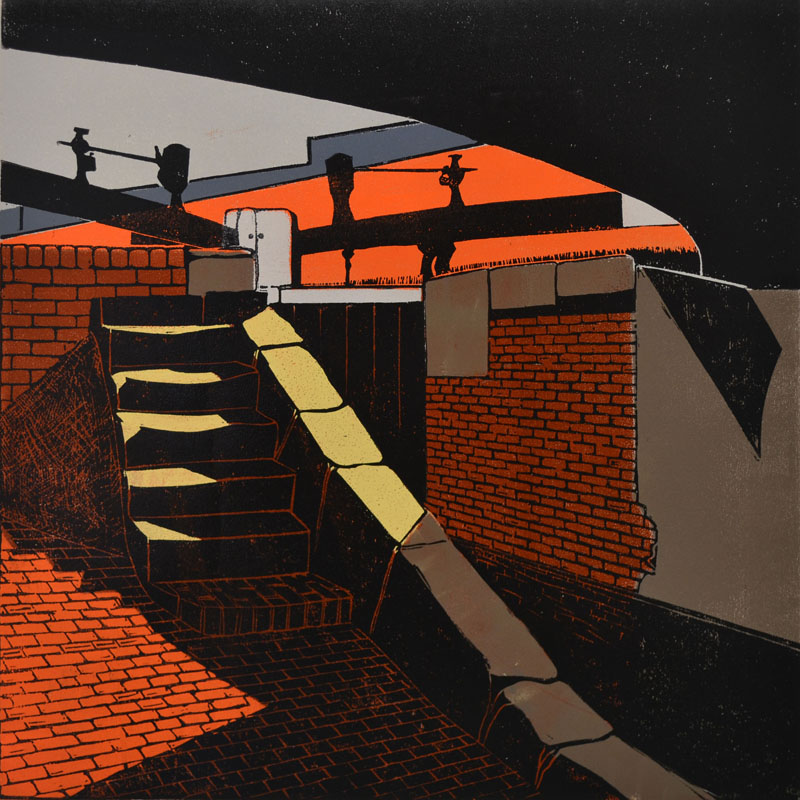 Paul Hipkiss originally trained in ceramics and lithography at Stourbridge College of Art. It was in the early 1980s that he was inspired to become a printmaker, after attending a print weekend at Westhill College in 1984 where Michael Rothenstein was the keynote speaker. Paul Hipkiss has worked across a range of printmaking techniques, including dry-point, relief printing, collagraph and linocuts. He is known primarily for his images of industrial scenes and architecture, as well as his lifelong fascination with canals in the Midlands, stemming from his Black Country roots. Paul's work has a poetic, brooding and atmospheric quality to it. In his images of the canals, viewers are drawn in by his varied and unusual viewpoints, through tunnels, and across arched bridges. There is an intricate and almost fragile quality to the stems of branches and rhythmic, repeated brickwork reflected in the waterways.
Paul has shown his work in many prestigious exhibitions, including the Royal Academy Summer Exhibition in 2011, 2012, 2013 and 2014. Several years ago Paul was one of a group of RBSA artists who joined together for an exhibition entitled 'Black Country Visions', which was first shown at the RBSA Gallery and then at Dudley and Wednesbury Municipal Art galleries. In 2013 four of his prints were included, as an example of contemporary practice, in the Exhibition at Wolverhampton Art Gallery "Edwin Butler Bayliss, Poet Painter of the Black Country".
In 2001, he was elected as a member of the Royal Birmingham Society of Artists and was their Honorary Curator until he sadly passed away in 2017.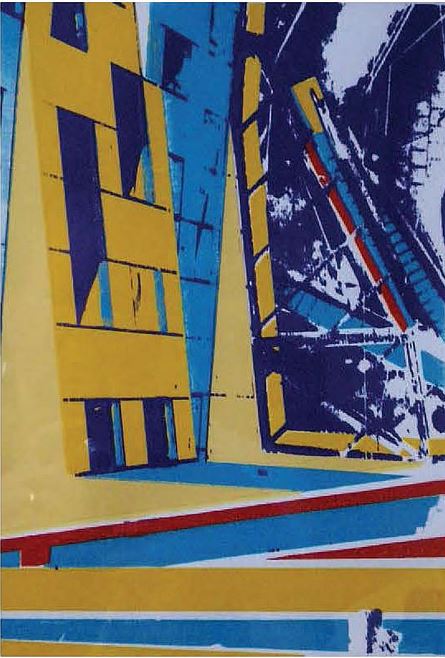 Born in Liverpool, Lynn Jeffery studied printmaking and photography at St. Katharine's College, before combining an art teaching career with her creative practice in the Midlands. Coming from a photographic background, Lynn has built up a large collection of photographic images; whilst most have stayed as photographs, others have become parts of her prints on to which she then works with painted ink. Her unique pieces of work are arrangements of overlaid objects and images, with many featuring the architecture surrounding Birmingham' canals, imagined in pure blocks of vibrant colour: blues, yellow and touches of red. Her prints feature view upwards from the historic canal network now defined by modern architecture and the geometric skyline of Birmingham's city centre, including iconic buildings such as The Cube, towering tall.
"I have always recorded places and events. Urban environments are lost without warning, when regeneration takes place…My prints are usually screen prints, which use a mixture of photographic and hand cut stencils, plus some block printing from found objects. Editions have a slight variation because I overlay and rub back into the pictures to make more individual pieces. I enjoy working in Liverpool, Birmingham and The Black Country".
Lynn Jeffery is a member of the RBSA Gallery in Birmingham, where she regularly exhibits her work. You can view her profile here. She is also a member of the Midland Printmakers group.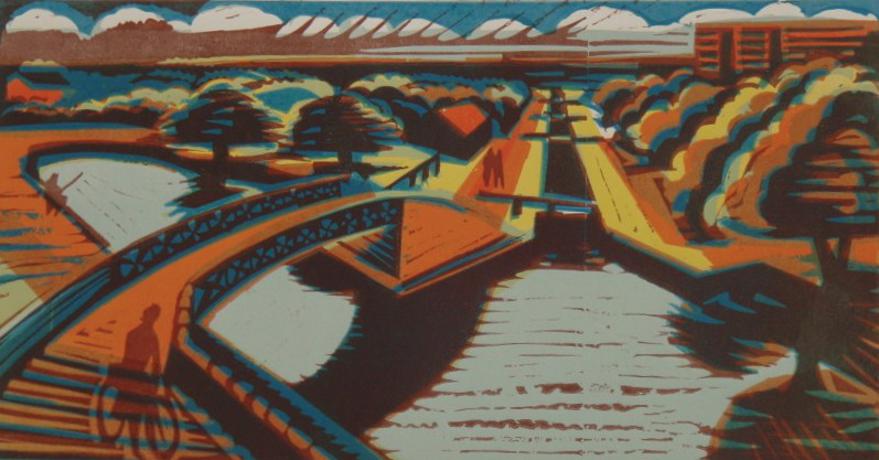 Peter Shread was born in Birmingham and trained at Moseley School of Art and Birmingham College of Art. Peter produces relief woodcut and linocut prints, and many include images onto which he adds just a few blocks of colour, printed in sequence, one colour over another until the image is complete. Starting in the 1990s, Peter has produced a whole series of prints inspired by the extensive canal networks of the Black Country, in which there is a strong decorative quality with distinctive lines repeated across the print. These outlines create a sense of movement, echoing the dynamism of the Vorticists' geometric style, which Peter admires. Peter's dramatic imagery of the canals focuses on changes in light and colour, moving reflections on the water or shadows falling onto the pathways.
Peter is a member of the RBSA and Midland Printmakers. Peter has exhibited widely, including at the Royal Academy, and has won a number of prizes including the Manchester Academy Prize and the First Prize in the RBSA Open Print Exhibition. He was asked to deliver a public art commission for Midland Metro stations.
Want to know more about starting an art collection? Then head over to my beginner's guide to collecting contemporary art here. 
Ruth x