Birmingham's Ikon Gallery is turning 20! To celebrate, the gallery is opening its new exhibitions on 21st March, exactly 20 years to the day since the gallery doors were first opened to the public in Brindleyplace in 1998.
The first is an exhibition of new work by British artists Ben Langlands and Nikki Bell. Featuring new iconic architecture of the global technology companies such as Apple, Facebook, Alibaba and Google, the exhibition includes a new series of relief sculptures, installations, digital animations and portraits that explore the increasingly profound influence they have on our lives in the age of 'Big Data'.
The second is Rie Nakajima's solo exhibition, celebrating one of the most experimental artists working in the UK. Fusing sculpture and sound, her artistic practice is open to chance and the influence of others, raising important questions about the definition of art. Nakajima makes pieces often in direct response to architectural space, using a combination of kinetic devices, musical instruments and found objects. Ikon's exhibition consists entirely of new work and includes a number of performances in collaboration with other artists.
The third – Assange Dancing (2012) – was made by Clément Cogitore using amateur video footage, shot and posted online by a DJ at Reykjavik nightclub Glaumbar in 2011. In it, we see activist and WikiLeaks founder Julian Assange dancing in utter solitude on a nearly-deserted dancefloor. Yet by the force of his network, the man represents a crowd in and of himself. By revisiting the image in a slowmotion loop, French filmmaker Clément Cogitore endows the dance with the quality of a ritual trance: that of a man casting out his demons. It is part of Birmingham International Dance Festival 2018.
In the meantime, here are 20 facts about Ikon Gallery. No. 7 is my favourite…
1. Ikon in Brindleyplace was formally opened in March 1998 by then Ladywood MP Clare Short.
2. Over 2.6 million members of the public have visited Ikon during its time in Brindleyplace.
3. Ikon has the only singing lift in Birmingham – Work #409 (2005) by Martin Creed, performed by Ex Cathedra.
4. In 2019 Ikon's Director, Jonathan Watkins, celebrates 20 years of leadership at the gallery.
5. If you walk from Ikon to Central Square in Brindleyplace you will notice some special resin bricks in the pavement This is Not Another Story (2005) by artist Richard Deacon.
6. Did you know sheep have been spotted in Brindleyplace? In 2001, My aunt's sheep (1997) by artist Julian Opie were displayed in Oozells Square.
7. It's not every day that you see 47 Daschunds in Brindleyplace. In 2012 Ikon and Fierce Festival presented Bennett Miller's Dachshund U.N in Brindleyplace. A large-scale architectural installation and performance work that examined the role of the United Nations – where all 47 of the international delegates were live dachshunds or 'sausage dogs'.
8. Ikon Slow Boat is a converted narrow boat measuring 72 feet in length.
9. Ikon hosted Chicks on Speed (a band from Berlin), who performed on the roof of the Royal Bank of Scotland before it opened – inspired by the last Beatles concert.
10. In 2012, Ikon looked liked it was under siege! During Bedwyr Williams' exhibition visitors to Ikon were greeted by Ikon Under Siege (2012), which transformed the gallery's entrance with piles of sandbags and taped-up windows, invoking a moment of bombardment or a wartime siege; a comment on the recent funding cuts experienced by a number of arts organisations.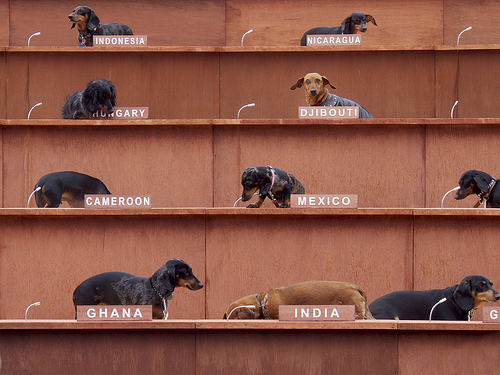 11. The Oozells Street School building originally included a tower designed to draw in fresh air for Victorian children. The tower was demolished in the 1970s due to being unsafe and then rebuilt during the construction – it uses a resin based timber effect material so we don't need to get up there to paint it, thankfully!
12. The building was once a place where you could get your car taxed and a theatrical store in the late 1960s.
13. Transforming the building into Ikon cost £3.7m which was funded by one of the first National Lottery capital grants.
14. Ikon is a charity and welcomes over 130,000 visitors each year. If 20% of our visitors made a donation of £20 we would raise over half a million pounds for our artistic and learning programmes.
15. Want to support Ikon and its future? You can become an Ikon Patron for just £21 per month.
16. Ikon Shop is the only independent book shop in the centre of Birmingham.
17. Independent café, Yorks roast their own speciality coffee.
18. There used to be a large school hall extension at the rear of the building which was removed in the 1990s
19. The slate plinth surrounding Ikon Gallery was designed by British artist Tania Kovats – setting the building apart from its surroundings.
20. Architects Levitt Bernstein Associates converted the old school into a gallery. The architects turned one building into two; preserving the outside shell of the Victorian school and putting an entirely new, steel-framed gallery inside – a total of 440 square metres of gallery space.
Ikon is a charity and are marking this anniversary with a special fundraising campaign. They are asking for donations of £20 (or whatever you can give) to support their next 20 years. You can donate in a number of ways – in person at the gallery, online at ikon-gallery.org/support, text IKON20 £20 to 70070 or call Ikon Shop on 0121 248 0711. With support, Ikon will be able to host more landmark exhibitions, welcome more schools and showcase more artists.