Danny Howes is one of Birmingham's best realist painters. His large-scale canvases document contemporary life and people from the region, reflecting the vibrant, diverse and multi-cultural city in which we live. I first saw Danny's work in person during his solo show at Reuben Colley Fine Art (the gallery which represents him). I was immediately struck by the Old Master quality to the oil paintings, their carefully constructed compositions communicating drama, emotion and atmosphere. Drawn to individual figures, I saw Danny's masterful application of paint, exploring the lines and shapes of faces, light reflecting and refracting from the characters.
When I heard that Danny had been selected to take part in the Sky Arts Portrait Artist of the Year 2018 I was very excited that his talent would be seen by a much larger audience and in such a prestigious competition. I have nervously watched through the heats, as he has successfully painted celebrities including Sope Dirisu, Lily Cole and Simon Callow. Under extreme pressure and in just hours, he has impressed the judges with his confident, 'Cezanne-like' brushwork and narrative style. Ahead of the final – airing on Tuesday 20th March, from 8pm – 9pm on Sky Arts – I caught up with him.
When did you first pick up a paintbrush?
I used to draw all the time when I was a kid, then for my ninth birthday my Gran bought me a full set of oil paints, brushes and turpentine. I read a few books on how to use them and my love of paint blossomed from there. It seemed like quite a grown up way to express myself but for the first few years I must've just made a complete mess!
What was the most important lesson you learnt at university?
I had a mixed experience at university. It was the late '90s and there was a definite anti-painting bias which I was constantly fighting against. As well as the UK I also studied in Granada, Spain which was quite different as they valued a more grounded approach with an emphasis on painting. I suppose the main lesson I learned during that time was to have the courage of my convictions to pursue painting regardless of current trends – still true now.
Which artists have impacted upon the way that you paint?
So many artists are a constant source of inspiration for me both technically and conceptually. There are too many to mention really but a selected few are Johannes Vermeer, Caravaggio, Vincent Van Gogh, Joan Eardley, Euan Uglow, Jenny Saville, Chuck Close, Frank Auerbach, Tai-Shan Schierenberg, Sabin Howard, Odd Nerdrum… I could go on all day!
What do you want to capture in your portrait paintings?
I attempt to capture all the physical aspects I can about a person or scene such as likeness, skin tone, clothing, but the most important part for me is to convey a sense of their character and mood. This is quite an intuitive process as I can usually pick up on personalities and moods very quickly, finding a sense of who the sitter is, how they see themselves, and then combining that with how I see them.
How long do you usually take to complete a painting?
This varies greatly depending on the people, location, situation, and whether I'm working solely from photographs, but anything from a day to a couple of weeks.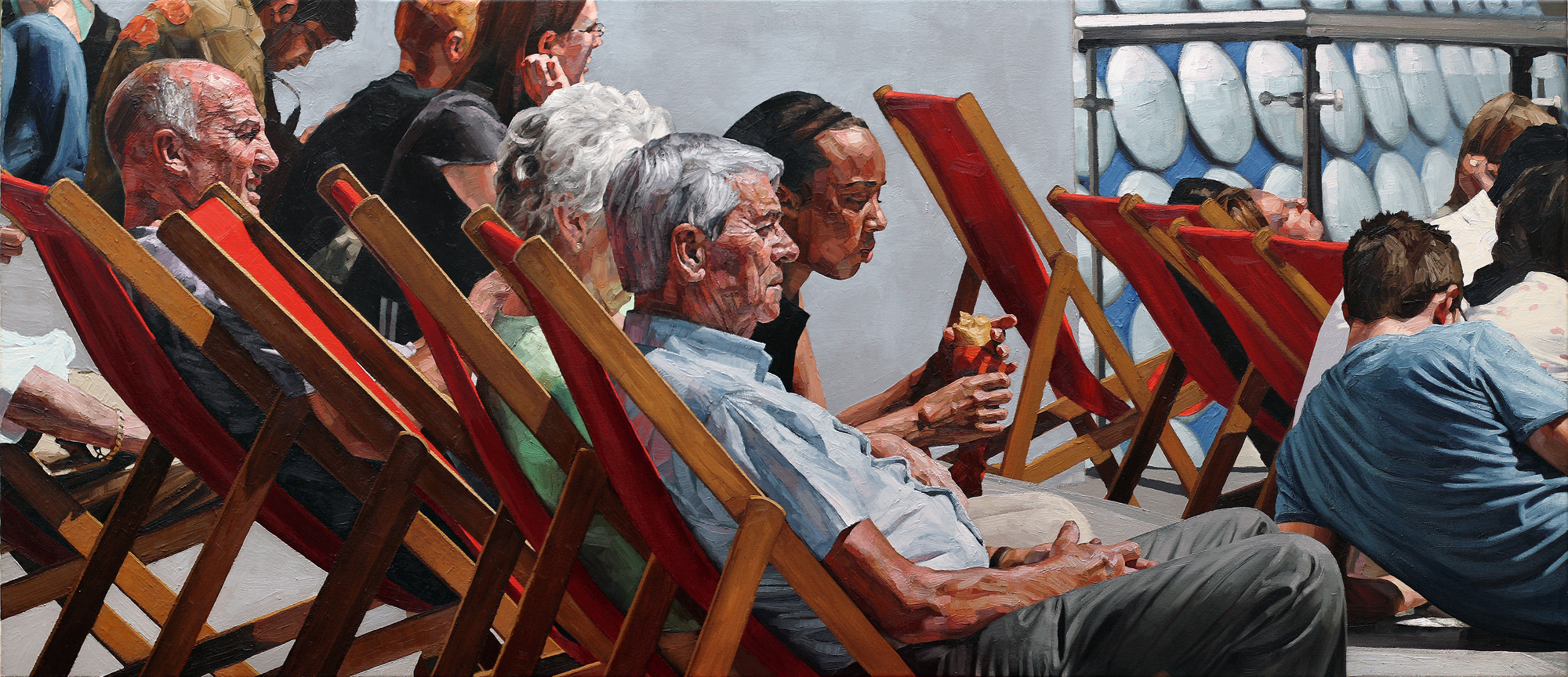 How did you change your method to paint a portrait in just 4 hours and what was the most important aspect you wanted to capture in such a short time?
The 4 hour challenges forced me to drastically reduce my drawing time to allow enough time to paint, to look at the sitter and 'see' them on the canvas, and to capture that all important sense of character. In the studio I usually spend a long time on the drawing before I start a painting. Although I'm obsessed with paint the drawing is the foundation on which the paint is built so I try to get as much information into the drawing as possible. I can then be quite free and intuitive with how I apply the paint without losing that information. This was very challenging in 4 hours, particularly in the semi-final when we had two sitters!
What sort of people do you usually choose to feature in your paintings and why?
I do try to paint everyone I encounter, from family, friends and colleagues, to strangers in the street. Often people are surprised when I ask if I can paint them – they are often flattered but might not necessarily see themselves as an artist's muse. Most people have a story to tell though and all are equally fascinating to me for different reasons.
How does living and working in Birmingham impact upon your practice?
Birmingham is obviously well known for being a very vibrant multi-ethnic city, and I could probably build a whole career just from painting people in the street. I don't have to look very hard to find interesting characters that are more than happy to strike a pose but it can be quite overwhelming as there is always so much going on in the city.
What does reaching the final of the Sky Arts competition mean to you?
I initially entered the competition for the challenge and also as bit of fun, without any serious expectations. Each stage has felt progressively more serious and competitive though, and now I'm in the final I really want to win! I think just being in the final three will have a huge positive impact on my career and showcase what I can do.
What advice would you give to budding portrait artists?
Always spend more time looking than doing because even though you think you know what an ear or nose or chin look like, the ones sat in front of you are unique to that person.
To find out more about Danny Howes and his paintings, you can visit his website, follow him on Twitter or visit Reuben Colley Fine Art, located on Birmingham's Colmore Row. Good luck with the final Danny!