I always look forward to exhibitions at Reuben Colley Fine Art, a gallery that celebrates local artists, and particularly painters. Last night I battled through 'The Beast from the East' which had hit Birmingham in the form of whirling snow blizzards – luckily, it was worth it. The gallery's latest exhibition showcases a new series of landscape paintings by James Byrne, which have been 6 years in the making. The large abstract canvases are all-encompassing, announcing a contemporary take on the 'sublime' and an evocative celebration of paint itself.
About James Byrne
Since completing an MA in painting at Birmingham College of Art in 1982, James has worked from his studio in Birmingham. His early work focused on pure abstraction, but over time he began to introduce the landscape into his imagery, as a means of structuring and further exploring abstraction.
James has an impressive CV: his work has been shown in numerous important exhibitions, including a solo show at the Ikon Gallery in 1986 and 'English Expressionism' at the Warwick Arts Trust, London, where he showed with other leading abstract painters, including John Walker and Gillian Ayres. He was featured in 'Bill Gear and Friends' at Birmingham Museum and Art Gallery, the Jerwood Drawing Prize and was recently selected for the 2014 John Moores Painting Prize Exhibition in Liverpool. His paintings are held in numerous collections, including Birmingham Museums.
Process & paint
James makes drawings on location over a number of days, immersing himself in the landscape and responding in an emotive way to his surroundings. He then pins the drawings to the wall in his studio and uses them as a stimulus for painting. His paintings develop over time, fed by imagination, memory, intuition and the very process of painting. These pictures express not so much what a particular place looks like, but how it feels to be there and his internalised experience. As he explains, they are 'equivalents of experience rather than description'.
This series shows the artist working with impasto paint, applied 'wet in wet', where constant changes can be made before the final image locks in. Techniques such as glazing, scumbling and scarping create space for intuitive changes before the paintings are finished. Many of the larger canvases have taken years to complete, and James explains that there is an element of chance to his work. He has no concept of what the final image will look like, and lets the paint evolve itself, in sweeping shapes and gestural, layered marks. He makes it look effortless, which shows his true mastery of the medium.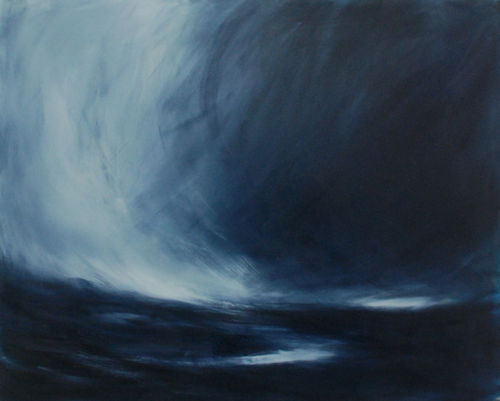 Between The Islands
In this new collection, James transports us to the mountains of Wicklow and the rugged coastline and islands of Pembrokeshire. Standing in front of one of these passionately expressive paintings, one can almost feel the wild weather and hear the crashing of the waves against the rocks.
For this series he has limited his palette to a vocabulary predominantly made up of deep blue, white and black. James explains that this allows him to focus on abstraction and paint itself, and it also allows limitless interpretations of the images: land, sea or sky, the viewer decides.
Renewing the landscape tradition
James Byrne invites the viewer to recognise his images within the long tradition of artists romanticising the landscape. Like Turner's late works, these paintings bring us face to face with the 'sublime' – the overwhelming and sometimes frightening power of nature. As he explains:
'Sometimes the paintings lean more towards the abstract, and at other times are more figural, but I always want them to be evocative and to express a sense of awe. It's important, too, that the gestures are a trace of body and landscape combining'.
His high-contrast views illustrate authentic aesthetic experiences and an appreciation of the elements: earth, water, air. Where boundaries meet within the wilderness, there is a sense of our smallness: a wide expanse of sky is imagined in uncontrollable forces overpowering the viewer's senses with gravitational force. These paintings are deliberately and dramatically vast in scope, and rich in tonalities and textures.
James Byrne: Between The Islands will be on display at Reuben Colley Fine Art from 27th February 2018 – 24th March 2018.