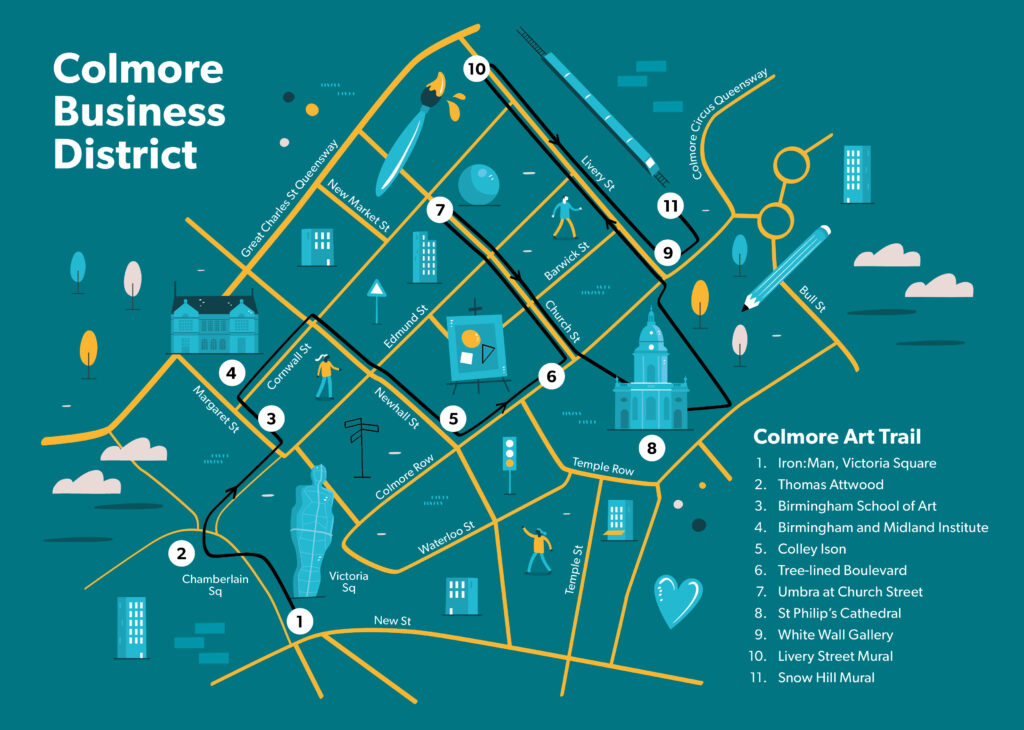 Leaning over to one side with two feet in the ground, and located at the heart of Birmingham, is the iconic 'Iron:Man' sculpture by Anthony Gormley. It's also the very first stop on Colmore Business District's brand new Art Trail, which launched just this month. The city centre is full of public art and history, but we often stroll straight past it – I know I certainly do, often rushing for my next coffee at Morridge or 200 Degrees. So, I was really excited to hear about this new trail. Downloading the beautifully illustrated map, designed by local artist Tom Woolley, I set off on an adventure through the city centre to see the first 5 sights, all within walking distance of one another.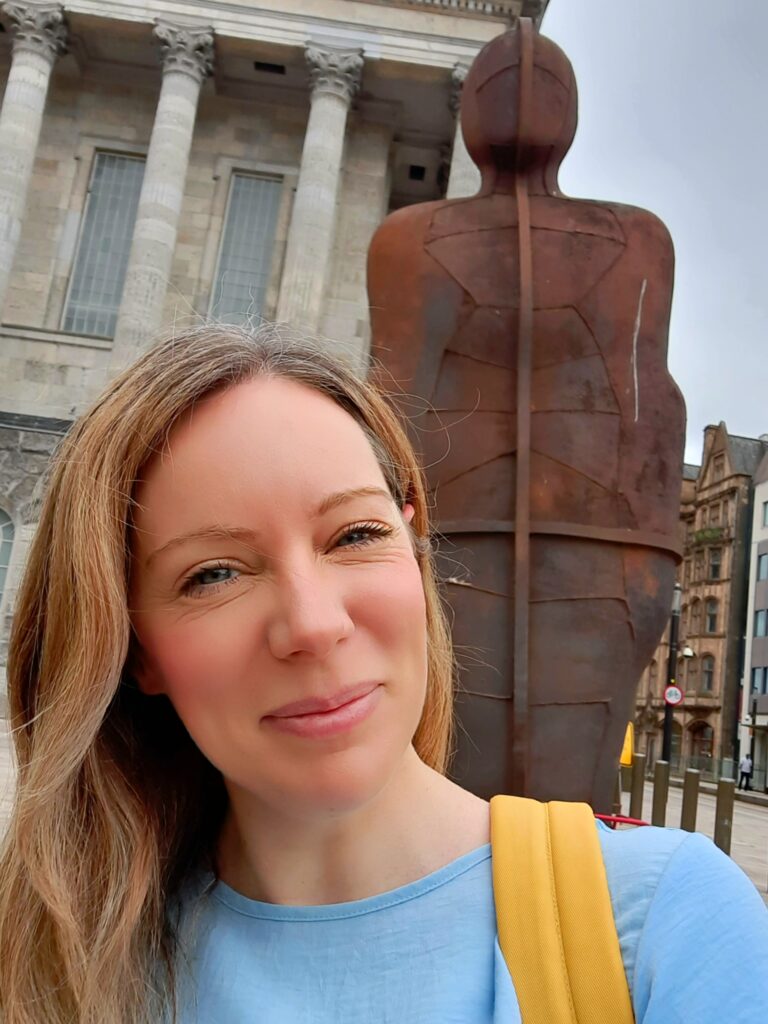 1. Iron:Man
Since 1993, the 6 metre tall 'Iron:Man' has towered over people passing through Victoria Square. It's Sir Antony Gormley's first piece of permanent public art in Britain, beating the Angel of the North by 5 years. Cast at Firth Rixon Castings in Willenhall, it's a symbolic sculpture representing the traditional skills of Birmingham and the Black Country. But, as the artist himself has said, it also signifies the city's future:
"It was made for…the very heart of Birmingham – an incredible city that has played such an important role in the Industrial Revolution. 'Iron:Man' asks: 'Given that extraordinary legacy, what kind of life will now come to accompany it in the future?' Birmingham is full of creative possibility, of people that make things – engineers, foundrymen, constructors of extraordinary machines that extend our capability. This work was the first of my public works in Britain, and it's wonderful that it's coming back to join the people of the city that gave it birth."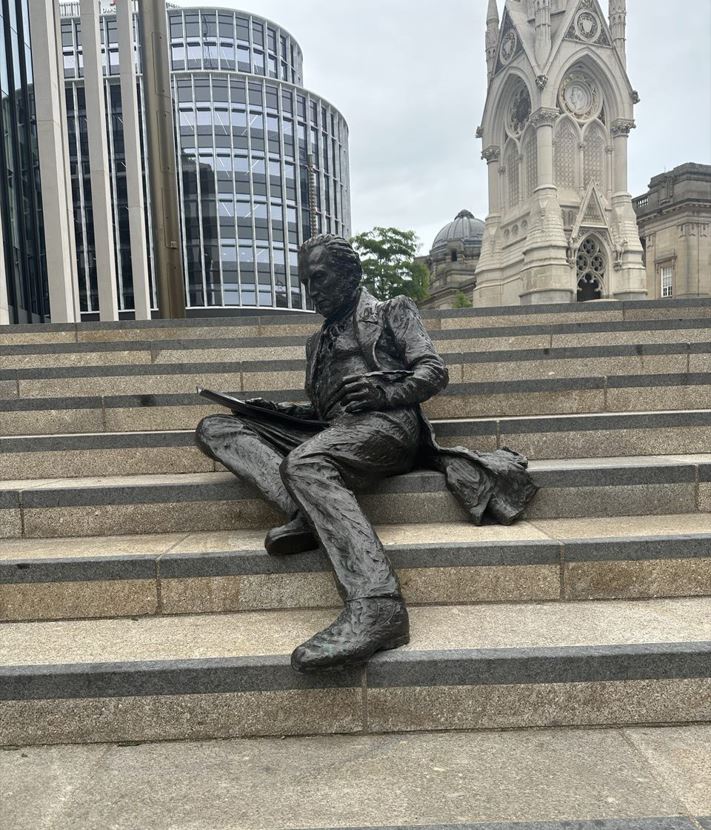 2. Thomas Attwood
Just a minute's walk away is the trail's next work of art, officially called 'Birmingham Man'. On the steps of the recently refurbished Chamberlain Square is a statue of reformer, economist and MP Thomas Attwood who founded the Birmingham Political Union in 1830. This was an organisation campaigning for cities, and large towns such as Birmingham was back then, to be directly represented in Parliament.
Rather than standing on a plinth, he appears to have stepped down to sit on the steps, as if ready for locals and tourists to join him as he reads through some notes. The statue of Attwood includes further pieces of art including a soap box upon which Attwood would have stood to give speeches and sheaves of paper that spell out important aspects of Attwood's political demands, along with the words 'Reform', 'The Vote' and 'Prosperity', stencilled into the nearby steps.
There's a team of women behind this statue: it was created by artists Sioban Coppinger and Fiona Peever, and the late Priscilla Mitchell, Attwood's great great granddaughter, commissioned and donated the piece to the city.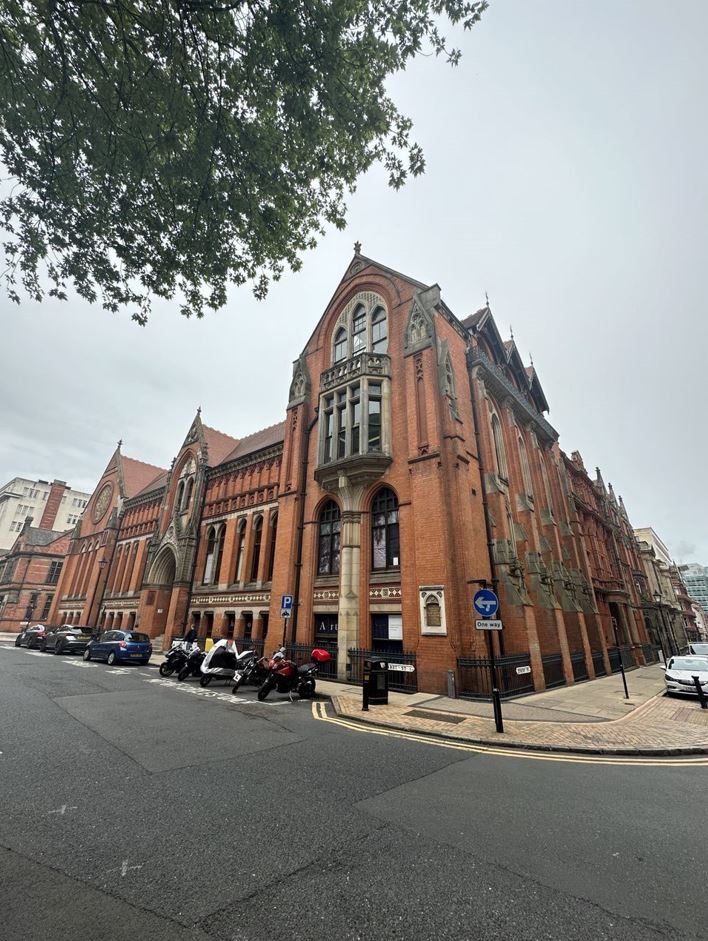 3. Birmingham School of Art
The third landmark on the map is the beautiful Birmingham School of Art. A work of art in itself, this Grade I listed Venetian Gothic building has original stained glass windows, as well as an impressive stone rose window, designed by John Chamberlain. It points to the School's past – it was a hugely important centre for the Arts and Crafts Movement, which celebrated a return to nature in the face of increasing industrialisation. William Morris and his daughter May, known for their distinctive wallpaper, textiles and tiles, both lectured here. Meanwhile, the likes of Pre-Raphaelite Edward Burne-Jones, Surrealist Emmy Bridgwater, and Arts and Crafts painter Kate Bunce were all notable students, walking across the mosaic floors which still stand today.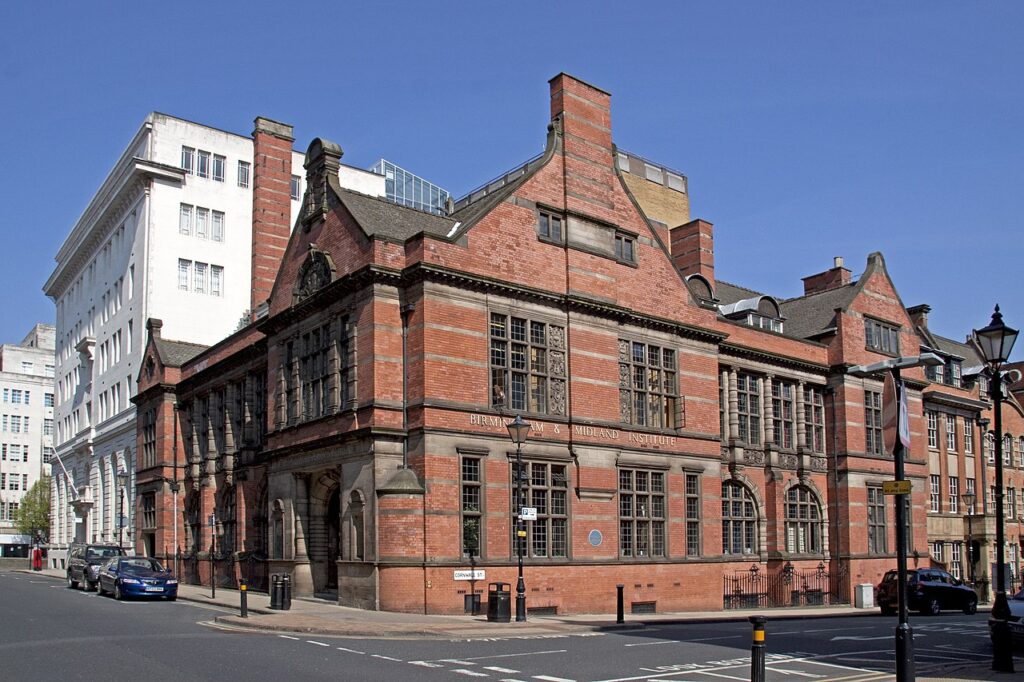 4. Birmingham and Midland Institute
Opposite Birmingham School of Art is another listed building with an incredible history, the Birmingham and Midland Institute. It was founded by an Act of Parliament in 1854 for the 'Diffusion and Advancement of Science, Literature and Art amongst all Classes of Persons resident in Birmingham and Midland Counties'. Since then, the BMI has been at the heart of the city's cultural life for almost 170 years. Charles Dickens was one of its early Presidents, while an important muse, Kathleen Garman, attended music lessons in the building. Percy Wyndham Lewis, Jacob Epstein and Augustus John were among the famous artist she posed for. As writer-in-residence at the BMI, this is where I wrote my first book MUSE, in between looking out of the window for inspiration at Birmingham School of Art. I also spent a lot of time inside the cafe on the first floor, which has some incredible murals of monkeys by local artist Jean Willis on its walls!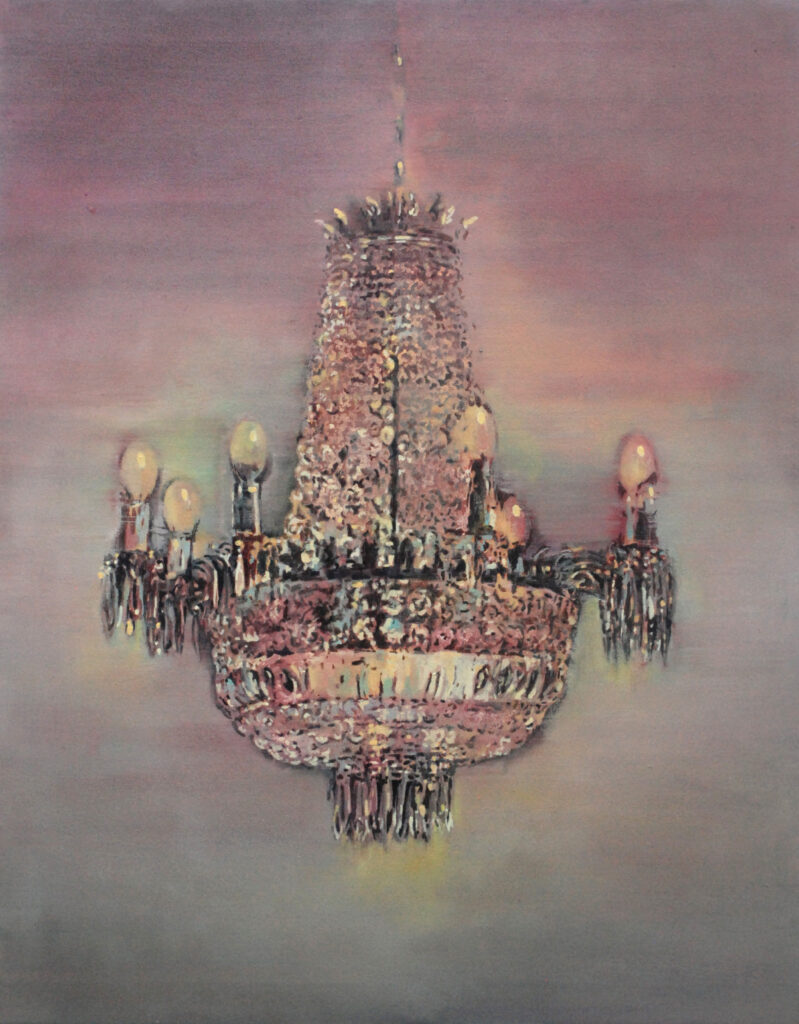 5. Colley Ison Gallery
From the heritage of the BMI to the art of today, the fifth stop on the Art Trail is Colley Ison Gallery. Located on Colmore Row, this welcoming commercial gallery exhibits and sells modern master art by the likes of Andy Warhol, David Hockney and Roy Lichtenstein. It also represents some of Britain's very best contemporary artists, and many of them are Birmingham-based, taking inspiration from the city itself. Annette Pugh paints local landscapes and chandeliers from Birmingham's Grand Hotel, while sensational realist painter Danny Howes depicts life and people from the region, including market stall holders or shoppers on New Street. Reuben Colley, on the other hand, finds beauty in empty and overlooked places, depicting canal tunnels, graffiti-covered subways and the suburbs as spots worth gazing at.
In fact, that is what this Art Trail does – it encourages us all to stop, look at and enjoy the art, history and heritage around us in Birmingham, as we walk across its streets.
In my next blog post, I will be sharing stories about the other 6 landmarks on Colmore Business District's Art Trail.
Until then, I hope you enjoy finding the public art and history we have on our doorsteps. Please do download the map here and share any photographs, using #ColmoreArtTrail and tagging @ColmoreBID on social media – I look forward to seeing your images!