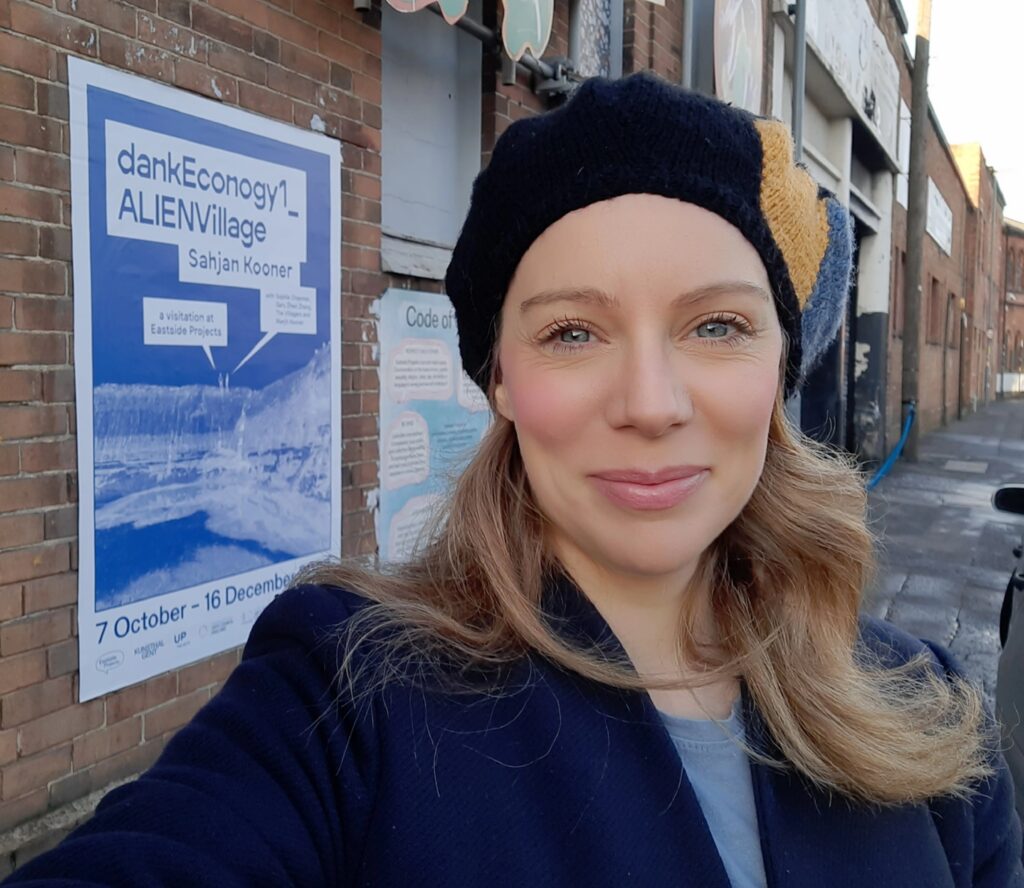 Down in Digbeth, I find myself in an alien world – part Punjabi village, part spaceship. Wolverhampton-based artist Sahjan Kooner has filled Eastside Projects with an immersive installation featuring biomechanical sculptures, green panels, film, and photographs covered in fungi. Titled 'dankEconogy1_ALIENVillage', this surreal science fiction art exhibition tells fantastical stories, but beneath its complex layers there are truthful messages, too.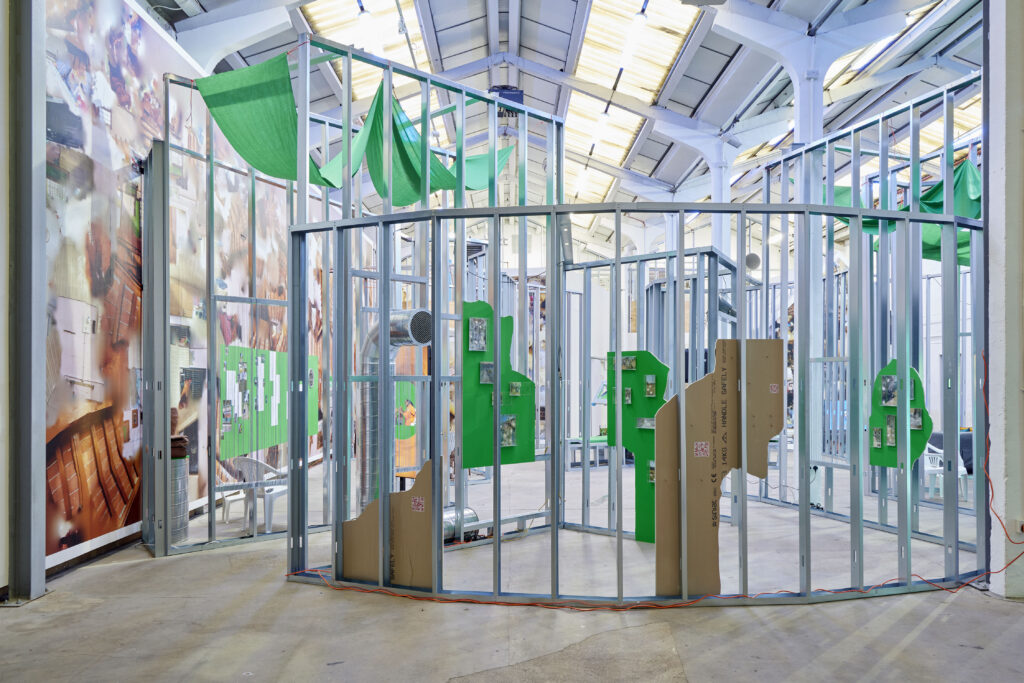 Stepping into the gallery, I'm faced with tall metal bars separating the space into various storylines. Which route should I take? A friendly artist-curator trainee, stood behind the desk, hands me a manga, created by Kooner, which explains that "there are many pathways, heroes, anti-heroes and collaborators" in this multiverse, created in collaboration with a whole village of artists, children, family members and a community in North India.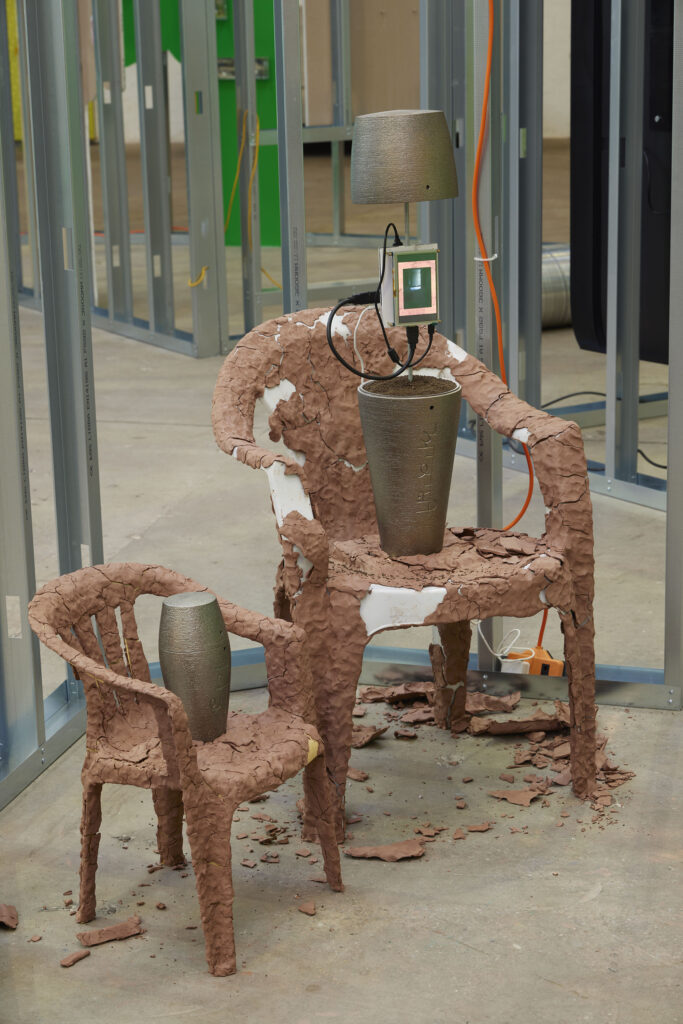 Starting in the Ampule Chamber, I find five crumbling chairs on top of which are placed ceramic ampules, inscribed with text that is alien to me, (but I later find out is Punjabi). They reference Ridley Scott's 2012 film, Prometheus, in which astronauts come across vessels, which are biological weapon systems, set to infect anyone who disturbs them. I don't dare touch these objects, which were produced with potter Rob Sollis, who made the film's original ampules.
I feel like an unsettled protagonist in this dystopian environment, which evokes a film set. My unease is heightened by throbbing sounds being cast through huge silver vents. This ambient soundtrack is reminiscent of the action-adventure stealth video game, Metal Gear Solid. It's up to me to decide which way I travel next in this constructed world.
Turning left, I find and watch a short video, 'finalbeginningAFTERAFTERAFTER', made in collaboration with the artist's mother who appears in space, wearing an orange jumpsuit, and speaking about an imagined journey to Mars:
"I was very excited to go to Mars, to try and figure out what is up there", she says. ""I'm excited, but also like emotional, leaving my family". Changing tenses as she speaks, she adds, "I didn't tell anybody that I was going to do it, but I did it. But from leaving the village and going to see the Mars".
It's often easier to speak hard truths through fictions, and Kooner's multiverse addresses themes of migration, drawing on personal experiences as their family were migrants to the UK from India in the 1960s. As they explain, "Ideas around intergenerational memory and experience in the Indian diaspora" inform their work, which explores "the social body and its relationship to place, geopolitics, violence, geology, ecology, botany and memory."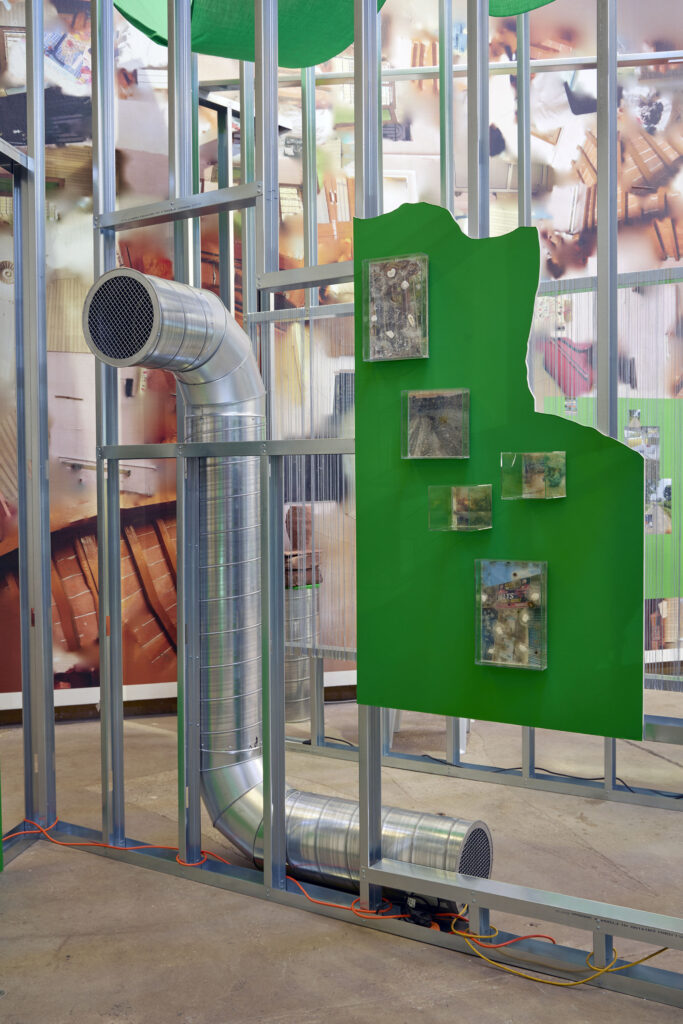 Holding memories, the gallery's outer walls are completely covered in skins of 3D scans from photographs of the village, exploring rural Punjabi life. On another inside wall hang photographs framing life in North India; the community's land appears as a moon-like surface in abstracted, closely-cropped shots. The images have been covered with fungi, impregnating them with a new culture, which will evolve throughout the exhibition's run.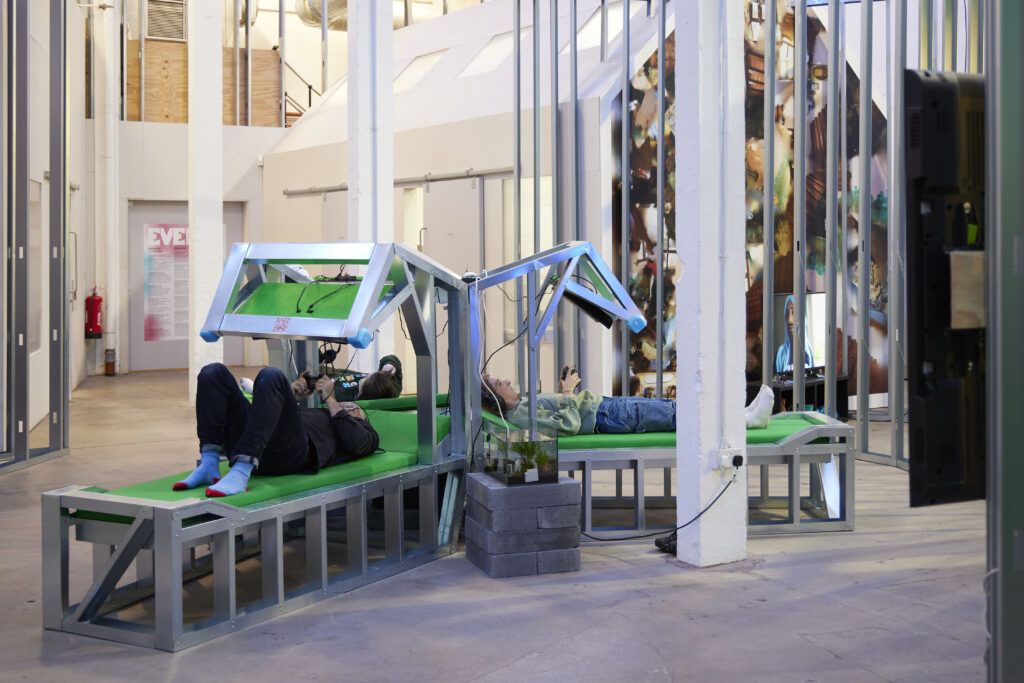 Life also grows centre stage – three water tanks house shrimps, creatures which disperse and colonise new depths. There are layers of meaning, and references to contamination, throughout the spaces, which are real and virtual. A pod of three benches invites viewers to lie down, don headsets and play a video game created by Kooner in collaboration with artist Gary Zhexi Zhang. Entering a labyrinth of yet more tunnels, I am a character escaping into new worlds. As technology evolves, science fiction is becoming a reality, after all.
Science fiction is also, at its heart, about escape. It's the ideal narrative through which Kooner can explore timely themes of migration and humans seeking a better, fairer life. One memorable video acts as an advert for Honey, in which a character wearing a bright blue wig tempts viewers with the promise of the product, metaphorical of a sweeter future.
But, the show's skeletal silver bars, combined with electrical wiring and strung-up tarpaulins, indicate a temporary settlement and a population who have just arrived or will be leaving soon. There is nothing welcoming about this environment; rather, my overriding feeling is one of unbelonging as I recognise that I am the alien invading Kooner's multiverse.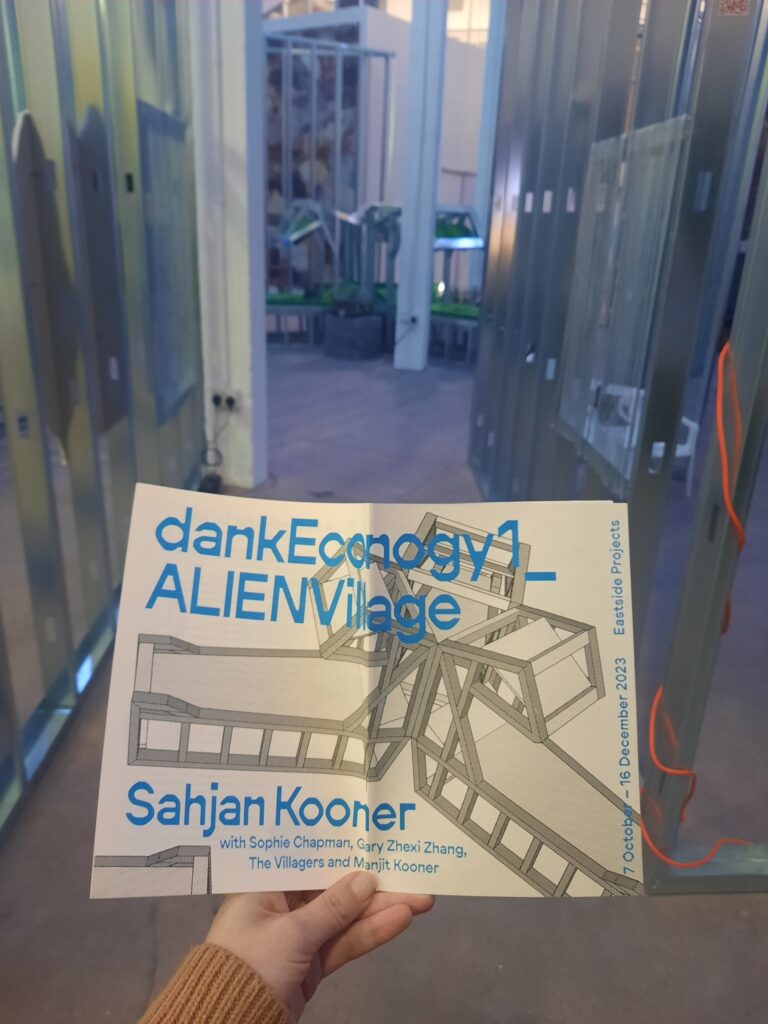 Through one of the most exciting exhibitions in the UK right now, Kooner shares poignant messages: we all want to find a home, we all have dreams of a future and, anyone of us can be considered an alien. What the architecture of that looks like depends on others. As their manga text explains, "Most of all, I want you to realise that we can work together to make another end of the world possible, one that houses all of us."
While exploiting the aesthetics of science fiction, from film to video games, the artist hasn't simply evoked apocalyptic dread but created an imaginative multiverse defined by fantastical lightness. Gamifying the gallery experience, Kooner invites visitors to play a leading role by deciding on their own path through the portals of this surrealistic, science-fiction story.
The first visitation of dankEconogy1_ALIENVillage will be open from 7 October to 16 December 2023, Wednesday to Saturday, 12–5pm at Eastside Projects, 86 Heath Mill Lane, Birmingham, B9 4AR.