BE FESTIVAL is back! Once again the festival – which turns the notion of conventional theatre upside down – is looking for volunteers and hosts. The festival has some fantastic opportunities to get involved and, in return for your time and support, you'll be given the opportunity to work alongside and meet leading theatre practitioners, attend workshops, see tons of theatre and more.
About BE Festival at the REP
Taking place at Birmingham Repertory Theatre between 3rd – 7th July 2018, the festival will welcome European performing artists of all genres and backgrounds for a week long festival of theatre, dance, circus, live music, DJs, visual arts, talks and workshops. BE FESTIVAL is dedicated to bringing the best emerging European theatre companies and visual artists to Birmingham and beyond, offering valuable and innovative development opportunities to artists and young people, and engaging with audiences in unique ways. All of BE FESTIVAL's year round activity has at its heart the desire to "cross borders" (cultural, social, linguistic, art form) and to nurture new talent.
Volunteers needed!
BE FESTIVAL take on a new team of volunteers every year to help with the set up and running of the festival. The wide range of volunteering roles includes: supporting the setting up and taking down of festival venues, assisting with marketing, assisting with visual artist installations, bar shifts, dinner service, assisting with the box office, front of house and welcoming, ushering and technical support, to name but a few.
In return for your time as a volunteer, we provide professional development including: shadowing technicians, administration skills, marketing and front of house duties through a process that begins with discussing your goals. Volunteers will also have the opportunity to see most festival performances, attend 1-2 workshops and will be provided with food whilst at the festival venue on shift. Travel expenses are paid for.
BE FESTIVAL is an intense week in an exciting environment allowing opportunities to connect and meet others giving you an experience that goes beyond just the shows. A dedicated and thoughtful volunteer network will make a big difference in the experience and smooth running of the festival for every person involved as well as for the audiences who attend the festival.
You will need to be available to attend the volunteer briefings and training days, as well as for the festival get-in, festival delivery and get-out.
Interested? Then send an email to Jessica Barber – jess@befestival.org – or give her a call on 0121 245 2000 by 4th May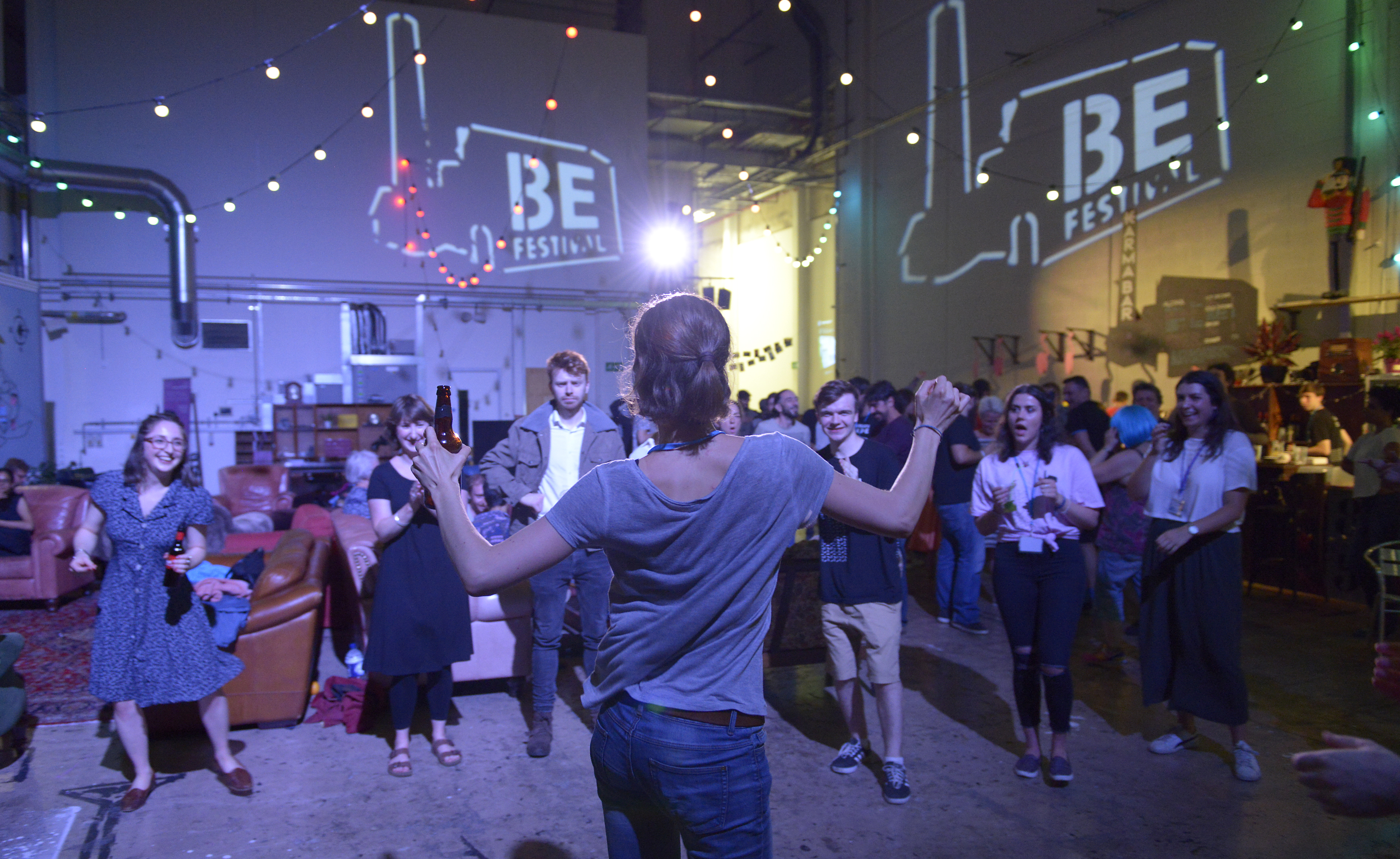 Want to host an artist? 
Would you like to offer a warm welcome to European artists visiting Birmingham? Are you able to host an international artist in your home between the 3rd and 8th July 2018?
The festival organisers are looking for generous and local residents to provide visiting guests with somewhere to stay. Performers won't need feeding or looking after, just a bed and a chat. In return for your generosity and support, you'll be invited to attend the festival on the night your guest is performing. Hosting gives you a great opportunity to get an insight into the festival through conversations with the artists you host. You can also improve your language skills if you wish (although most of them speak very good English)
If you would like to become part of BE FESTIVAL by hosting one or more artists then please get in touch with Selina Losa by email: selina@befestival.org or phone: 0773150286
Previous Host Feedback
"Hosting was delightful! I had a young woman from Romania and it just felt very relaxed and easy. It was so nice to have someone who was so involved in BE, which made me feel more involved too. It's easy when you get to my age to feel, you know, too old for this sort of stuff! But in fact, it's just a huge mix of ages here and that's really lovely."
"There's a real spirit of generosity here that I haven't come across anywhere else. I'm not quite sure where that has come from. It's only recently that BE has begun, but there has immediately been this up swell of warmth and positive feeling! People wanting to do what they can and everyone subsequently benefiting from it."
"This was almost zero effort for me & in fact I hardly saw my guest. However when I attended the festival it made a big difference. I felt part of it, a small cog which enabled the festival to take place and not just a spectator."
"Hosting was an exciting experience – meeting someone new, and getting a different perspective on life from them."
"I really enjoyed hosting; it was an enriching experience, I felt invested in the festival as a whole so on the two evenings I went I got a lot out of it, and I'd definitely be glad do it again. They were considerate and interesting guests. What more can I say?"
"We really enjoyed having Edu to stay. My husband and I got a tremendous amount out of the experience and would be very happy to do it again and recommend others to do the same."
Happy hosting and volunteering!