Birmingham born David Bomberg (1890 – 1957) is recognised as one of the 20th century's leading British artists and a pioneer of modernism. His artistic career began with experiments into vibrant, vigorous abstraction, before he developed an expressive figuration which has influenced numerous leading contemporary artists, including Frank Auerbach and Leon Kossoff. Throughout his career, his Jewish heritage and identity impacted on the themes and subject matter of his paintings.
Early life & career
Bomberg was born in Birmingham to a Polish Jewish immigrant family. He began his art studies at London's City and Guilds, before briefly returning to Birmingham to train as a lithographer. However, he quit this apprenticeship to study painting under Walter Sickert at the Central School of Art and Westminster College, before attaining a place at the Slade School of Art where he studied under the tutor Henry Tonks, who had also been brought up in Birmingham, to a family of brass foundry proprietors. Fellow students included Mark Gertler, Stanley Spencer, C.R.W. Nevinson and Dora Carrington: today this remarkable generation of artists is described as the school's "crisis of brilliance" and recognised as pioneers of modernism.
Geometry & the influence of the isms
Whilst still a student Bomberg showed an advanced understanding of experimental, avant-garde painting, particularly Cubism, Futurism and Vorticism. In 1912 he visited the London exhibition of Italian Futurists that exposed him to the dynamic abstraction of Umberto Boccioni, Carlo Carrà, Luigi Russolo, and Gino Severini, who promoted a new machine age in their paintings. In Roger Fry's Post-Impressionist exhibition in October of the same year, he saw work by Pablo Picasso alongside the angular abstraction of the British artist Wyndham Lewis, who founded Vorticism. His appreciation for Cubism was enhanced by his trip to Paris in 1913, where he met Picasso.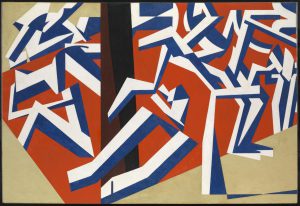 The Mud Bath
In the years immediately preceding World War I Bomberg painted a series of complex geometric compositions, which show him combining the influences of Cubism, Futurism and Vorticism. One of his most innovative and iconic works is 'The Mud Bath' (1914), which belongs to Tate. This subject matter for this work is based on the Schewzik Russian Vapour Baths in Brick Lane, Whitechapel, which were near Bomberg's home in east London. They were used by the local Jewish population for cleanliness and for religious observances, including the mikveh ritual bath. Bomberg's Jewishness was a very important part of his identity as an artist.
This painting shows his typical use of a limited number of striking colours – red, white and blue – to imagine the human form. The human figures have been turned into simple, angular shapes, reflecting the form, style and subject matter of the Futurists and Virtciists. While Bomberg exhibited with the Vorticists on a number of occasions, although declined their invitation to offically join the movement. He was too much of an individual to sign up to other peoples' manifestos. There is a real energy to paintings like this, for which he was expelled from the Slade School of Art. In 1913 Tonks and other senior teachers found his breach from their more conventional approach too audacious.
 "I am perhaps the most unpopular artist in England – and only because I am draughtsman first and painter second. Drawing demands a theory of approach, until good drawing becomes habit – it denies all rules. It requires high discipline… Drawing demands freedom, freedom demands liberty to expand in space – this is progress…The hand works at high tension and organises as it simplifies, reducing to barest essentials, stripping all irrelevant matter obstructing the rapidly forming organisation which reveals the design. This is drawing" – David Bomberg.
Return to representation & order
Following World War I, Bomberg's work changed dramatically. Like many artists, his faith in the machine age had been shattered, especially given his experiences as a soldier on the Western Front and his brother's death in the trenches. During the 1920s his work became more representational, dominated by portraits and landscapes painted from nature. He gradually developed a more expressionist technique, with loose brushwork and thickly applied paint, whilst travelling widely through Europe and the Middle East.
One of the paintings from this period, 'Bab-Es-Siq, Petra' (1924) belongs to Birmingham Museums. Bomberg went to paint and draw in Palestine between 1923 and 1927: although not a Zionist, he accepted a commission by the Zionist Organisation to paint images of Jewish settlements in Jerusalem. This is one of many studies Bomberg made of the great sandstone gorge and rock cut temples at Petra during his three year stay in Palestine. The Siq, or shaft, is a split in the rocks eroded by the waters of the Wadi Musa. Bomberg conveys an atmosphere of stillness, simmering heat and light in a range of pinks and deep blue shadows, which fill work with a quiet and reverential air of spirituality.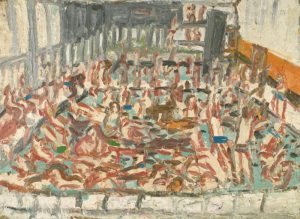 His legacy lives on: Kossoff & Auerbach
From 1945 to 1953, Bomberg worked as a teacher at Borough Polytechnic (now London South Bank University) in London. He taught a number of notable pupils, including Frank Auerbach (b.1931) and Leon Kossoff (b.1926) with whom he exhibited. Both young artists were also born to Jewish immigrant families, and adopted their tutor's expressive, impastoed approach to painting.
Like Bomberg, Kossoff began to paint sites of significance to him in the area of London where he lived. He created a series of paintings of the Children's Swimming Baths at Kilburn in 1967, with the pool crowded with families swimming and diving. In Birmingham Museum & Art Gallery's 'Children's Swimming Pool, Friday Evening' (1970) the bath provides a simple perspective framework within which the figures are shown as a mass of intersecting marks. The overall effect is one of hectic movement, light and noise. Echoing Bomberg's earlier 'The Mud Bath', the figures are reduced to two or three strokes of thick wet paint, built up in layers to create a deeply textured surface.
Meanwhile, the Barber Institute of Fine Arts recently acquired Auerbach's large oil painting, 'Primrose Hill – Winter' (1981-2). This work clearly shows the influence of Bomberg's expressive style: strong diagonals of the footpaths give movement, structure and depth to the composition. By 1955, Auerbach had settled in the Camden Town area of north London that has remained his home ever since. Like Bomberg and Kossoff, landscapes such as this show him responding through paint to the significant and immediate sites nearby his home in North London.