'To the Trees' is a new online exhibition in which Monica Perez Vega transports us into an enchanted forest of abstract tree paintings. Hosted by SUPA Gallery, the show includes 24 magically-coloured tree paintings for sale, with prices starting at just £50.
The virtual exhibition will run from 15th August – 5th September at SUPA Gallery.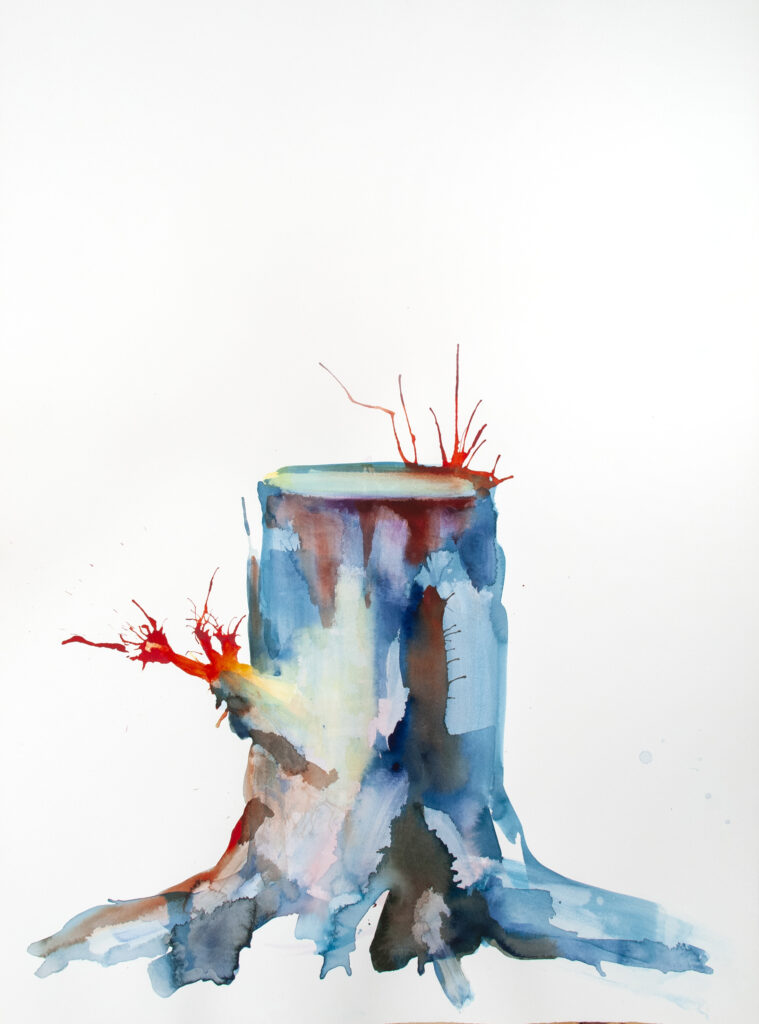 During lockdown, Monica Perez Vega was inspired by Britain's landscape, painting trees which she discovered during daily walks through urban spaces and the countryside. She recognised, more than ever, their symbolism of stability, endurance and renewal.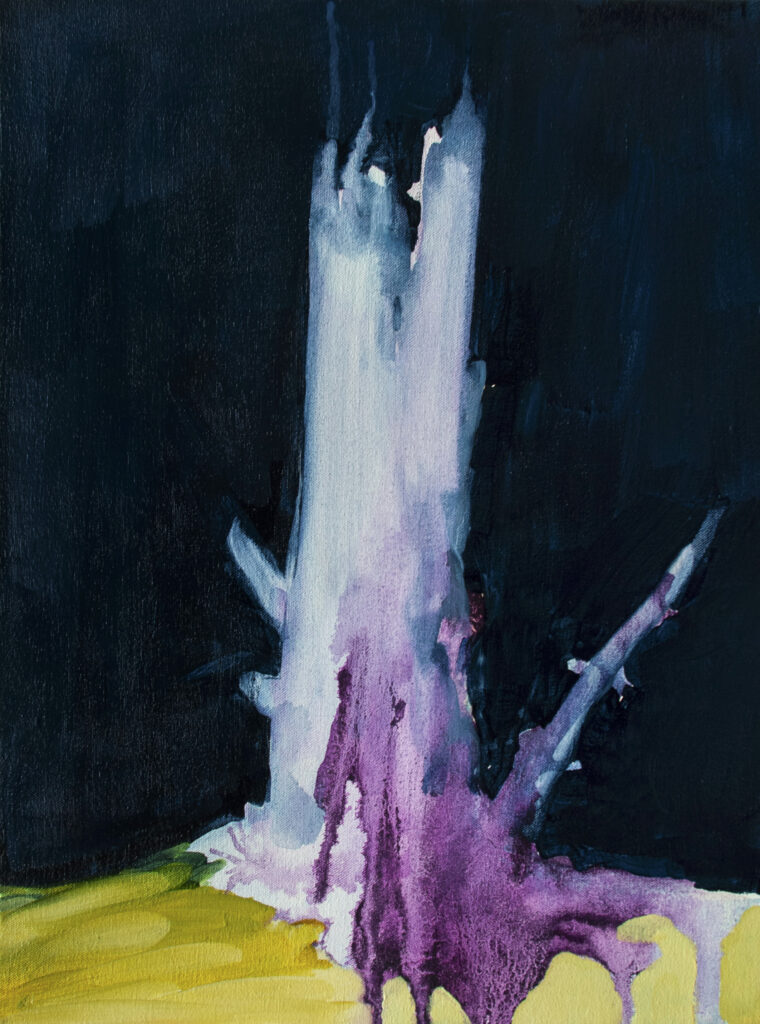 American artist and Slade School of Fine Art graduate, Monica Perez Vega, has always been interested in capturing the ever-changing, seasonal state of the world around us. However, during lockdown – which invited all of us to see the world from a new perspective – she was drawn to trees for their symbolic stillness:
"I think one thing we all noticed with lockdown was the stillness. Stillness opens us to observation; an inward alertness. Having moved around a lot, this is something I try to carry with me; an openness to experience place with mindful curiosity. Trees are, of course, embodiments of stillness and stability".
Perez Vega is originally from California, and her colourful trees – imagined in vivid blues, warm reds and golden yellows – also evoke her homeland:
"Maybe it's my own transience that has led me to an interest in trees. They are markers of time, place and home, and it was the realisation that I would not be able to go home this Summer that led me to paint the tree stumps, such as Red Shoots, Blue Shoots, Yellow Core".
These remarkable abstract tree paintings explore the connection between place, identity and belonging. The heightened colours of the trees are tinged with nostalgia for places far away from us, across time and space. You can almost feel the warm air of America's West Coast infiltrating imaginative paintings such as 'Hollowed Blue' and 'Remembering that Patch'.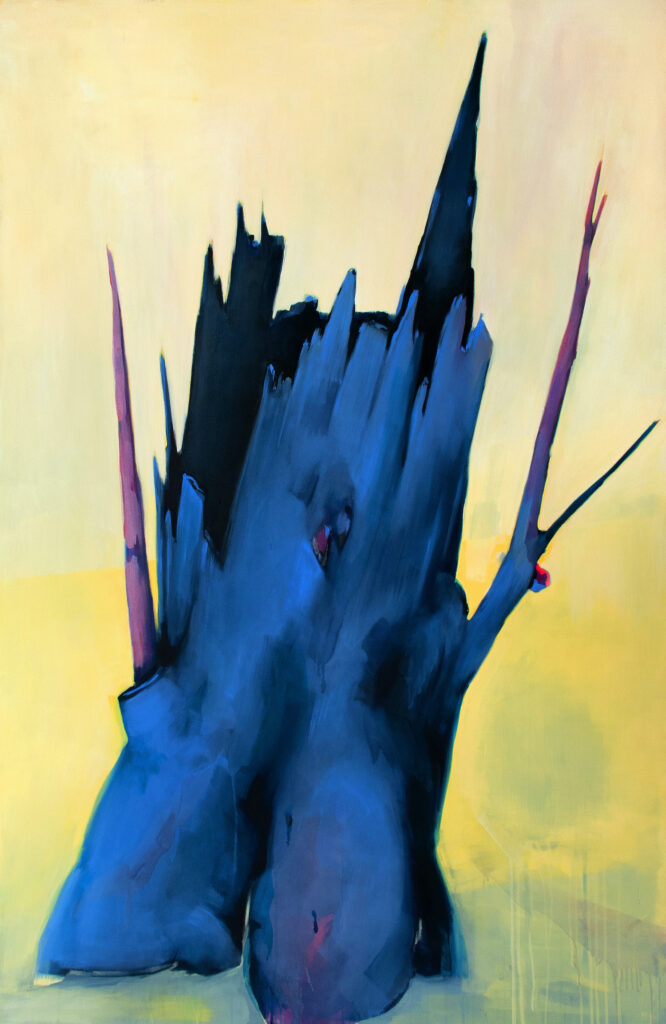 An exceptional colourist, Perez Vega joins the likes of David Hockney and Peter Doig in painting evocative landscapes you want to explore. There is an entrancing, dream-like quality, to each of these 24 trees created at the intersection of memory, reality and imagination.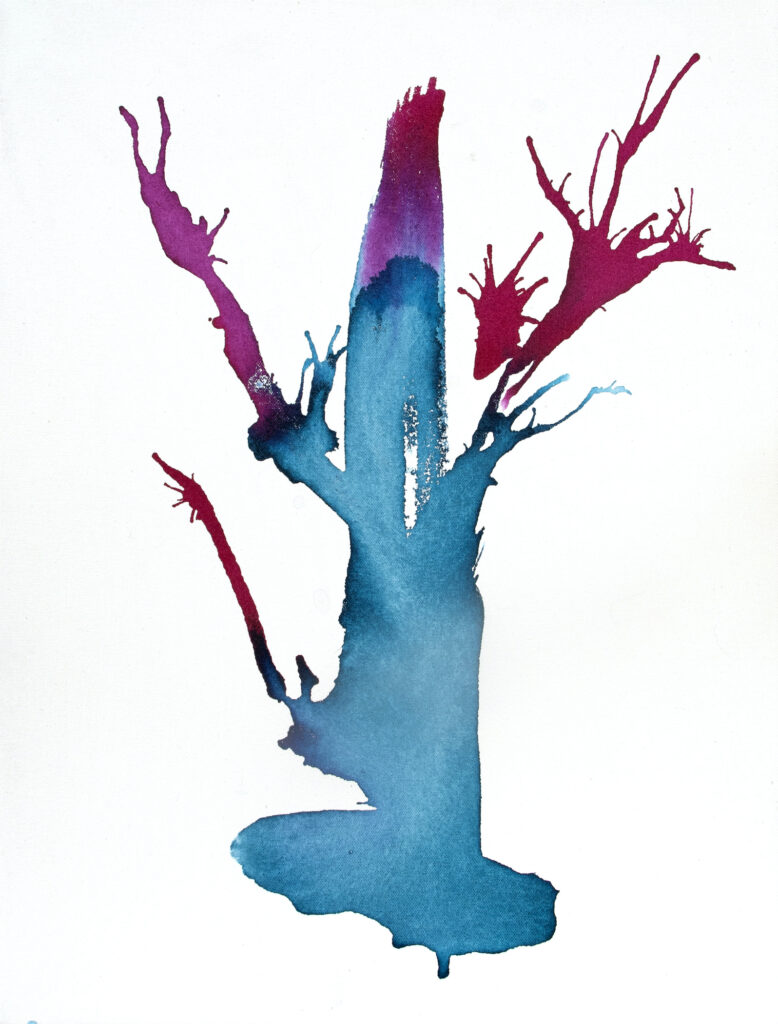 Many of the artworks were creating using inks and watercolours. Perez Vega embraced accidental and incidental moments, allowing herself to be guided by these fluid media. She sees this process as "reflective of life experiences" in which we must allow for change and transformation beyond our control:
"All things in nature must adapt to the uncontrollable elements forced upon them and I am seeking to capture that which is on the verge of either renewal or collapse. Amid the relentless story of progress and the ever-changing state of all things, I look to nature for signs of hope; of a promise of return" – Monica Perez Vega.
Above all, Perez Vega's tree paintings represent resilience and renewal. In works such as 'Pink Tree', ink spills over and new stems stretch out, indicative of life emerging. In 'Blue Tree 14' buds and branches reach the corners of her paper. Nature continues to evolve, through the seasons, and these tree paintings celebrate those cycles to which we all belong:
"Emblems of endurance and resilience, trees adapt to surrounding elements, environments and actions, their forms and textures are responses to outside influences. Death and decay are ongoing interests for me, within the cycle of all things- because within death and disruption, there is also the promise of renewal. A new season; new life; new possibilities".
Pictured together in this online exhibition at SUPA Gallery, Monica Perez Vega's trees become an abstract tapestry that evokes our continually changing and cyclical world. This extraordinary artist invites us in to her mesmerising forest, in which she has taken the tree, and twisted it into something magical.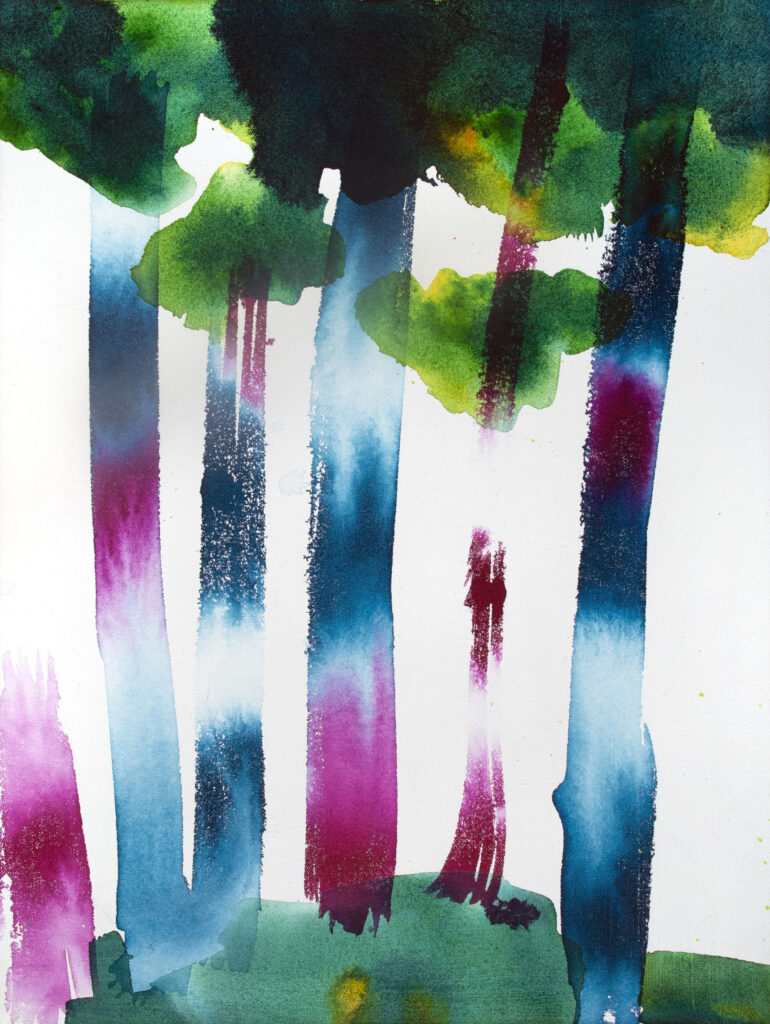 Monica Perez Vega has exhibited widely, with shows in London, Amsterdam, The Hague and California. She studied at California College of the Arts, San Francisco, before specialising in painting at the renowned Slade School of Fine Art. She is represented by SUPA Gallery.
Hosted by SUPA Gallery, 'To the Trees' includes 24 magically-coloured tree paintings for sale, with prices starting at £50.