BOM's summer exhibition, 'Make Believe' will invite you into a world of machines, imagination and AI. This interactive exhibition features 4 international artists – Gene Kogan, Violet Forest, Will Pappenheimer and Sofia Crespo. All 4 of the artists use the very latest technologies to create colourful and immersive experiences at the intersection of art and science. Watch an artificial intelligence try to turn a scene from Alice in Wonderland into a famous painting. Or discover the creatures from a 'neural zoo', imagined by artificial intelligence. Your senses and mind will be OVERLOADED!
The show will run from 7 June – 31 August 2019 at BOM's gallery in Birmingham.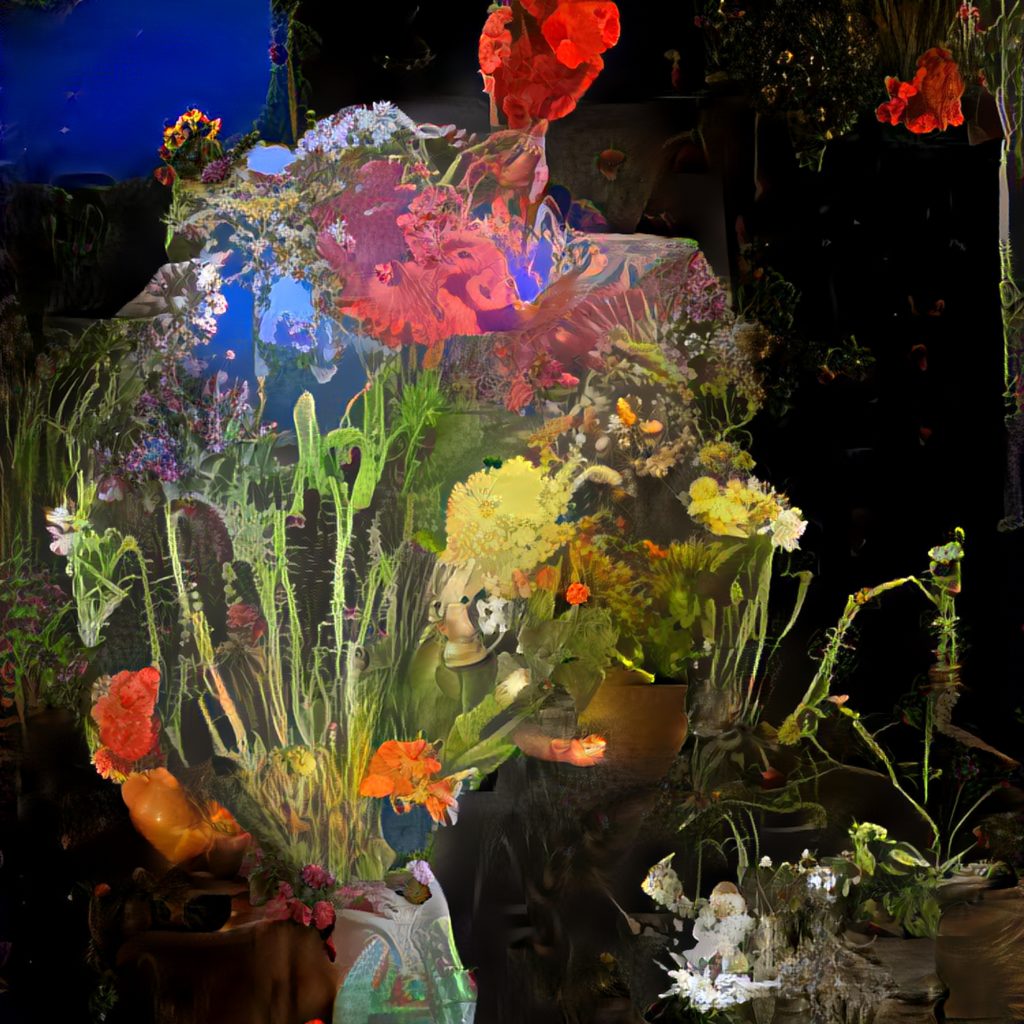 Meet the artists
So, let's meet the 4 artists involved (who all have pretty great names)…
Gene Kogan is an artist and a programmer who is interested in generative systems, computer science, and software for creativity and self-expression. He is a collaborator within numerous open-source software projects, and lectures on the intersection of code and art. Gene initiated ml4a, a free book about machine learning for artists, activists, and citizen scientists, and regularly publishes video lectures, writings, and tutorials to facilitate a greater public understanding of the subject.
American artist Violet Forest co-founded Cybertwee with Gabriella Hileman & May Waver, a collective that explores the intersections of technology & cuteness. She started out as a freelance front-end developer in Chicago, & now lives in Berlin, working at Volkswagen Future Design Center Europe doing UX Design and prototyping for self-driving vehicles.
Will Pappenheimer is a Brooklyn-based artist and educator working in new media, performance, and installation with an interest in institutional or spatial interventions. His work often explores the confluence of and tension between the virtual and physical worlds. He is a founding member of the Manifest.AR collective and participated in highly publicized augmented reality interventions at the Museum of Modern Art, New York, in 2010 and the 54th Venice Biennale in 2011.
Sofia Crespo works at the intersection of artificial intelligence, computed image recognition, and neural networks. Her current project, 'Neural Zoo', explores how creativity combines known elements in a specific way in order to create something entirely new. In her view, the creator, in this case, would be the algorithm itself, but with a human artist as its muse.
"Isn't all art made by humans an execution or reshaping of data absorbed through biological neurons? How can we continue to inspire machines to create art for us as emotional human beings?" – Sofia Crespo.
Make your own Make Believe
Visitors will also be encouraged to play at make believe themselves, in an interactive space designed for all ages. Add your own doodle to a giant constellation of drawings that float in a space made with augmented reality. Have a go with the brilliant Google Tilt Brush, and create your own 3D paintings in virtual reality. Control a computer-generated sensory scene with your fingertips. Make your own AI creature.
About BOM
BOM is a centre for art, technology and science based in central Birmingham. It is less than one minute's walk from New Street station. The Make Believe exhibition runs from 7 June to 31 August 2019. The public gallery is open Wednesdays to Saturdays from 12 – 5pm.
BOM has an on-site café, which is open Mondays to Fridays 9am – 5pm, and Saturdays 12-5pm.
For the wider programme of events, see BOM's website here. 
Ruth x