A growing number of artists have begun to explore issues relating to climate change and its effects, using their artwork to stimulate debate and create a call to action. While scientists can struggle to communicate the scale of climate change, environmental and eco art has a vital role to play in making the impact understood, asking us to reflect on what we can do in response.
Here in Birmingham and the Midlands, artists are encouraging conversations around topics such as global warming, air pollution and the cost of our 'human footprint' on the planet.
Anne Guest pictures plants, insects and birds with an intricacy and a fragility which is indicative of the disruption to their lifecycles.
Damian Massey's sculptural practice aims to evoke a realisation of our excessive consumption: he intrudes on public spaces with installations built from the 'stuff' that has been thrown away.
Jade Hamilton's mixed media tableaux imagine a post-apocalyptic future in which humans have used up the Earth's resources to such an extent that they cannot breathe independently.
Anne Guest uses a range of media, from drawing and photography to video, found objects and installation, to explore the relationship between plants, insects and birds which are the often overlooked indicators of the changing climate. There is already evidence that the delicate balance of their interdependent lifecycles is being disrupted. Pollinators, such as bees and butterflies, visit flowers to harvest their nectar and pollen; they are essential for flower reproduction and, as their lifecycles are becoming increasingly out of synchronization, they decline. This is especially worrying for agriculture as at least one third of the total volume of agricultural produce relies on pollination. The pollinators also play a crucial part in wild food chains. The evocative work above has been created using the Cyanotype photographic printing process that produces a beautiful cyan-blue print.
"I like to emulate the sense of awe and wonder associated with the cabinets of curiosities or wunderkammer that were first established in the seventeenth century in an attempt to categorise and tell stories about the wonders of the natural world, offering a strange link between ancient myth and scientific reality. I respond to the current relationship with the natural world which man seems determined to destroy whilst simultaneously re creating, cloning and de extincting" – Anne Guest.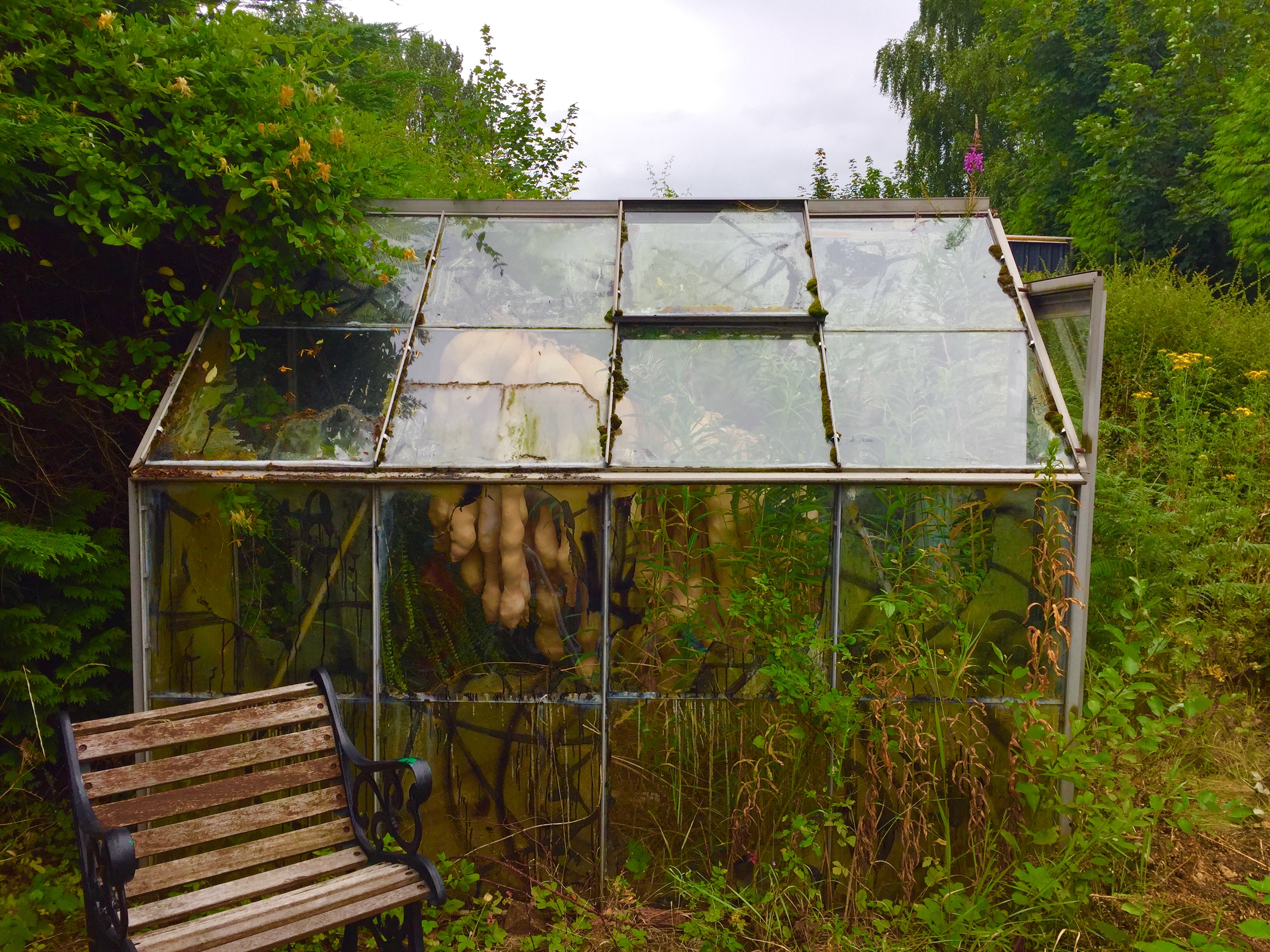 Disposing of waste has huge environmental impacts and can cause serious problems for not only human survival but the survival of all other species on the planet. In the UK much is buried in landfill sites; holes in the ground, sometimes old quarries, sometimes specially dug, but what we see today is an increase in fly-tipping, the illegal disposal of waste. Some waste will eventually rot, but not all, and in the process, it may smell or generate methane gas, which is explosive and contributes to the greenhouse effect. Throwing away things wastes resources, It wastes the raw materials and energy used in making the items and it wastes money.
Damian Massey's sculptural practice aims to evoke a realisation that the consumer will become consumed by our own inability to manage what we throw away. The goal, Massey suggests 'is to disrupt the relationship between the values towards the consumer object compared to human survival', with sculptural forms that compel his viewers to question their own participation in current global issues, surrounding sustainability and climate change. To achieve this, the artist intrudes on public spaces with installations built from the 'stuff' that has been thrown away or discarded carelessly in nearby streets, bins, parks and ally-ways in turn giving the objects agency with the absence of the human body.
Interested in his own ability to recycle and reuse, Massey's work exists in a transient state which allows for a continuous reproductive cycle to take hold; previous works being stripped apart and deconstructed to make way for new manifestations, eliminating the capital value of the artwork and in turn making way for questions surrounding the artists contribution towards sustainability and the ethical value of his sculptural practice.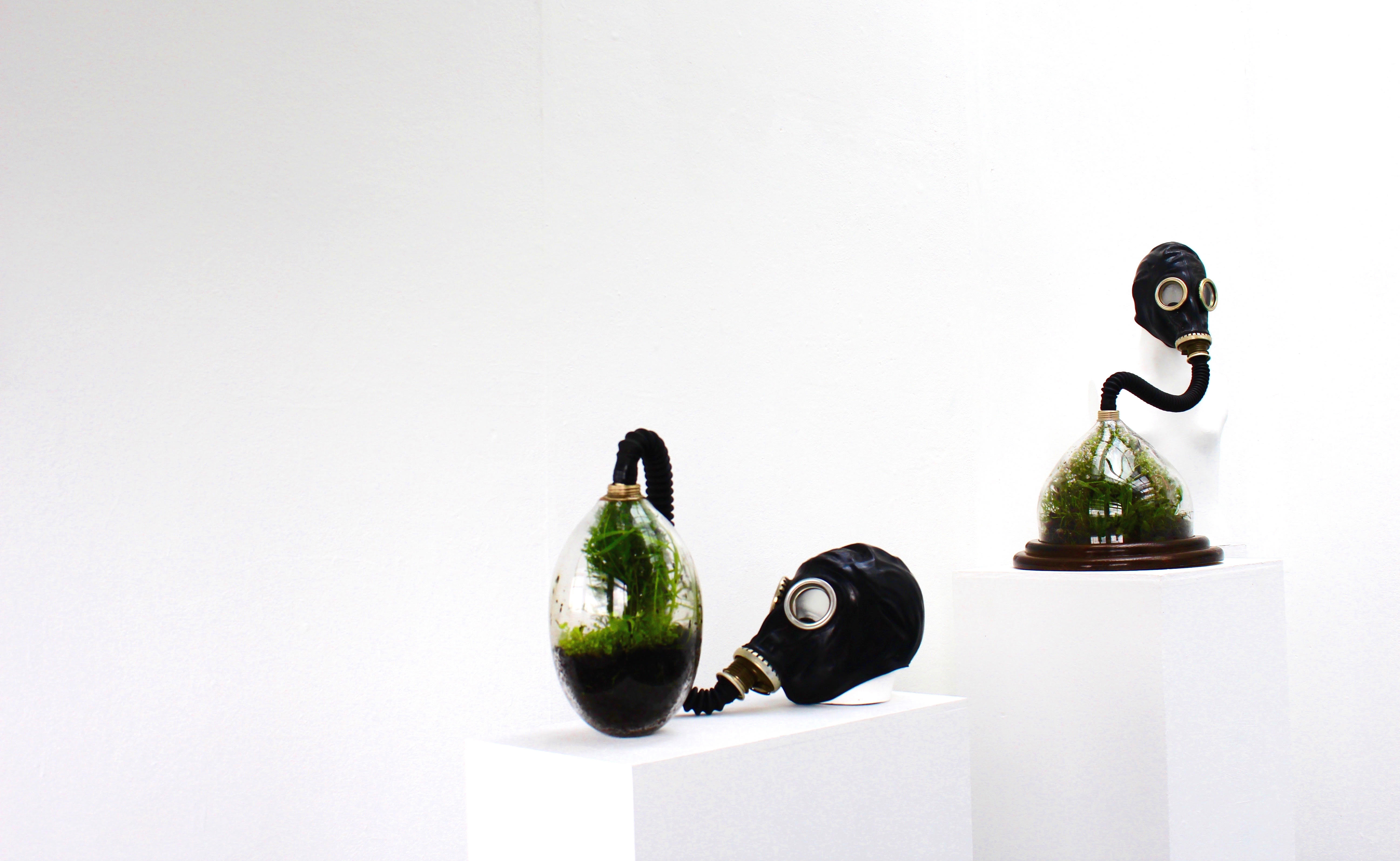 Jade Hamilton studied Fine Art at the University of Wolverhampton, and currently practises from the Temple Street Studios in Wolverhampton. She was featured in last year's New Art West Midlands 2017 show at Mac Birmingham. Her mixed media works create an imagined, surreal, post-apocalyptic future. 'Future Mess' (2016) is about a tomorrow in which humans have used up the Earth's resources to such an extent that they have created a natural environment in which it is impossible to breathe independently. Her eerie sculptures consist of planted glass domes with breathing apparatus as a critique of the rising air pollution levels.
Ruth x