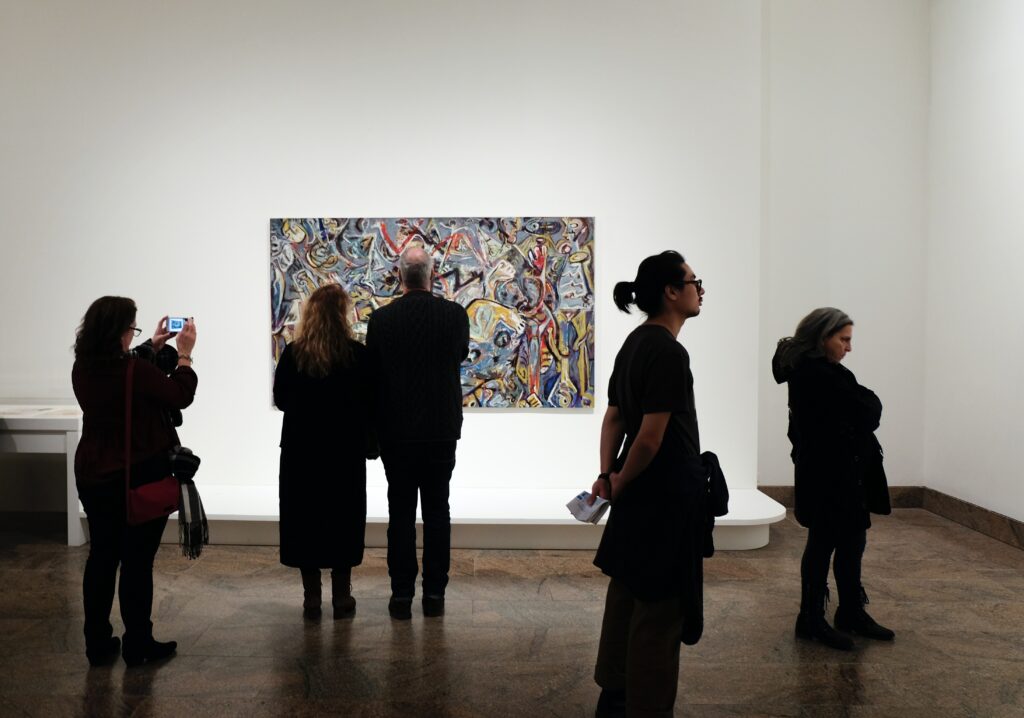 In today's image-driven world, the role of an art critic remains crucial in unpicking, questioning and making sense of visual culture. Traditionally, the art critic has written for newspapers and magazines, but in 2019 they are also on Twitter and Instagram. Art criticism is a podcast or YouTube upload. It's a live stream. It is STILL a white, male-dominated scene. And it's still London-centric. Waves from Birmingham. But there are new voices cutting through the plummy accents. Here I round up 16 current British art critics, including famous, conventional critics and new, emerging commentators, worth listening to.
All of these art critics have had an impact on my art writing, and I respect their opinions, even if I don't always agree with them.
1. Laura Cumming
Twitter @LauraCummingArt
Laura Cumming is one of my favourite art writers. She's an engaging storyteller: her eloquent prose brings out hidden narratives in images. You can tell she spends time looking at a picture. Since 1999 she has been art critic of The Observer. Before that she worked for The Guardian, the New Statesman and the BBC. In addition to her career in journalism, Cumming has written several excellent art books, including A Face to the World: On Self-Portraits and The Vanishing Man: In Pursuit of Velazquez.
2. Adrian Searle
Twitter @SearleAdrian
Adrian Searle is both an artist an art critic. which I like. You can tell when someone writing about art has a real understanding of the making process. And not just an MA in Art History. Trained as a painter, he began writing in 1976 for Artscribe magazine and continues to contribute to art magazines and journals. Today, he is an art critic for the Guardian. His publications include a beautiful Phaidon monograph on Peter Doig (2007). He has curated exhibitions around the world, he was a Turner Prize juror in 2004 and is currently a visiting professor at the Royal College of Art in London. Expect evocative language and over-use of the hyphen.
3. Will Gompertz
Twitter @WillGompertzBB
Will Gompertz is the BBC's arts editor. He's best known for talking about modern art in a lively, breezy and unpretentious manner. And for his crazy Professor hair. He's a conventional critic with a conventional CV. But he makes art criticism accessible. He was previously director of Tate Media, through which he was responsible for Tate Online – the UK's most popular art website – and created Tate Etc, the UK's highest-circulation art magazine. He has also set up a TV production unit, making arts programmes for Channel 4 and ITV. In the summer of 2009, he wrote and performed a one-man show at the Edinburgh Fringe called Double Art History, a light-hearted lecture on the story of modern art. He has written extensively for The Guardian and The Times newspapers. I can recommend his book What Are You Looking At? 150 Years of Modern Art in the Blink of an Eye which reveals him to be a natural art history teacher.
4. Alice Procter
Twitter: @aaprocter
Alice Procter has made a name for herself through delivering Uncomfortable Art Tours. They are exactly what they sound like and exactly what the art world needs. Procter's tours focus on how major institutions came into being against a backdrop of imperialism.She unravels the role colonialism has played in shaping and funding major national collections, asking questions about where museums' money comes from, the ways in which objects are displayed, and the ideological aesthetics at work. 'Display it like you stole it' is her rallying cry to museums. If you can't make a tour, follow her commentary on Twitter.
5. Andrew Graham-Dixon
Twitter @AndrewGrahamDix
Sometimes it seems like Andrew Graham-Dixon is always on one BBC channel or another, and always speaking in a very educated accent. He is an old school art critic and presenter; he loves the Old Masters; he's Oxford educated. The man knows his stuff and he never dumbs down his subject – which I like. He admits he has modelled his TV manner on David Attenborough and it works. So far, he's presented 6 landmark series on art for the BBC, including A History of British Art, The Art of Germany and Art of Eternity. For more than 20 years he has published a weekly column on art, first in The Independent and, more recently, in The Sunday Telegraph. He has written too many art books to list. He's the ideal man to watch from your sofa on a Sunday afternoon.
6. Jonathan Jones
Jonathan Jones is a British art critic who famously speaks his mind. You"' find him writing for The Guardian. And never nice things about Grayson Perry. As a BBC art critic, he has appeared in the TV series Private Life of a Masterpiece. In 2009 he was a judge for the Turner Prize. He's the author of this absolutely slamming quote: "Grayson Perry is what happens when art becomes a pseudo intellectual entertainment for a world that is too busy to look and too distracted to feel: an artist for people who can't be bothered with art. Now put that on a pot." This is exactly what we all want from an art critic.
7. Alistair Sooke
Alastair Sooke is an art critic at The Daily Telegraph and epitomises the Courtauld-style of 'intellectually astute' art history. That phrase actually appears in their prospectus. Since joining the Telegraph as a trainee in 2003, he has interviewed many of the most famous artists in the world, including Damien Hirst, Anish Kapoor, and Jeff Koons. He is also a BBC art critic. In 2010, he wrote and presented Modern Masters, a four-part series about modern art. He also reports for The Culture Show on BBC Two, and has contributed to a wide range of arts programmes on radio and television. He's authoritative and engaging and likeable.
8. Jackie Wullschlager
Jackie Wullschlager is Chief Art Critic of the Financial Times, where she has a regular column. Her exhibition reviews are often well-balanced but she also has balls. Wullschlager will write things like 'Chagall is a colossal mama's boy'. Her books include the prize-winning Hans Christian Andersen: The Life of a Storyteller.
9. Grayson Perry
Twitter: @Alan_Measles
Grayson Perry is both a contemporary artist and art critic – commenting on the art establishment from the inside, and subverting the traditional relationship. As an artist, he is known for creating ceramic vases, tapestries and – of course – cross-dressing. He has an ego the size of one of his giant pots. In 2013 he delivered the BBC Reith Lectures on contemporary art; and a book on the same theme Playing to the Gallery (2014). It's laugh-out-loud funny, true and thought-provoking. An excellent critique of how the art world really works. Perry has also fronted various TV programmes about art, gender, identity and social class. He shows us how art inflects and is informed by all aspects of life.
10. Louisa Buck
Twitter: @loubuck01
Louisa Buck is a British art critic and contemporary art correspondent for The Art Newspaper. She also writes on contemporary art for a number of different journals. As a TV art critic, she provides regular commentary for BBC TV and radio. Her first book, Moving Targets 2, gives profiles of the artists, curators, collectors, critics and galleries who contribute to the "best and most challenging art that is being made in Britain". Profiles of artists include Damien Hirst, Tracey Emin, Chris Ofili and Cornelia Parker.
11. JJ Charlesworth
Twitter: @jjcharlesworth
JJ Charlesworth is an art critic and Senior editor at ArtReview. He studied fine art at Goldsmiths College, London, in the mid-1990s, before turning his hand to criticism. Since 1999, he has written reviews, articles and commentaries for publications such as Art Monthly, Modern Painters, Time Out London, Third Text and the Daily Telegraph, artnet.news and CNN Style. Focused on contemporary art, he has published numerous features and catalogue essays on artists including Roger Hiorns, Sarah Lucas and Liam Gillick. He uses art criticism as a platform to discuss wider debates on politics, class, cultural history and capitalism (he's a Marxist). You can tell he's super sharp and sometimes his sentences are too long.
12. Iwona Blazwick
Iwona Blazwick is an art critic and lecturer, and has been Director of the Whitechapel Art Gallery in London since 2001. She champions the careers of emerging artists. Most recently, she launched a BBC Radio 4 series exploring overlooked artists from the 20th century, starting with Eileen Agar. She's committed to giving more visibility to women artists and questioning the status quo.
13. Dr Bendor Grosvenor
Twitter: @arthistorynews
Bendor Grosvenor is known for his work as an 'art detective', discovering lost artworks in BBC series 'Britain's Lost Masterpieces' and 'Fake or Fortune?'. As a British art historian and former art dealer, he specialises in Old Masters and British pictures, especially portraits. He has a brilliant blog, called Art History News, which includes exhibition reviews and commentary on art world news. He also writes regularly for The Financial Times and The Art Newspaper. Expect in-depth analysis and art historical insight of individual artworks.
14 & 15. Zarina Muhammad and Gabrielle de la Puente
Twitter: @ZarinaMuhammad and @gabrielledlp
Creators of The White Pube, Zarina Muhammad and Gabrielle de la Puente describe themselves as "cowboys of the art world". They write about contemporary art on their website, Twitter, Instagram, podcast and put up the occasional YouTube video. They cut through taboos, call out art world hierarchies and address issues such as white artists using black bodies in their art. Expect emoticons and straight-talking. It's refreshing and 'woke'.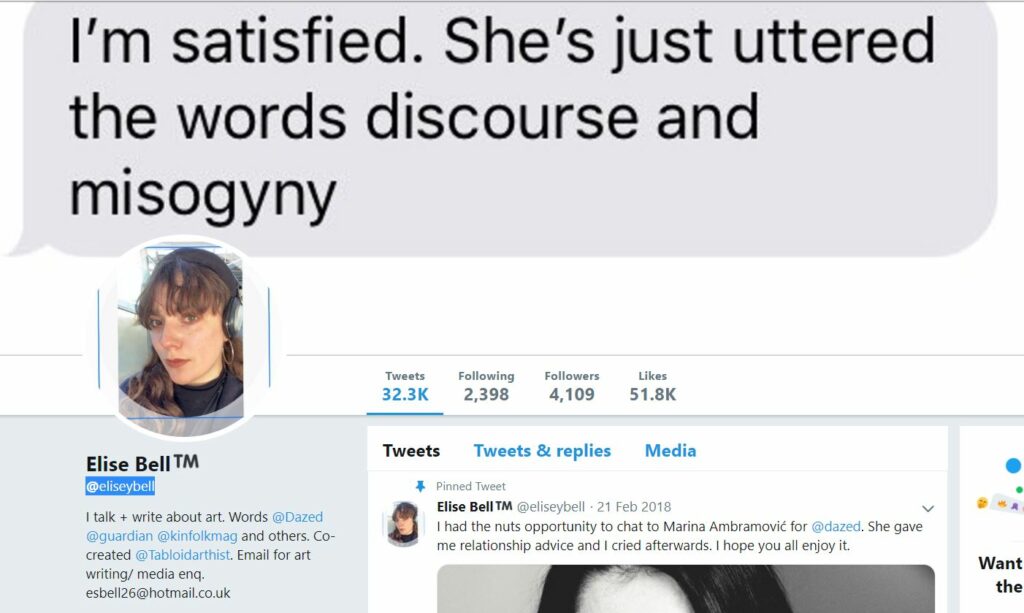 16. Elise Bell
Twitter: @eliseybell
Elise Bell is an arts writer and commentator based in London. Focusing on comment pieces, interviews and op-eds, Bell has written for The Guardian, Dazed, Kinfolk, Prospect and It's Nice That and has also appeared on BBC Front Row. Campaigning for arts accessibility, Elise Bell co-founded the social media brand Tabloid Art History and uses her incisive knowledge of art history to poke fun at the art world whilst discussing the issues surrounding it. She can be found interviewing Marina Ambramović, deriding Anish Kapoor and asking questions about class in the arts.