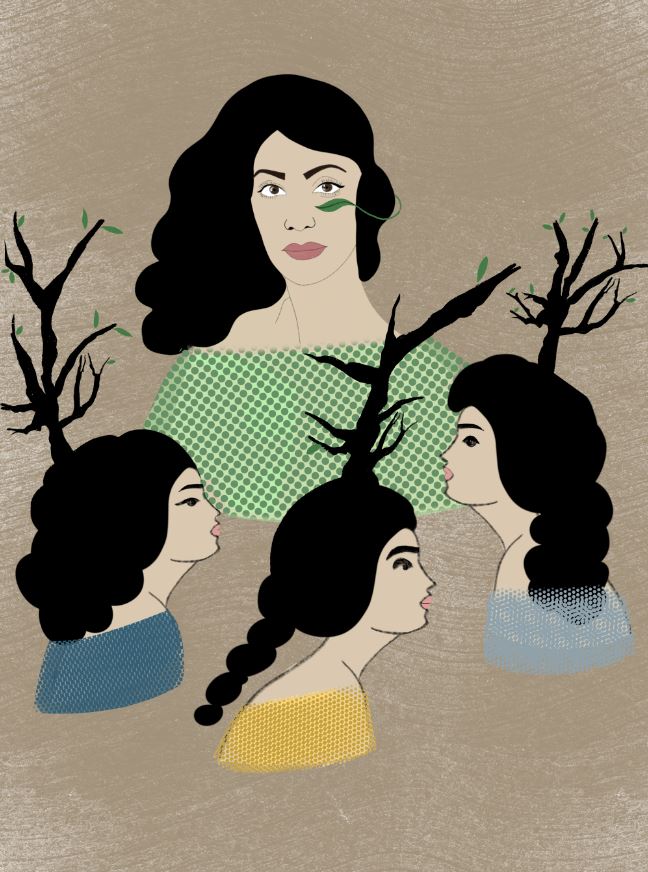 Dina Razin is on a mission: to honour famous middle eastern women with her symbolic art works. The stories of these writers, artists, architects and other inspiring women have largely been untold, overlooked or downplayed, within Western narratives. But Razin is now shining a spotlight on them with her empowering, illustrative images, to be shared with audiences right across the globe.
An award-winning Syrian/Iraqi artist, Dina Razin pictures each of her inspiring Middle Eastern muses with her an inside, female gaze:
"I focus my work on the female figure and the empowerment of women. I'm often inspired by the strong females I encounter in my life, while at times also shedding light on their vulnerabilities."
Art history is, of course, saturated with paintings of Middle Eastern women by great western male artists. However, the likes of Ingres and Gérôme historically used these female figures to offer eroticised, exotic fantasies for their viewers' consumption.
Challenging the canon, Razin explores these women beyond such stereotypes, to present them as complex individuals, whose inner worth is as important as their external beauty.
As she also recognises, Razin's heritage also influences her unique style: she interweaves contemporary portraiture with botanical imagery and pattern, referencing Islamic design principles, such as symmetry and abstraction.
"Inspired by my Middle Eastern heritage and background, I incorporate a lot of botanical elements in my work".
Who better to tell the inspiring stories of these Middle Eastern women than Razin? In her own words, here are the Famous Middle Eastern Women who she has chosen to illustrate, with her reasons why: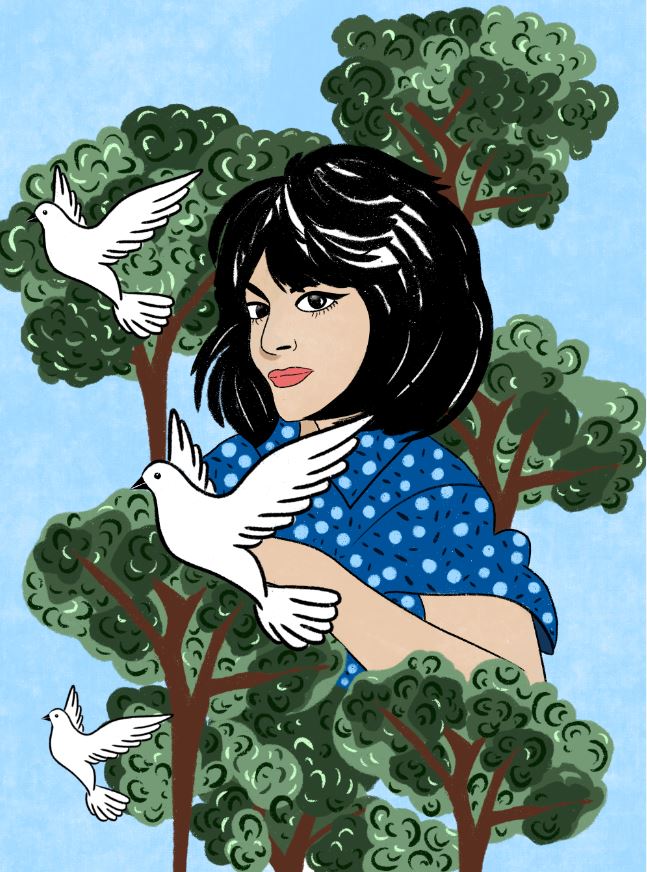 Ghada Samman (b.1942)
A Syrian poet and journalist. Many of her works have been translated from Arabic into languages such as English, French, Italian, Farsi and more. Pursuit of personal freedom and self-expression inspired most of her writing. She is also famous for utilizing symbolism, which helped her address what is considered taboo social and political issues that might have been difficult to tackle directly. For example she is famous for the use of animals in her works. My illustration is inspired by a poem called" One bird on the tree is better than 10 in the hand".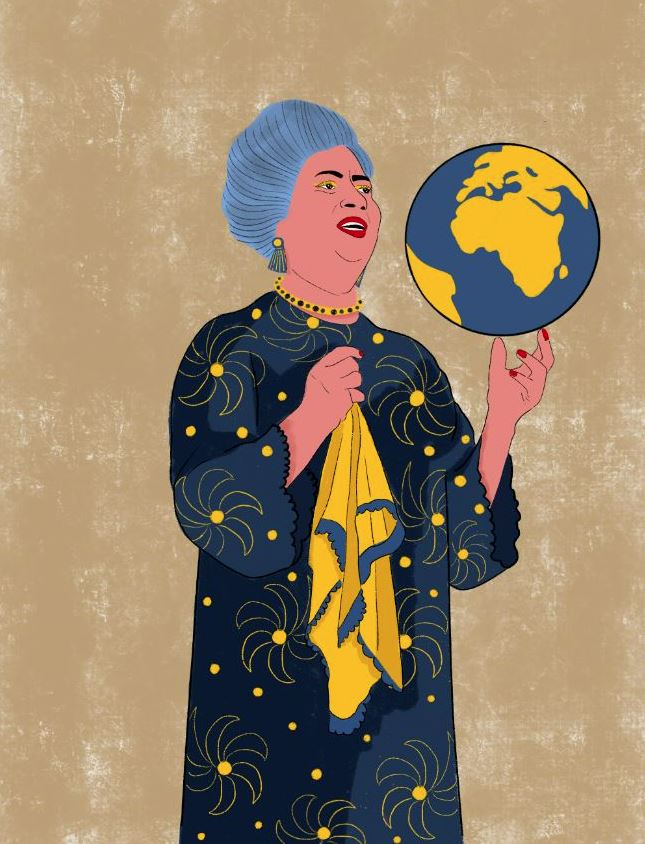 Umm Kulthum (1898 – 1975)
Umm Kulthum was an Egyptian singer, songwriter, and film actress, who was given the title "Kawkab el-charq" ('the planet of the Orient'). She is considered a national icon in Egypt, and is one of the greatest singers in the history of Arab music. She has retained a near-mythical status among young Egyptians and the Arabic World.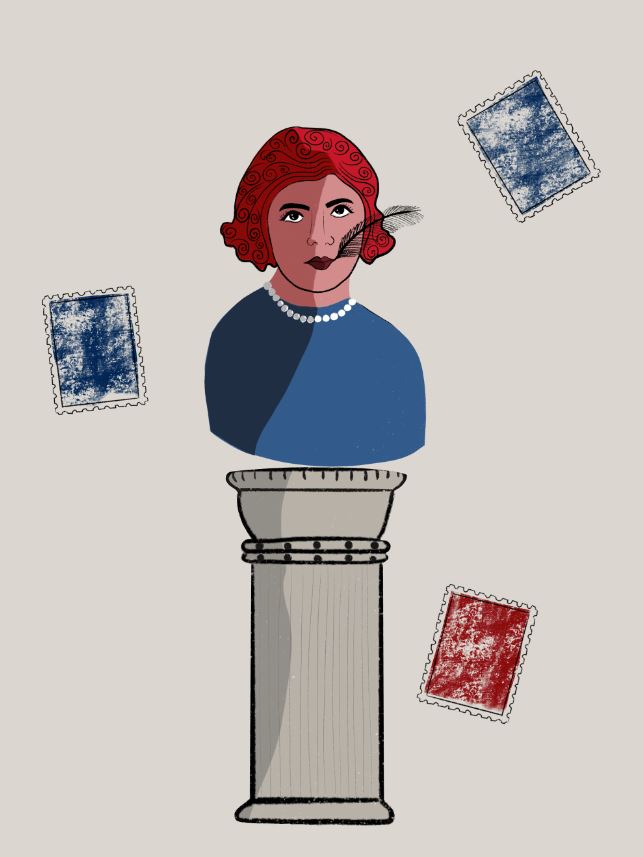 May Ziadeh (1886 – 1941)
A Lebanese-Palestinian poet, essayist and journalist. In addition to her writing, May established a literary salon in 1912 which was frequented by many Arab intellectuals.
May was involved in the women emancipation movement and called for the liberation of women. She never married but had exchanged letters for 19 years with literary genius Lebanese-American poet and writer, Khalil Gibran. Although they never met, the correspondence lasted until Gibran died in 1931.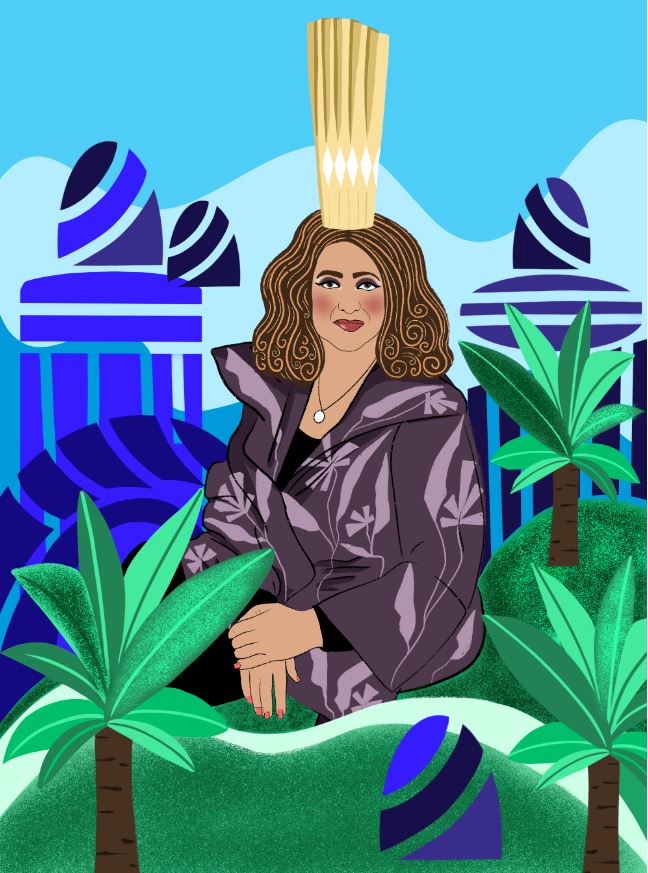 Zaha Hadid (1950 –2016)
Iraqi architect and artist, who is one of the most important figures in architecture in the 20th and 21st centuries. Hadid was influenced by Suprematism and Russian Avant-garde. The crown I chose to place on her head is inspired by her design for the Iraqi parliament in Baghdad. Selecting her for this project shows the role Iraqi women play in their society which is usually overshadowed by the traditional oppressed image perceived by the west.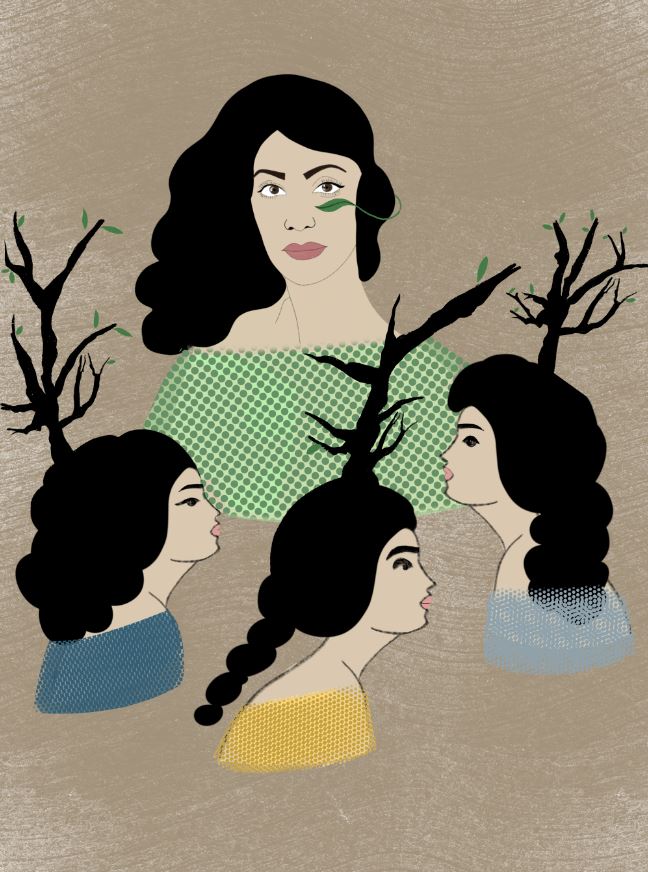 Hayv Kahraman (b.1981)
Iraqi/American artist, who explores subjects like war, immigration, inequality and victimization of women. 'War-aq', the Arabic word for playing cards, is a very personal group of her works. She combined the idea of a scattered deck of cards with the experiences of five million displaced Iraqis, such as herself. Born in Baghdad, she fled to Sweden with family during the Gulf War, studied in Florence, and is currently based in Los Angeles.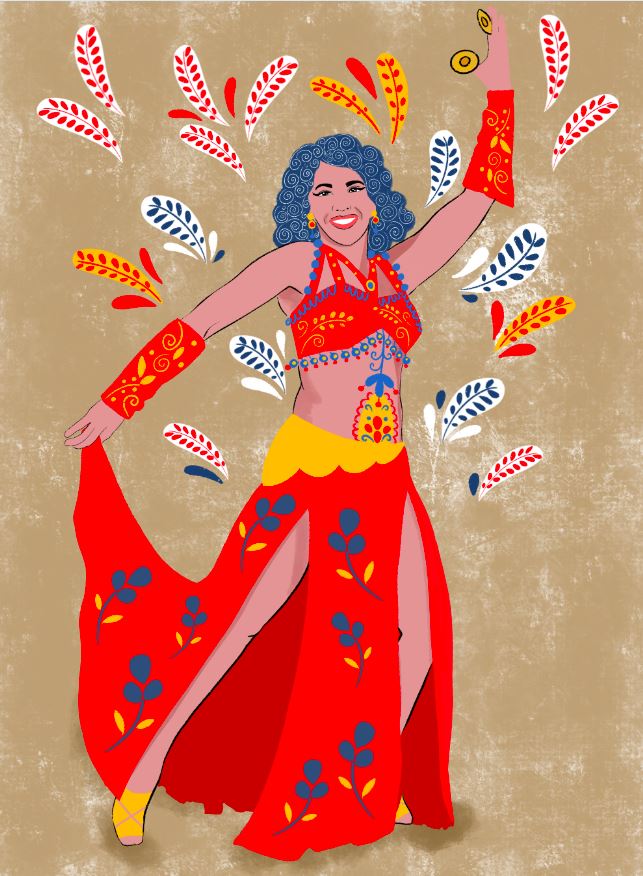 Taheyya Kariokka (1915 – 1999)
Egyptian dancer and actress who starred in movies during what is described as the Egyptian film industry's "Golden Age". She was a talented dancer, singer, and actress. She was also a political activist who was imprisoned for her political activism and she used her privilege in prison to protect political prisoners and other female prisoners from the inhumane conditions they were forced to live in.
You can find and follow artist Dina Razin on Instagram, Twitter and she has a select number of works available for sale on her website.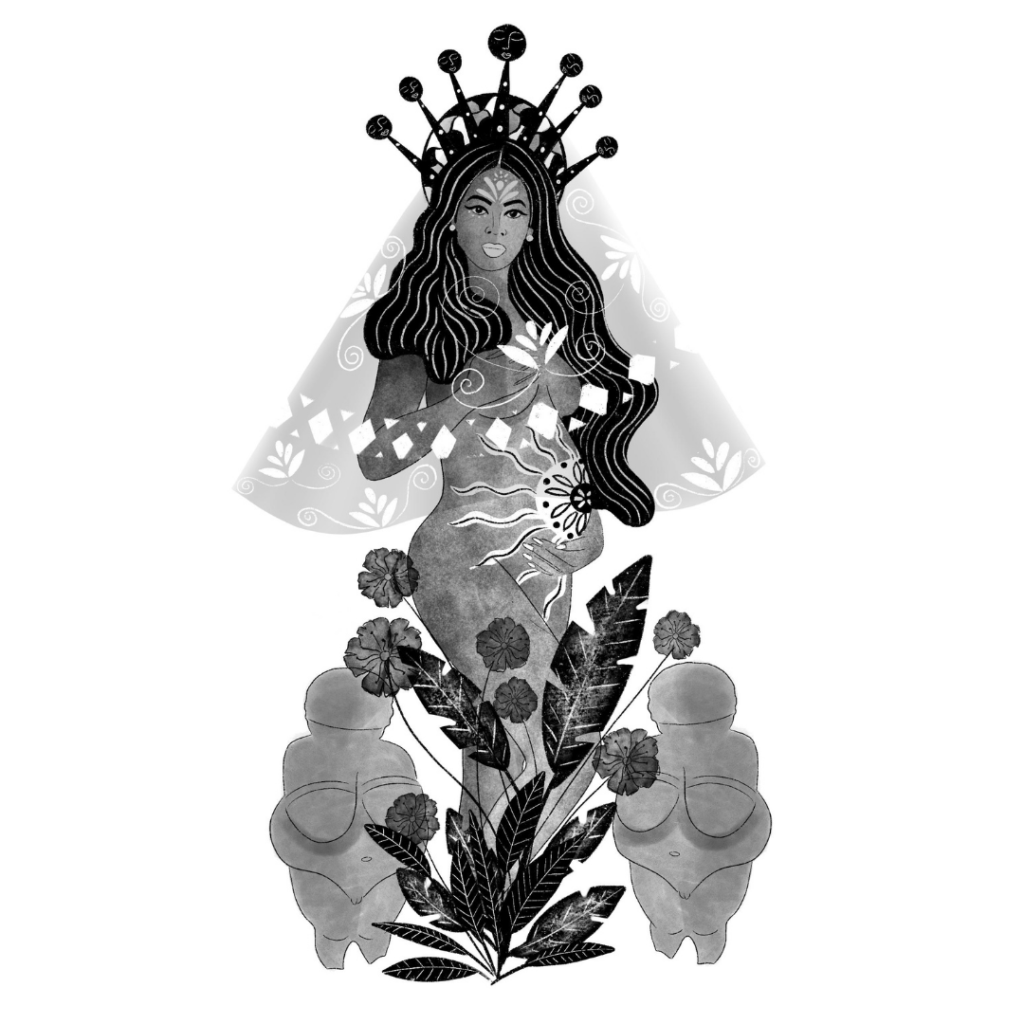 Dina Razin currently has a solo show 'Reclaiming the Muse' at Winterbourne House and Gardens in Birmingham, England. It features 20 artworks created for my first book, 'Muse' (Penguin, 2022), which explores the incredible lives, talents and aspirations of women, and some men, who have performed the role of muse for artists.