I've fallen in love with the enchanting designs and luxury silk scarves of Lidija Seferovic. The Croatian artist creates 'wearable art', re-imagining Greek myths which she hand-paints onto ivory and coloured silk. Born in Dubrovnik, but now living in London, Lidija Seferovic is a textile artist and fashion designer, renowned for her eclectic silk accessories. I found out a bit more about how she started and what inspires her stories on silk.
Once upon a time 
Lidija Seferovic started her art career when she enrolled at the Luka Sorkočević Art School of Dubrovnik. It was here she was classically trained in portraiture, figure drawing, and sculpture. At the same time, Seferovic embraced her long-term love of fashion, which led her to embark on the State School of Fashion Design in Stuttgart, Germany, where she further honed her skills.
"I have been classically trained, and I value the importance of old masters, pencil drawings and composition."
Then moving to London, Lidija continued her studies at the London College of Fashion where she received a BA in Womenswear, after which she pursued a career in fashion. During this time, she designed, illustrated and embroidered for the likes of Alexander McQueen, Philip Treacy, Bruce Oldfield, and Ralph & Russo.
Even now, Lidija is still heavily involved in the fashion industry alongside her art.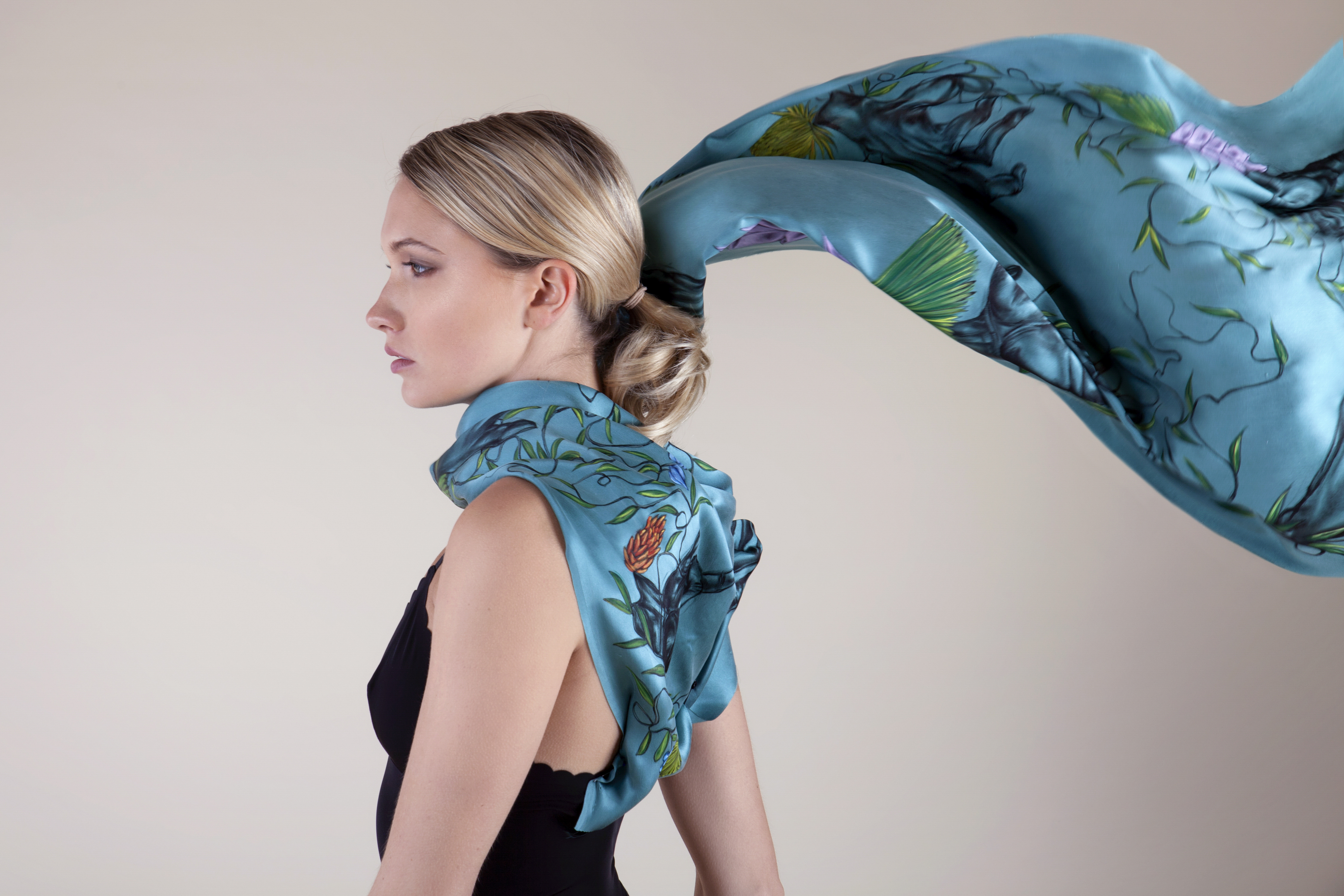 Stories on silk
Both Lidija's designer scarves and textile art embrace a variety of techniques and mediums (oil, aquarelle, pencil) to project peculiar yet lively, imaginative stories onto stretched silk canvas.
To date, most of Lidija's work involves intricate studies of the human body, flowers, and nature. However, in the last couple of years, Seferovic has solely worked on depictions of famous Greek myths that she projects onto her silk scarves, accessories and bespoke wall hangings.
For example, in her depiction of Poseidon, created in 2016, Lidija says, "Poseidon has the world in his hands in this reimagining of the fierce Greek god. As he perches in the grasses, Poseidon has the mercy of the sea and earth at his hands. This wise but, ultimately, mischievous depiction sees the legend grappling with vines that twist, spiralling to form an intricate border around him."
Other classical creatures and figures who appear in her art include Dionysus, Pegasus, centaurs and griffins.
Lidija declares that her aim is to "create items that not only work as incredibly stylish fashion items but also as pieces of art suitable for display alone, in their own right," and that she does sufficiently.
As well as committing herself to at least one collection of silk scarves and pocket squares a year, Lidija creates bespoke items and textile art for private clients on a by-commission basis.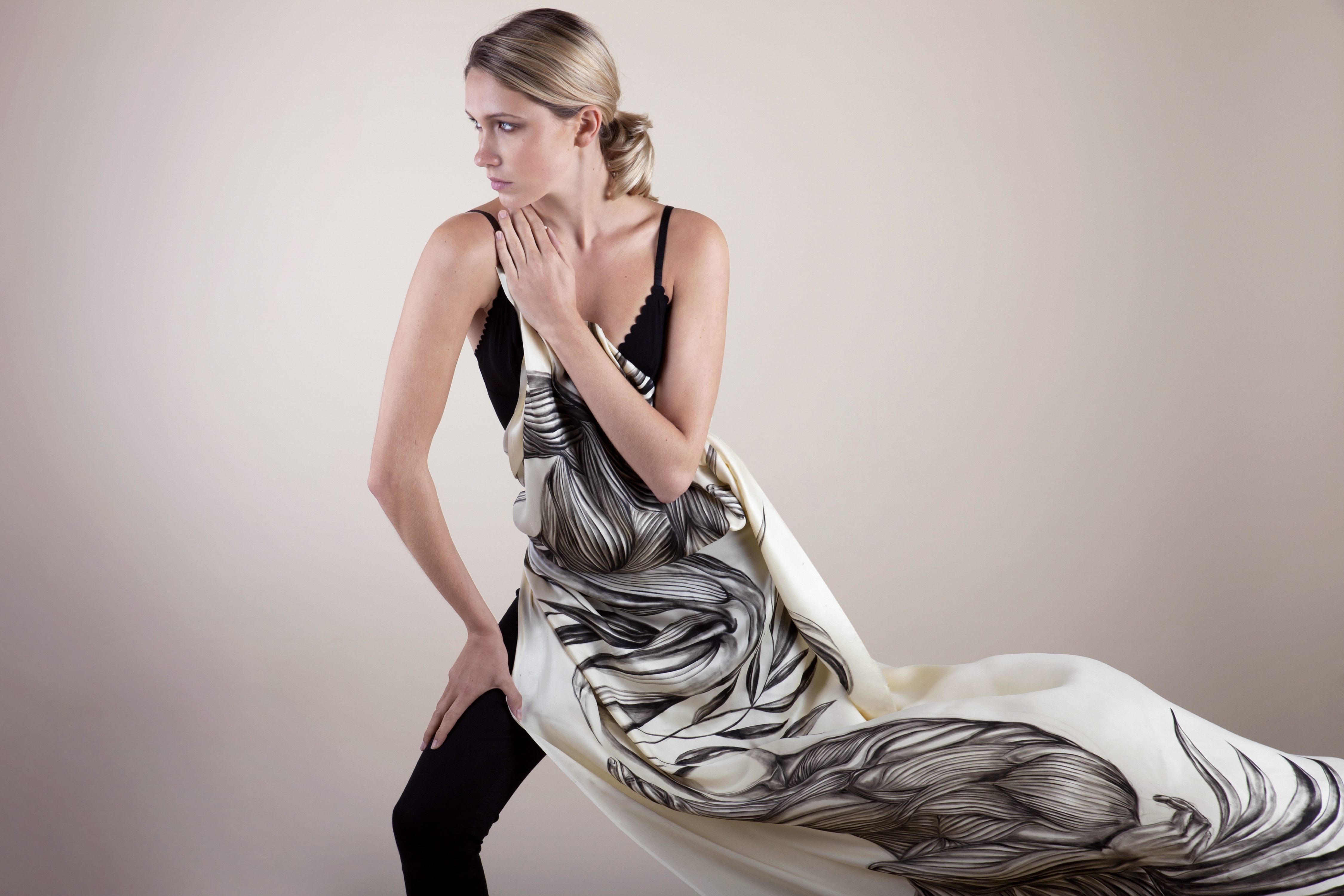 The process
Rather than adhering strictly to the fashion or art calendar, Lidija creates collections at a pace that suits her lifestyle and experiences.
"I love the fact that what might look like a simple charcoal or pencil sketch at a glance can be just as expressive and alive as the most colourful impressionist painting."
According to Seferovic, "It starts with inspiration and extensive research, visits to museums and libraries, imagery from my travels and so on." Traditionally, she then develops mood boards with the visuals, objects, and colours.
"Once I have the foundation, I develop a series of sketches from my initial ideas, experimenting with composition and playing with different subject matters before I begin painting and adding colour." This process is crucial in ensuring as few mistakes as possible when it comes to reimagining the concept on silk. Lidija says, "As I paint free-hand directly onto the silk, I don't have the luxury to erase any brush strokes and mistakes that might happen, so the first step is crucial to get the composition proportionally right. Then I can concentrate on sharpening the outer lines, black shading and, finally, add my chosen colours."
Once she is entirely happy with the idea, the silk is selected, stretched onto a wooden frame, and the actual painting can begin. Each item can take between 4-6 weeks to develop, depending on the intricacy of the work.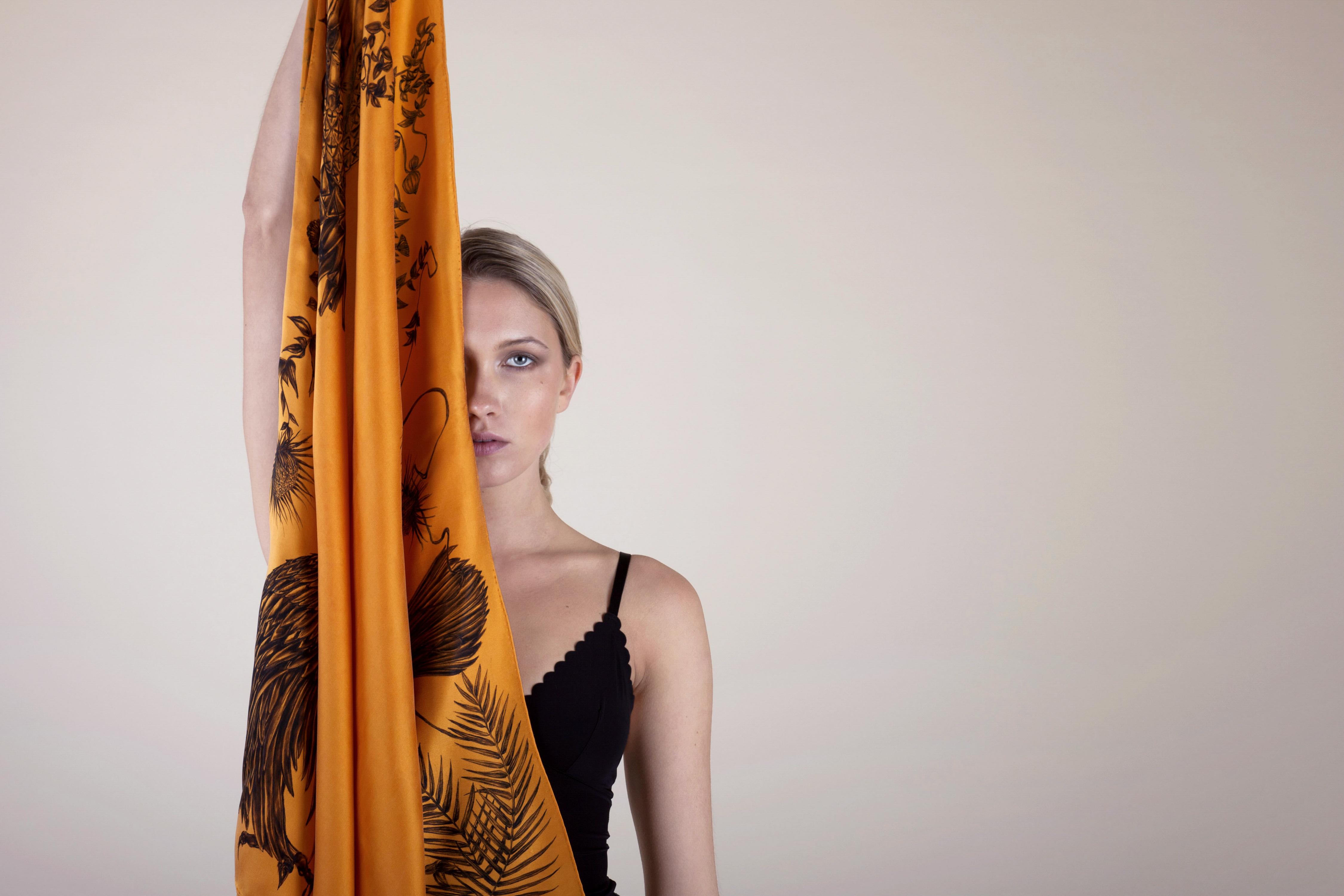 Wall hangings & designer accessories
Having developed a penchant for the fictional and fantastical – tales of old and new – Lidija creates intricate, whimsical fabric wall hangings with unfolding stories that offer a revelation at every glance if you look for it. She specialises in "large wall art that makes an impact," which is why most of her work measures at least 100 x 100 cm.
The unique aspect of Lidija's work is not only her distinct aesthetic but also the revelation that every piece of her work can be worn as striking style accompaniments to an everyday ensemble or displayed as wall art if left mounted on their batons. Often, Lidija will send a client a piece of work and it will be displayed for a short time before being removed from its batons and worn as a scarf. In this, Lidija's work has reimagined the term 'wearable art' and is proving popular with clients across the world.
Discover the world of Lidija Seferovic
All Lidija's accessories and elegant silk scarves are available to purchase online. Her artwork can also be purchased through Saatchi Art or directly by emailing info@lidijaseferovic.com. You can also take inspiration over on Instagram.
Which designs do you love most? Let me know! 
Ruth x