I first came across the work of Ed Isaacs on Instagram, and immediately fell in love with his unique and calligraphic sketching style. Paul Klee famously said that 'Drawing is taking a line for a walk', and this notion resonates with the art of Ed Isaacs, whose exquisite, almost fragile, line drawings explore the architecture, industry and spaces of Birmingham, Wolverhampton and the surrounding Black Country. These works reflect Ed Isaac's journeys around and into the urban environment, as he records places that hold some sort of significance, be it historical, literary, political or personal. When I caught up with the artist, this is what he had to say about his practice, and recent election to full member of the renowned RBSA Gallery in the Jewellery Quarter.
When did you first start to draw?
I have always enjoyed drawing, but it's only really been over the past four years when I began to wind up my business that I started to think about exhibiting and selling my work. I'm a late starter and was inspired by a good friend of mine, Steve Evans, who started after he retired and has now become Honorary Curator of the RBSA.
Do you draw on site?
Most of my more finished work is done from on-site sketches and photographs I have taken on my journeys. I do enjoy drawing on site, though, and I am a very active member of Black Country Urban Sketchers. I find sketches on site have a different sort of energy, but I feel that this is not important for a lot of my work (see below). I do like my comforts and I tend to restrict my outside sketching to the warmer months.
A lot of your work depicts the cites of Wolverhampton and Birmingham…did you grow up in the Black Country?
I grew up in South Wales, and then studied and worked in Newcastle upon Tyne for nearly 20 years. I came down to the Midlands about 30 years ago to take up a job in Wolverhampton and carried on with my profession until a couple of years ago. I do like living here and there are so many fascinating places to draw.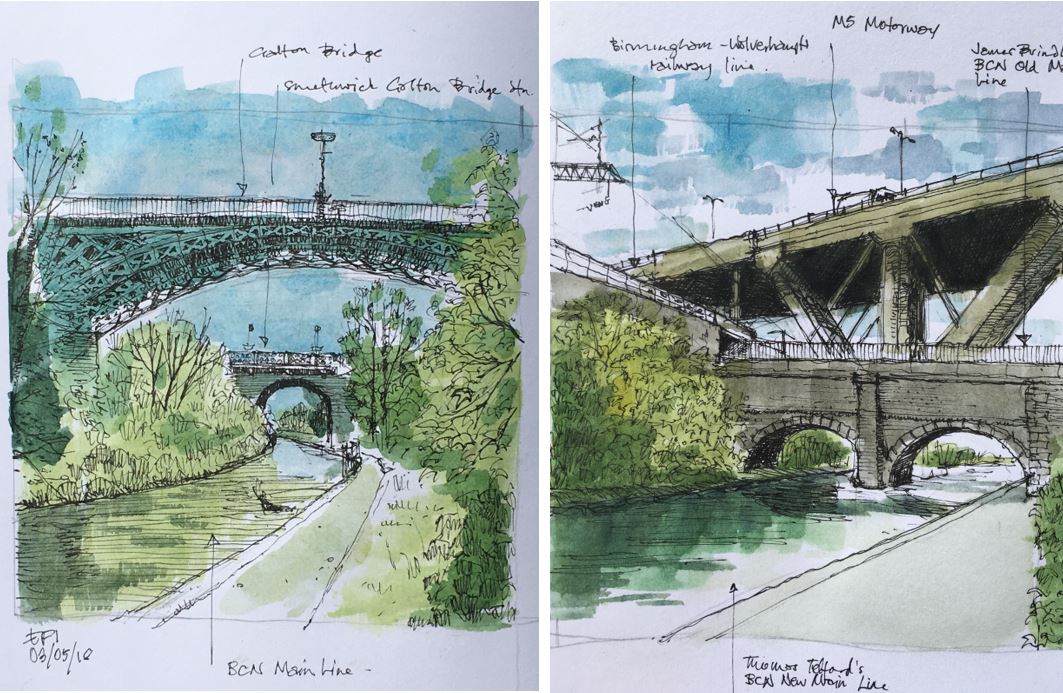 I recently came across the term psychogeography.
The term psychogeography was invented by the theorist Guy Debord in 1955 in order to explore how different places make us feel and behave. Inspired by the French nineteenth century poet and writer Charles Baudelaire's concept of the flâneur – an urban wanderer – Debord suggested playful and inventive ways of navigating the urban environment in order to examine its architecture and spaces, and breaking down the barriers between culture and everyday life.
Do you think this is a term which could be applied to what you do? What is it that you want to capture in your drawings?
I am well aware of the term 'psychogeography' and have been an avid reader of writers such as Iain Sinclair and W.G. Sebald – most recently I have read 'All the Devils are Here' by the late David Seabrook, a brilliant book about the underside of life in Kent. I have been influenced by them and do consider myself a bit of a flâneur and that is why a lot of my work is about recording journeys. The biggest influence on my art though has been from Japanese artists such as Hokusai and Hiroshige. Recently I completed an artwork called '36 View of the BT Tower' and I am currently working on a project influenced by Hiroshige's '53 Stations of the Tōkaidō'.
How do you decide how much colour to add, through the watercolour washes?
With great nervousness – I have always drawn and this has given me a reasonable degree of confidence with my draughtsmanship. I am a very nervous when it comes to the use of colour and often think I am going to ruin a week's worth of drawing when I add the watercolour. I grit my teeth, though, and get on with it. I work with a very limited palette of 9 colours and vary my style quite a lot in terms of how much colour to add. In the main it seems to work.
Where is your favourite place (to draw) in Birmingham and why?
I don't really have a favourite – I guess I prefer the rather more down at heel, industrial parts although these don't tend to sell as well as the more recognisable areas such as the city centre. Going back to the psychogeographical aspect, I like to walk through and record places that have some sort of resonance that could be historical, literary or political.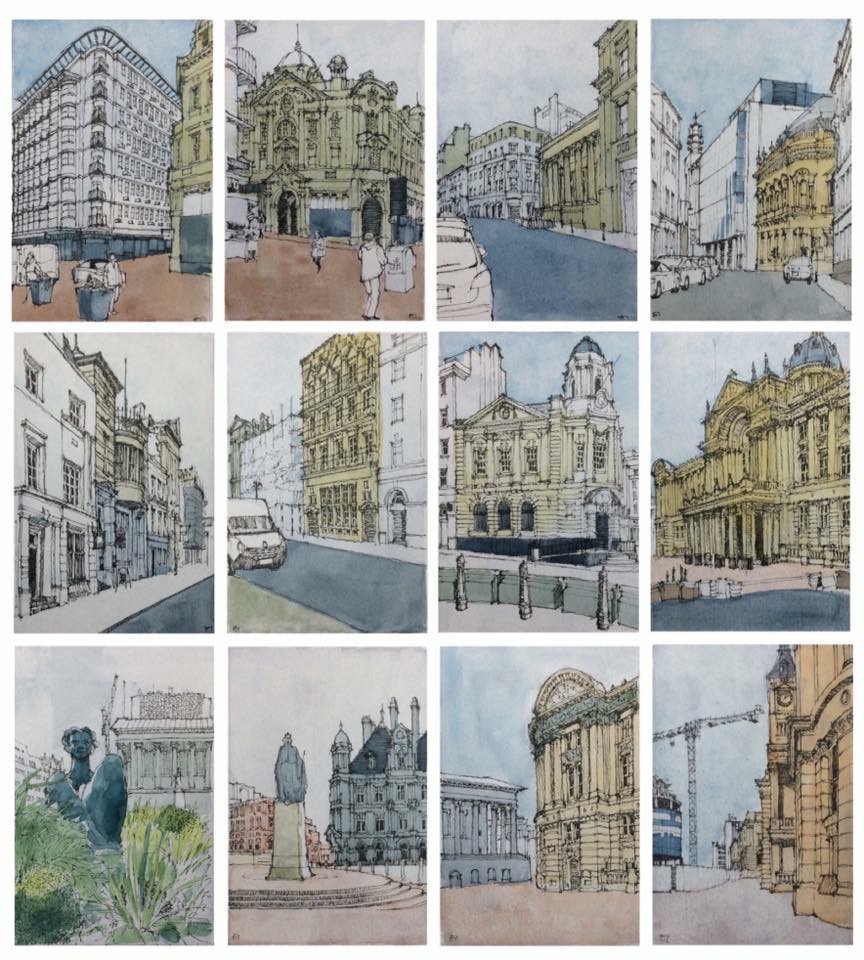 Do you like to draw the same place several times or once you have drawn it do you move onto somewhere new?
I am happy to return to places to draw them again. I think that the most important part of creating art is mark making and the subject can be secondary.
How does the city change through the seasons?
I much prefer winter or late autumn scenes for two reasons: first the skies are more interesting and second buildings are not so obscured by trees. Try drawing St Paul's Church in summer – too many bloody trees!
You have a very distinctive style…which artists have influenced you?
Being a confident draughtsman is all about practice and I do this all the time, either by jotting down sketches in my sketchbook (which I carry with me wherever I go), or by copying. I do life drawing, portraits and some less traditional figurative work. I love copying old master drawing by artists such as Rubens and Raphael, but also copy illustrators such as Paul Hogarth and David Gentleman. My current fixation is with American artist called Eric Fischl.
Do you work alongside any other artists?
A couple of years ago it seemed as if an interesting art scene was being established here in Wolverhampton and there was a catalyst that brought a group of artists together. For a variety of reasons this fizzled out and I do miss the creative energy you get where there is an artists' community. At the moment I work on my own and would really like to work more alongside others. The urban sketching community is great and does give me a buzz.
Congratulations on being elected a full member of the RBSA Gallery – what does this mean to you?
Thank you. I do like being part of the RBSA and the opportunity it gives for volunteering, exhibiting and tutoring and it is a great honour to have been elected as a full member. I rather hope that it will give me the sort of opportunities of working alongside other artists that I currently miss.
Where can people see your work? Are there any exhibitions coming up/happening now? Where is your studio?
My studio is at home and I mainly exhibit at the RBSA on Brook Street off St Paul's Square. I have a one-man exhibition coming up in late August at the Asylum Gallery here in Wolverhampton – this will be a bit unusual though, consisting of my less traditional work.
Want to see more of Ed Isaacs' beautiful sketches of Birmingham, Wolverhampton and the Black Country? Then head over to his website or Instagram page.
Ruth is an art blogger based in Birmingham, and she is on a mission to celebrate artists and the art scene beyond London. Ruth tweets, prolifically, and shares images on Instagram.