If you're like me, sometimes the best bit about a trip to a museum or gallery is the shop (closely followed by the café). I used to work with a woman who admitted she would visit the shop first, and then make her way to the collections afterwards…priorities! Whether you're looking for a special gift for an arty friend, or something for yourself, here are some of my top picks. Happy shopping! 

This statement necklace, made by artist Lucie Ellen, is inspired by a love of houseplants and trips to botanical gardens. It has been made from collaged paper laminated onto beautiful 6mm birch plywood. Each leaf has been cut from hand painted paper. Using different painting techniques on each leaf so the patterns will vary from piece to piece, making each necklace a one off. Leaf position may vary slightly too. Everything is given a good coat of varnish for protection and shine. The pendant hangs on a gunmetal plated chain. The pendant measures 14cm x 6cm x 6mm and hangs on a 36cm chain with a 5cm extender.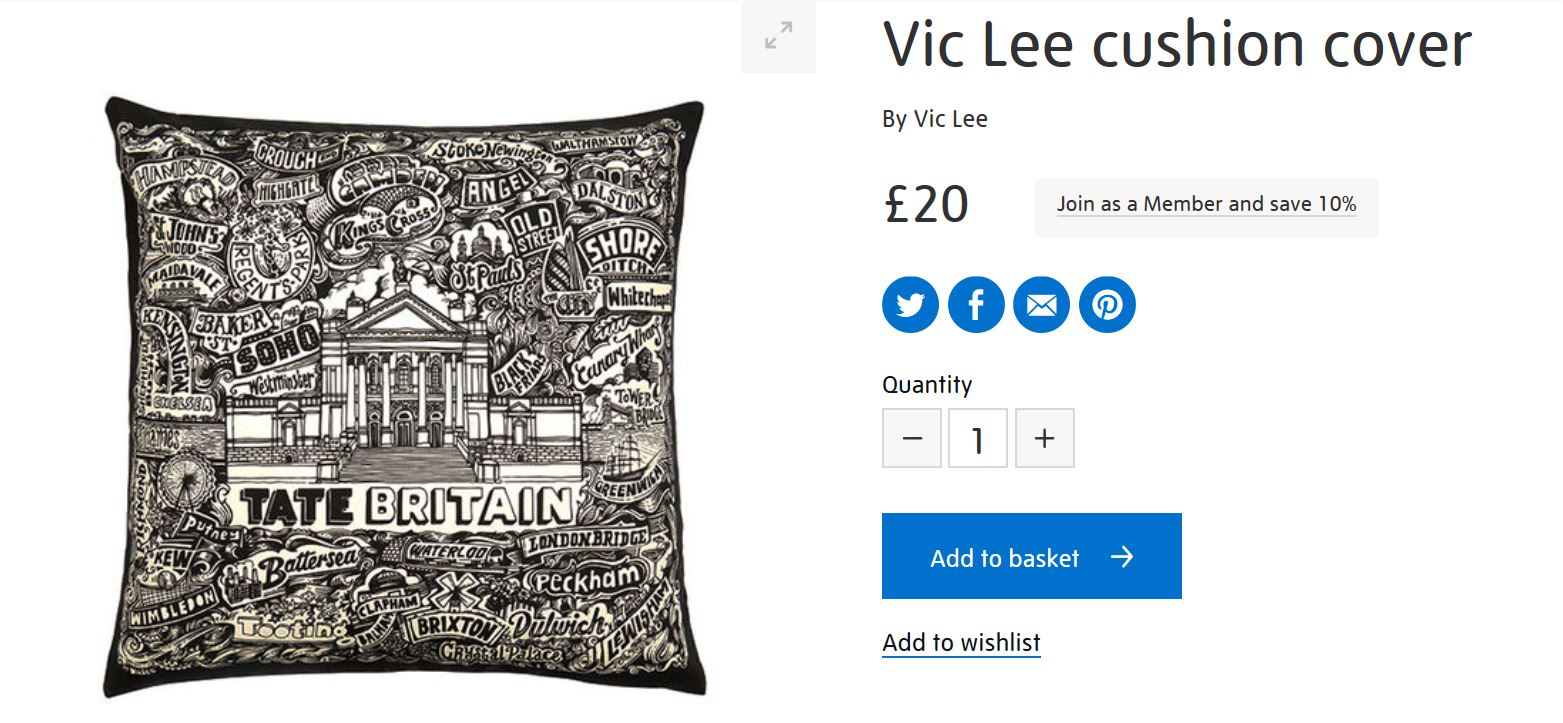 This cushion cover has different designs on each side. Vic Lee has illustrated the two Tate London buildings, one for the front and one for the back. Each image has an intricate map of London in Vic Lee's unique style. Vic Lee is a wordsmith, mapmaker and typographer. He has 20 years in professional graphic design under his belt. His work can be seen across London, from interior and retail design to major branding and personal commissions.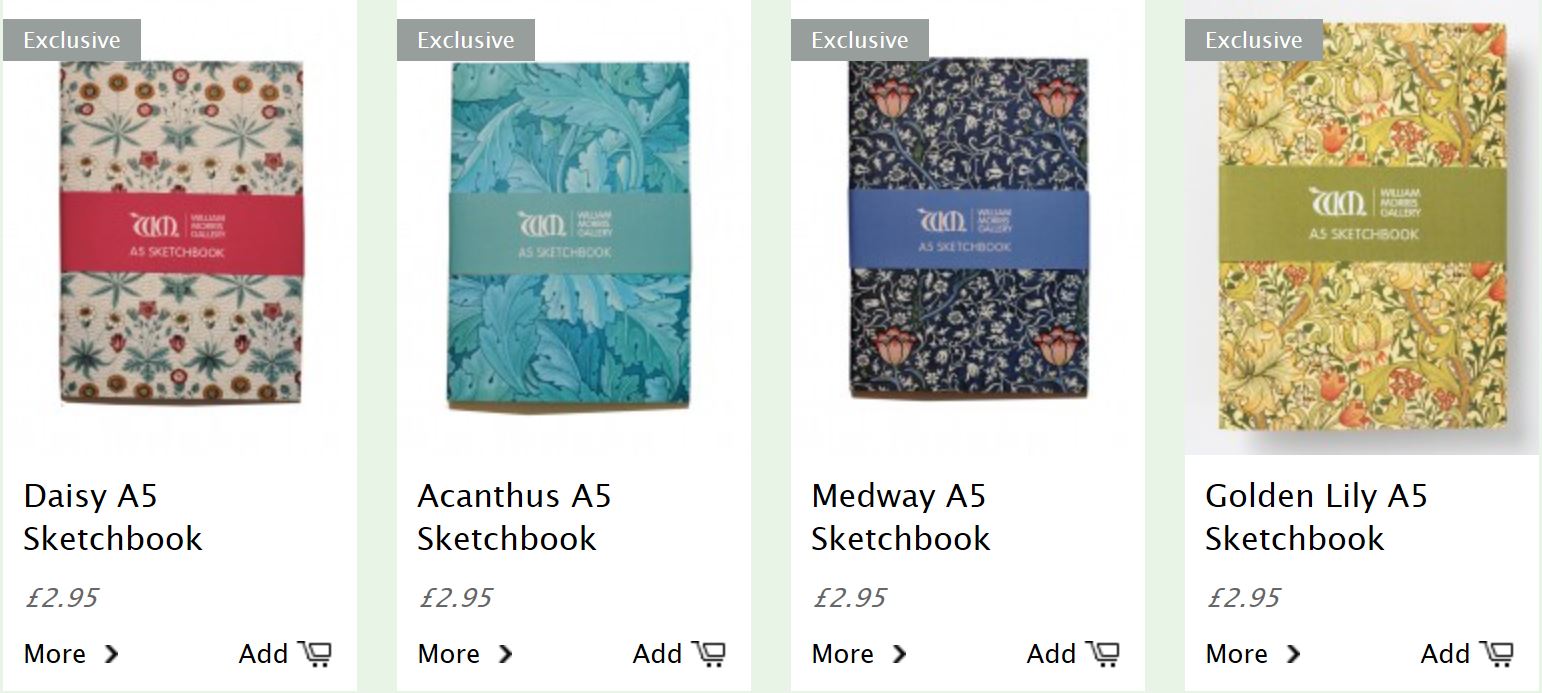 These beautiful sketchbooks feature William Morris's iconic wallpaper designs. Unlined and suitable for writing and drawing, they are available in a range of sizes and with different types of paper. Made in the UK, they have been produced exclusively for the William Morris Gallery.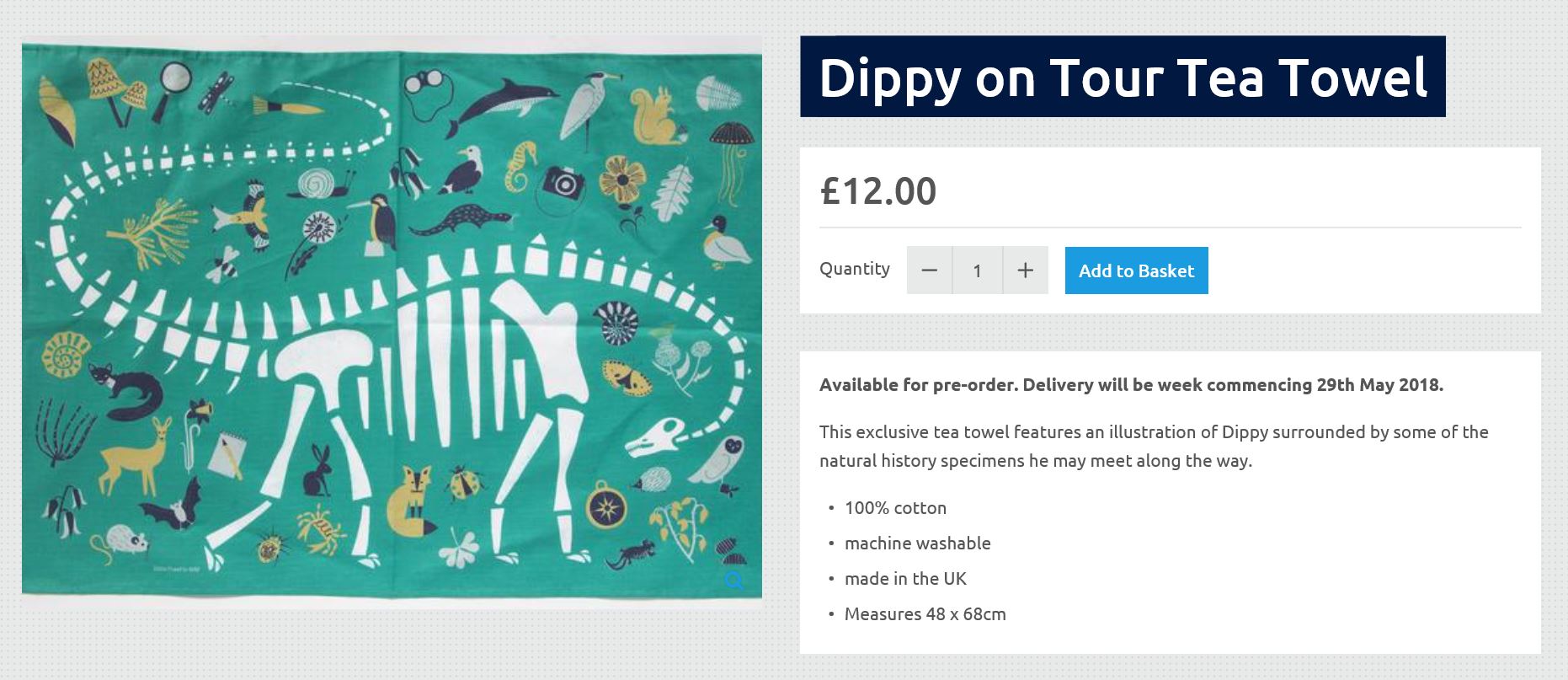 To celebrate Dippy the Dinosaur's tour, this exclusive tea towel features an illustration of Dippy surrounded by some of the natural history specimens he may meet along the way.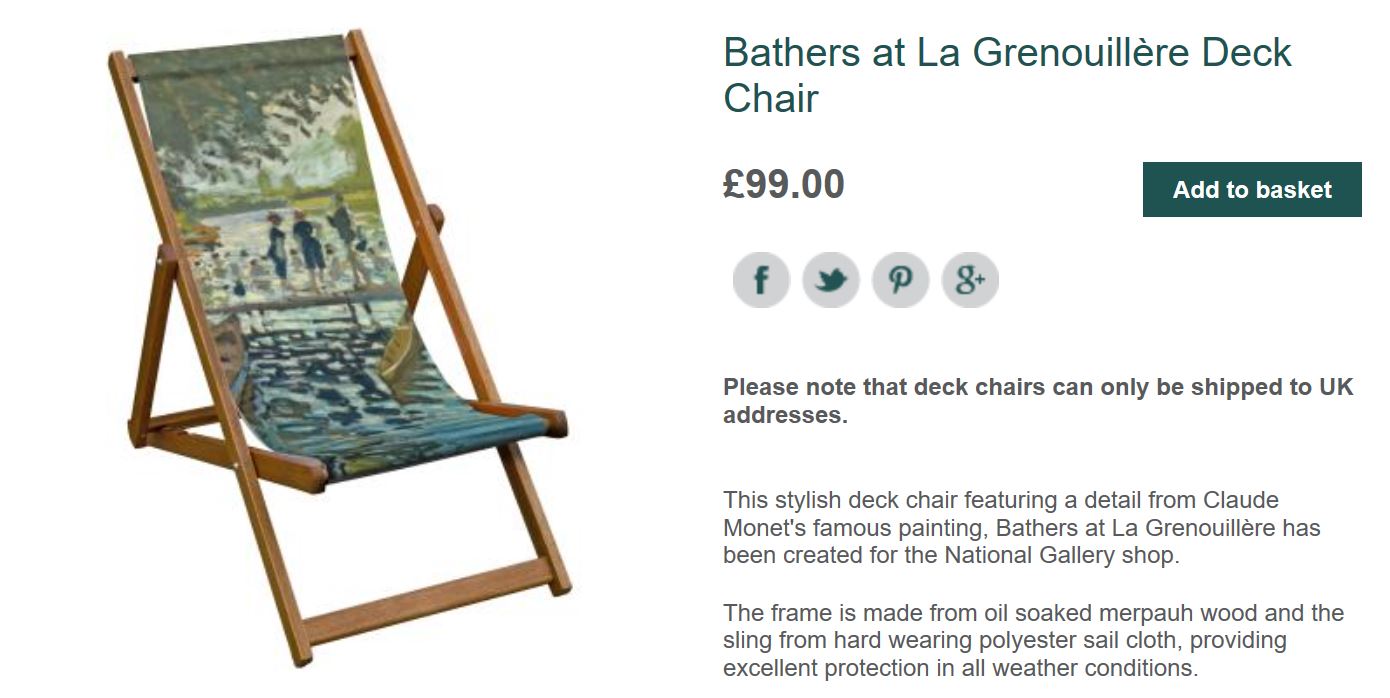 This stylish deck chair featuring a detail from Claude Monet's famous painting, Bathers at La Grenouillère has been created for the National Gallery shop. The frame is made from oil soaked merpauh wood and the sling from hard wearing polyester sail cloth, providing excellent protection in all weather conditions. Great for relaxing in the garden and a perfect picnic accessory, this eye-catching deck chair can easily be folded flat and stored away when not in use.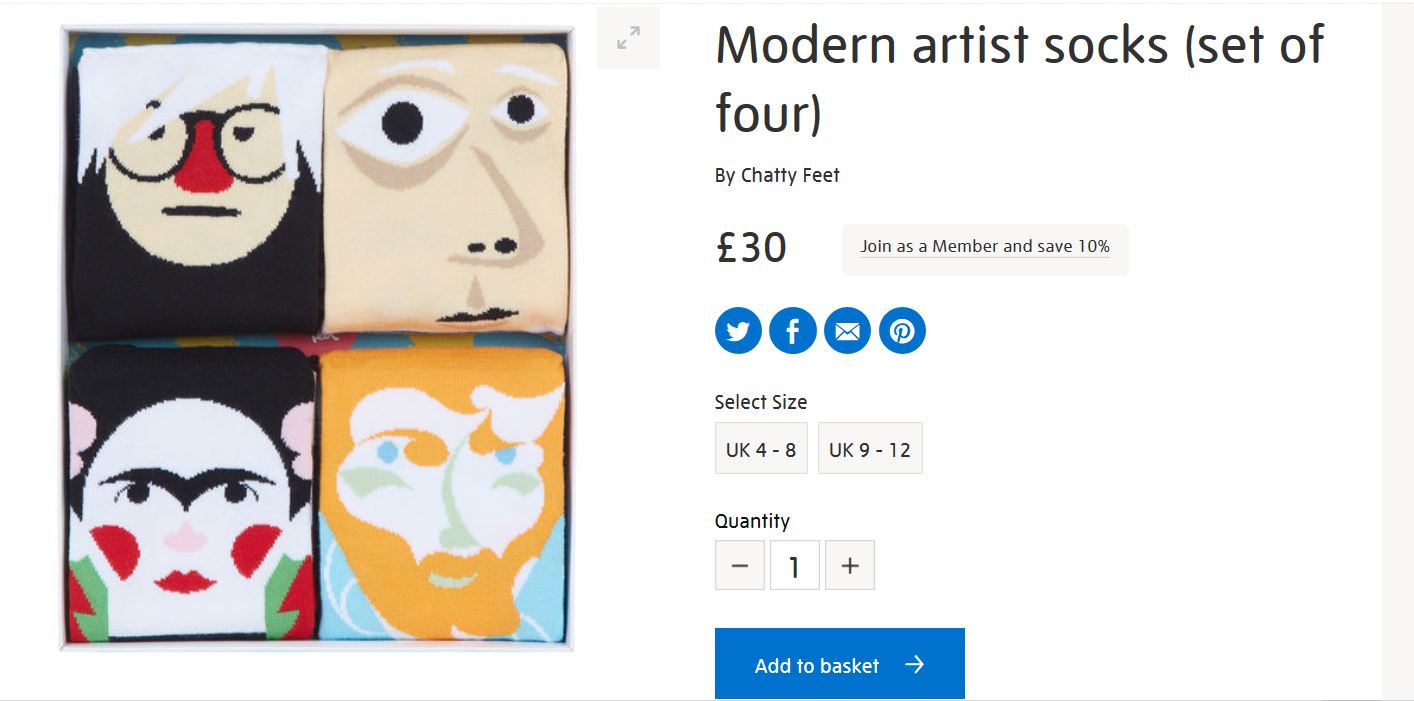 Meet Andy Sock-Hole, Feetasso, Frida Callus and Vincent Van Toe. These fun and colourful socks are the ideal gift for any art lover, perfect for keeping your feet warm this winter. Available in UK shoe sizes 4 – 8 or 9 – 12.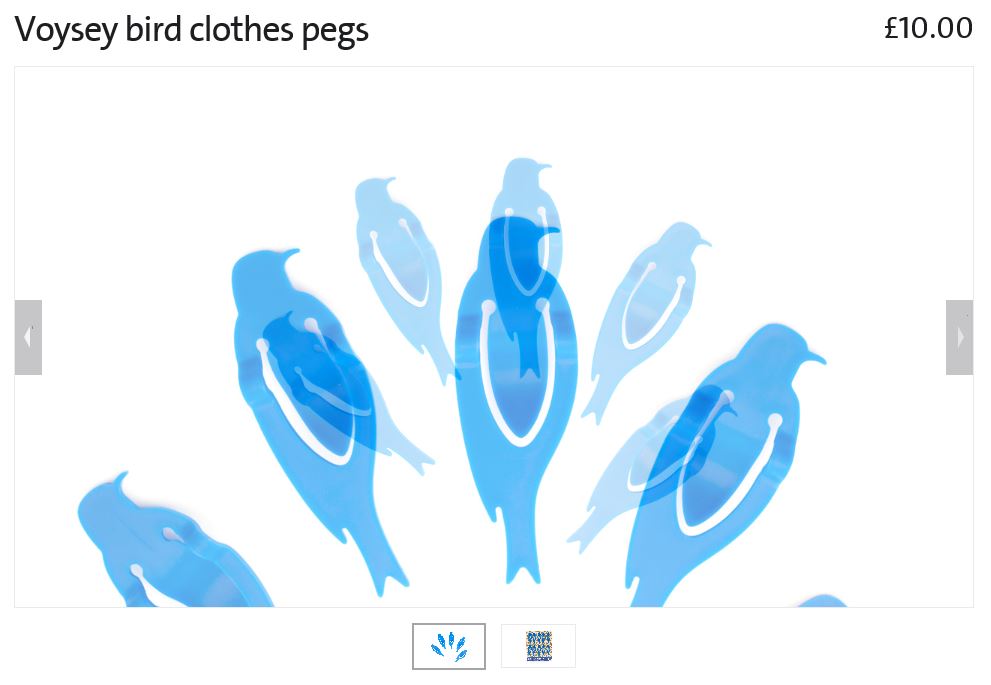 Charles Voysey was one of the most original and influential architects and designers of all forms of decorative art working at the end of the 19th century. In 1882 he set up his own architecture practice and from the late 1880s started to design repeating patterns for wallpaper, woven and printed textiles and carpets. This fun set of ten bird pegs are ready to perch on your washing line. Adapted from a design by C.F.A Voysey featuring blue birds on berry bushes, England, 1898.
The best of Ali Miller's surreal imagination comes to life in the "Alice" tea set. Hand-applied designs on fine bone china reference Lewis Carroll's masterpiece, featuring playing cards, butterflies and an antique silver teapot. The mug is £16, cup and saucer £35 and tea pot £60.
Happy shopping to all of my readers!