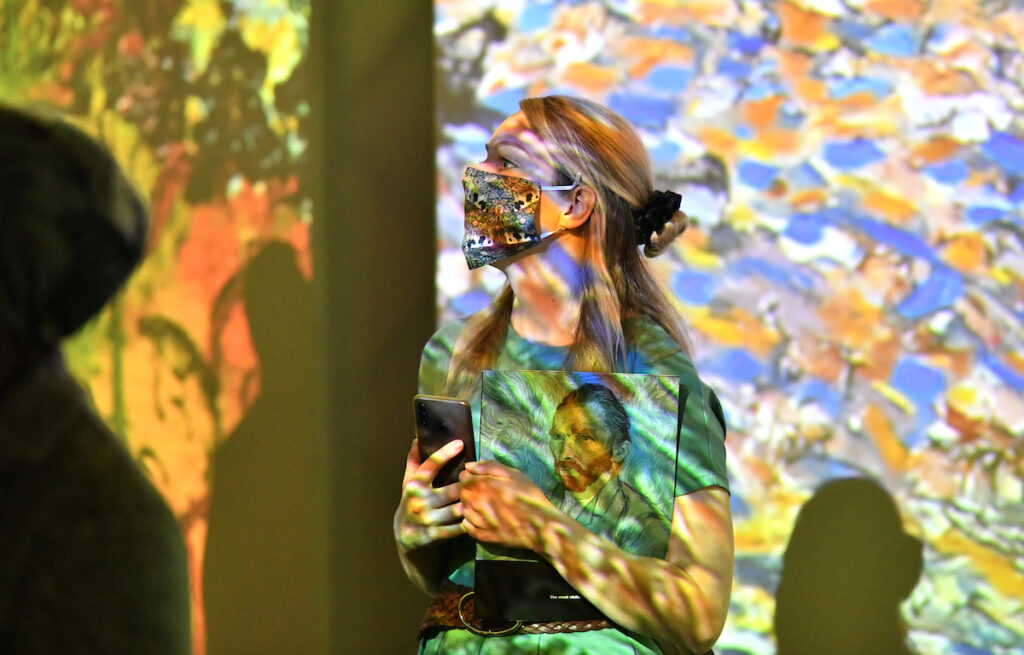 OK, I admit it: I binge-watched the entirety of Emily in Paris in one evening. And it was deliciously trash. I know its description of France is excruciatingly cliched. But, I still loved escaping to Paris, past the Eiffel Tower, through Le Marais and inside L'Atelier des Lumières, where Van Gogh Alive was staged. While we may not be able to get to Paris, Van Gogh Alive has landed at Birmingham Hippodrome. And it's the best thing to happen here since the start of this strange year.
Here's my review of Van Gogh Alive in Birmingham…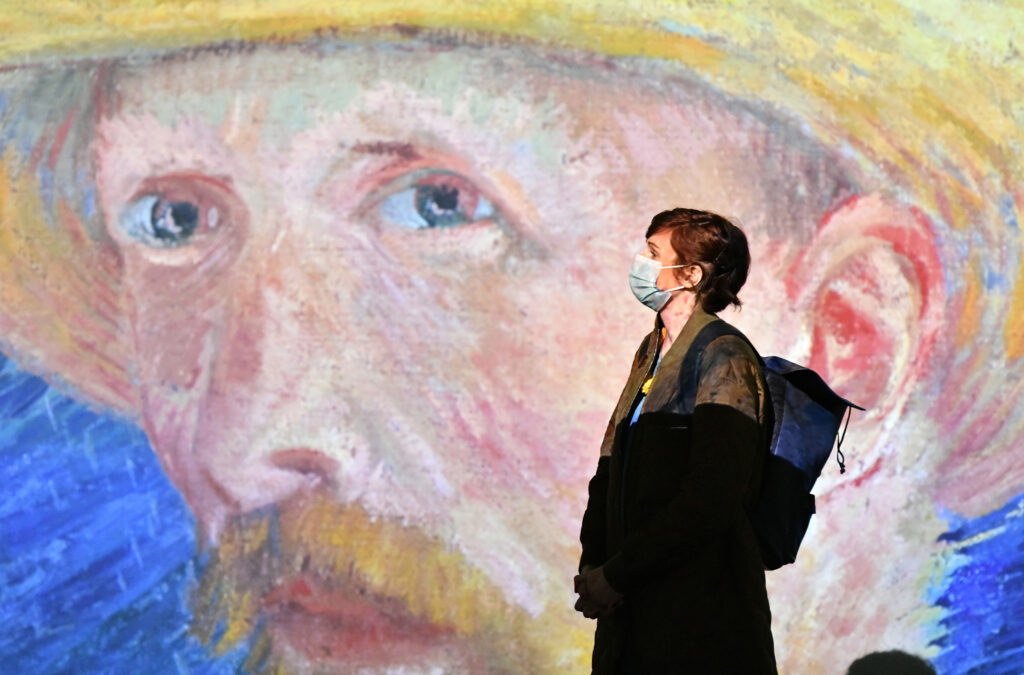 Let me start by saying kudos to the team at Birmingham Hippodrome – the theatre has been completely transformed. Expect to be surrounded on all sides by screens and projections in the main auditorium. Gone is the seating. Instead, you are able to walk freely around the space.
As the paintings come to life, across the screens, you'll find yourself immersed in the art of Vincent van Gogh.
This dream-like show takes you on a journey from van Gogh's early career in the Netherlands, where he painted dark still lifes, to Southern France, where he found joy in depicting fields of golden sunflowers.
Images are accompanied by surround sound classical music, including recognisable, moving classics by Vivaldi, Satie and Saint-Saëns. Find the Spotify playlist here. As the music filled the theatre, I realised just how much I've missed live performance. It had the hairs on the back of my neck standing up.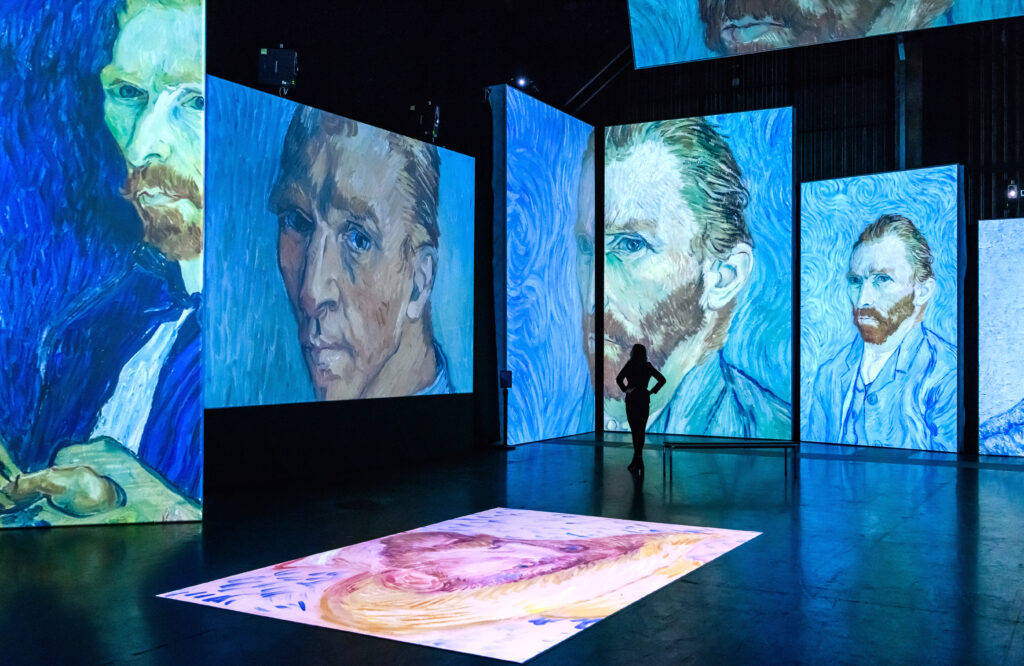 Van Gogh Alive illustrates the artist's increasing mental health battles. On 23 December 1888 he cut off his left ear. It was the first of several serious breakdowns that plagued van Gogh until his tragic suicide a year and a half later.
For me, a highlight of this theatrical show was seeing 'The Starry Night' (1889) projected across all screens. The iconic painting depicts the view from the east-facing window of van Gogh's asylum room at Saint-Rémy-de-Provence, just before sunrise.
Although based on the artist's direct observations, this painting also expresses van Gogh's imagination, memories, and emotions, as he suffered from worsening hallucinations, manic episodes and unbearable anxiety. Swirling strokes of paint capture the artist's inner turmoil.
I would have loved to hear Don Mclean's tribute to van Gogh, 'Starry, Starry Night', playing out at this point.
Beyond van Gogh's mental health battles, this show also brings to life the artist's way of experiencing the world – he had synaesthesia. We know this because the artist wrote, in letters to his brother Theo, that sounds had colours and that 'yellow and blue were like fireworks for his senses'.
And that's what this experience is: a sparkling firework display for all of your senses.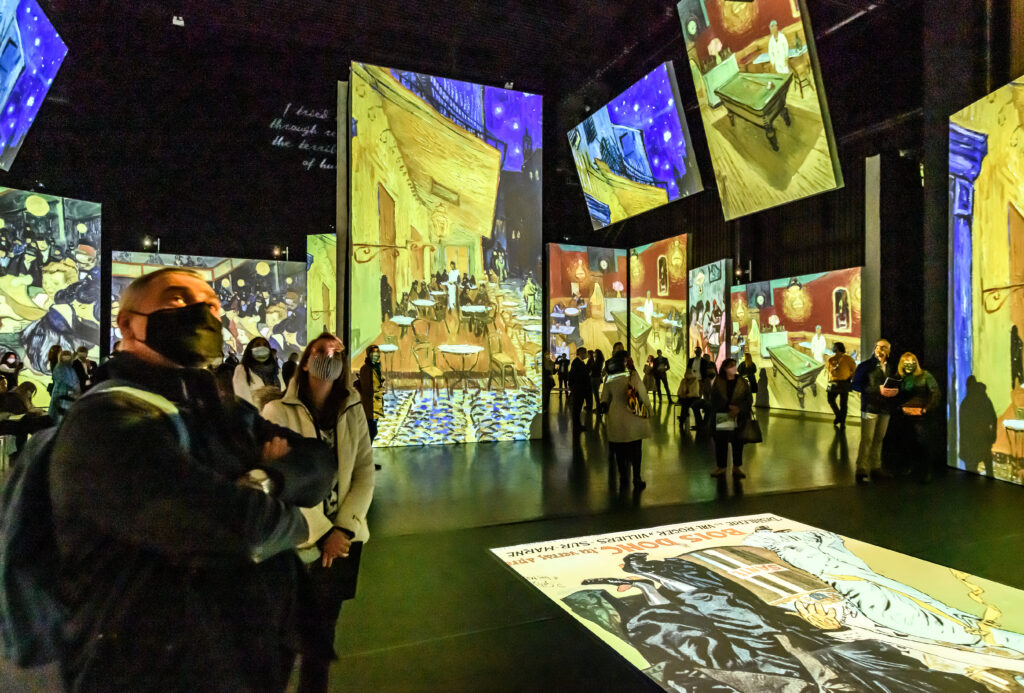 I've never experienced art like this before – not only is it like stepping into a painting, but it's also like stepping into the mind of Vincent van Gogh.
As an art historian, I know the paintings of Vincent van Gogh very well. However, something struck me, in this show, that I hadn't realised before. As Vincent van Gogh's thoughts and moods became darker, his paintings became brighter.
During difficult times, art can uplift us all.
Van Gogh Alive is a magical, must-see show. It allows an escape, from reality into art, that we all need right now.
What a starry, starry night.
The show is accompanied by a sunflower selfie room, reconstruction of van Gogh's 'Bedroom in Arles' and an excellent gift shop – apologies to my family, you'll be receiving van Gogh themed gifts this year. Even the restaurant has been transformed with wall art reproductions of the artist's paintings.
Allow up to an hour and a half to enjoy the full experience.
Van Gogh Alive runs from Thu 8 Oct – Thu 31 Dec at Birmingham Hippodrome. Book your tickets here.
By attending this show you will be supporting the recovery of Birmingham Hippodrome and the city, which is so important right now.