3 friends, one white painting, and an argument about contemporary art. Yes, ART has arrived in Birmingham! I was very excited when I heard that the Old Vic's production of Yasmina Reza's award-winning comedy was touring the UK, and stopping off at the Hippodrome theatre. I saw the original production back in 1996 (as a child). So, I was looking forward to watching it again, following many years of working with contemporary art, including a stint selling over-priced paintings to clients like Serge…
The story 
Three close friends – Marc, Serge and Yvan – have known each other for years. When Serge, who has a penchant for modern art, pays 200,000 francs for a completely white painting, Marc is horrified. Calling it "a piece of white shit", he accuses Serge of wasting his money. Yvan, who attempts to be more positive about the painting, becomes caught in the middle of the conflict. As the play progresses, their friendships become strained as a result of their differing opinions about "art".
The cast 
The production has been brilliantly cast, with three actors who've known each other for almost as long as the play's characters are supposed to. Nigel Havers, who appeared in the original ART tour, plays a smooth, charismatic Serge, confident in his appreciation of art; that is, until his friends begin to question and contradict his (expensive) taste. Denis Lawson is a brilliantly derogatory and caustic Marc, making the most of his one liners as he becomes increasingly irate. And Stephen Tompkinson plays a more sensitive Yvan: the delivery of a monologue about his upcoming marriage is an absolute tour de force. There's great chemistry between these three: at times, I felt like they wanted to laugh as much as the audience were doing.
"We've known each other for 20 years and we're playing characters whose friendship is supposed to have lasted for 25 years. It's a very enjoyable part to play."
An art world exposed
ART opens up all sorts of questions about the subjectivity of taste, the inflation of the art market, and why we buy art. Having worked in the art world for so long, I particularly enjoyed the dialogue which echoes that used by 'experts' in the gallery or auction house. Serge is hilariously mocked for explaining that the painting is not just white but monochrome, modernist and deconstructed – he has bought into the artspeak used by an inner crowd. I also loved Havers' posturing as Serge: he scrutinises the canvas in the studied manner of an art expert. In one scene he advises Marc: "You're not in the right place" as they move into the light to take a better look. Their moments of silence, as they observe the artwork's whiteness, are brilliant; comical facial expressions and hilarious asides are everything.
And a portrait of friendship
But it becomes clear, as the play picks up pace, that it's really a portrait of friendship and the power structures between three male friends. There's a delicate balance and complexity to maintaining friendships, which is called into question in front of the canvas. Each of the actors has a great stage presence, and the perfectly timed interactions and choreography between changing pairs and their play for power, offers the audience a masterclass in acting.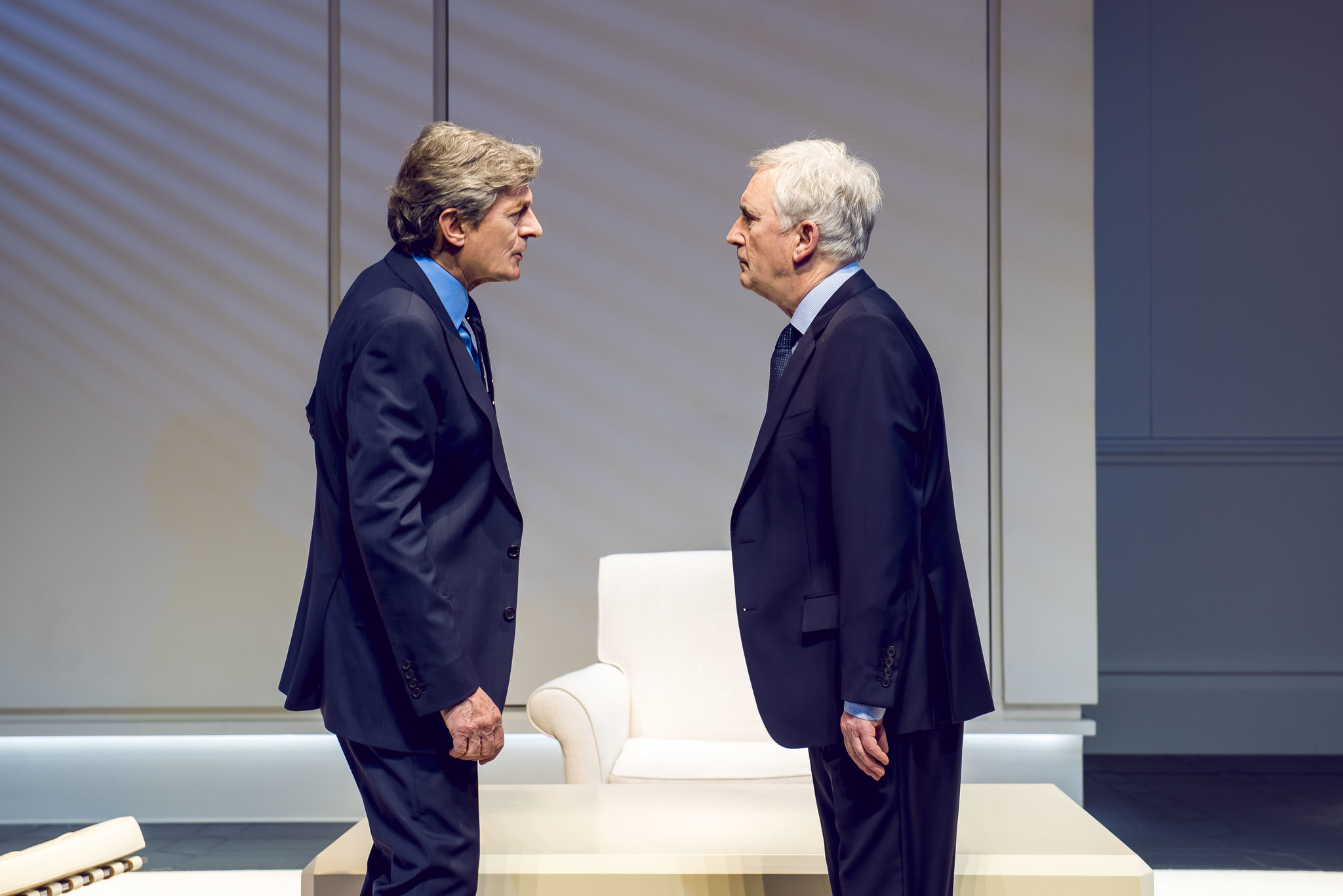 Staging 
The show has been cleverly staged. The set changes as the action moves between the homes of each of the three friends, signified by one changing panel which turns into a different artwork: a classically painted landscape for Marc, a brightly painted bowl of fruits for Yvan and Serge's white painting. Against a modernist white setting, which echoes the white walls of a gallery (think White Cube), the newly purchased painting is a presence throughout. It is placed on chairs, hung on the wall, addressed directly during monologues, and carried across the stage (several times) by new owner Serge. Art, it seems, is all encompassing.
A modernist masterpiece
Like Serge's empty painting – "white, with a few white lines" – this is a play that is brilliant in its simplicity. But it needs a great cast to pull it off, engaging with the spaces between the lines, and with the audience too. Well, the three actors are phenomenal. You can tell that they have known each other for 20 years: they bring out the play's wit, intelligence and humour in believable style. ART is a classic, modern masterpiece, with a hint of abstraction, and this production does it absolute justice. It's a joy to watch, and you're guaranteed to laugh loudly throughout. It left me feeling uplifted, and re-evaluating 'what is art?'. Now, time to take down that canvas in my hallway…
ART runs at Birmingham Hippodrome from 22 – 26 May 2018, before continuing its UK tour.