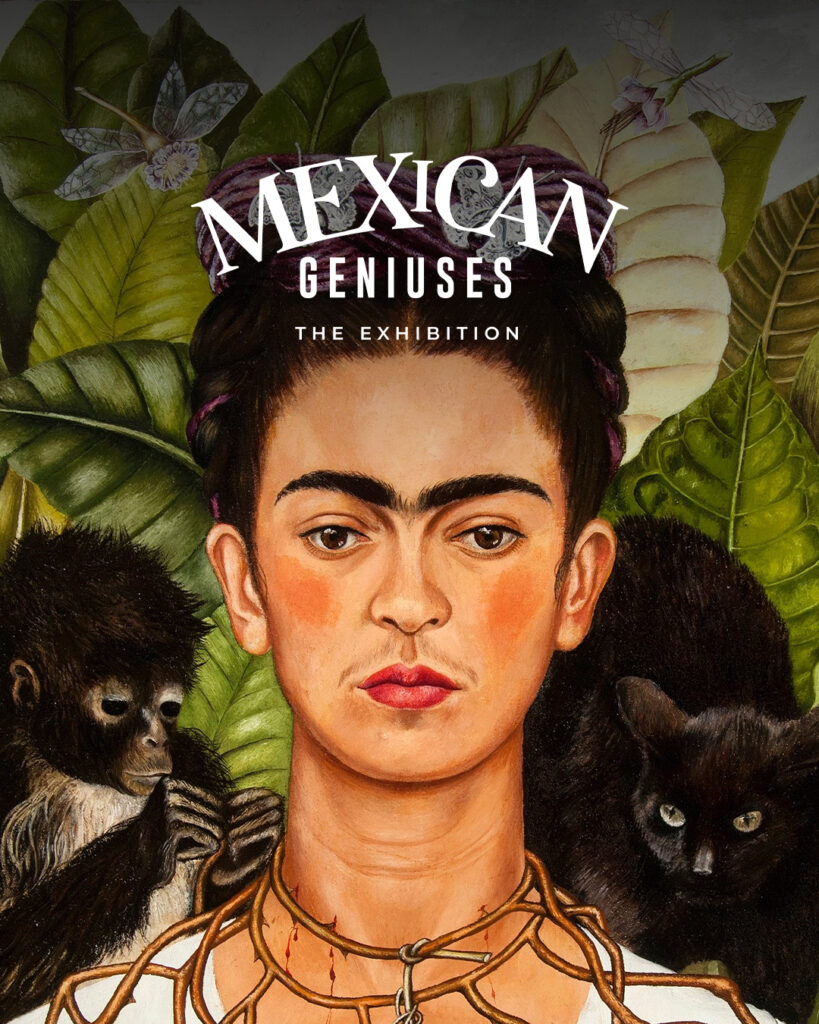 This week, 'Mexican Geniuses: A Frida and Diego Immersive Experience' opened at Dock X London in Canada Water. Having recently written a chapter on Frida Kahlo, and her prominent but problematic husband, for Muse, I had to check it out…
If there's a post-lockdown art trend, it's immersive experiences. I loved Van Gogh Alive, which I saw at Birmingham's Hippodrome – a show that takes you on a journey from Van Gogh's early career in the Netherlands, where he painted dark still lifes, to Southern France, where he found joy in depicting fields of golden sunflowers. I, therefore, had high hopes for Mexican Geniuses.
It was immediately clear that this experience had been curated by a whole team of art historians and specialists, creative writers, stage designers, and multimedia producers.
The opening two rooms introduce the art and intertwined lives of Frida Kahlo and Diego Rivera, who married, divorced, and re-married. There are reproductions of their most famous masterpieces, alongside crucial contextual information, from Kahlo's life-changing injuries to her mental health battles, which informed her practice.
Pages from her diary are reproduced across several walls, upon which choice quotes have been highlighted: "There have been two great accidents in my life. One was the trolley, and the other was Diego".
Thankfully, the show doesn't shy away from referencing Rivera's abusive behaviour.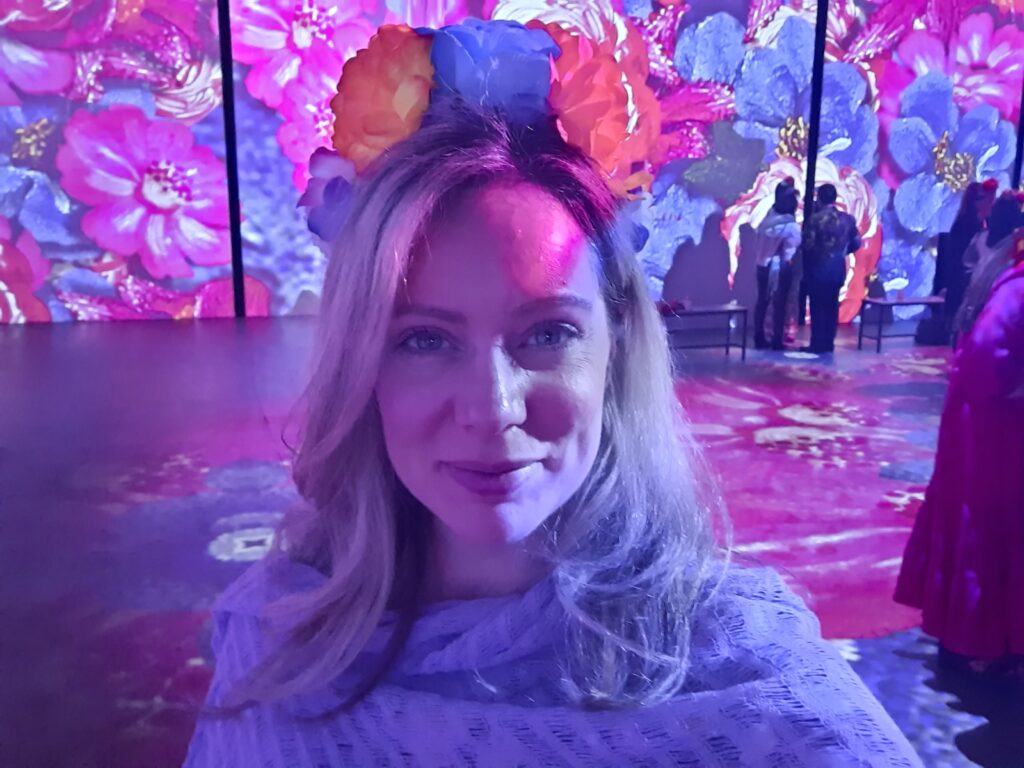 Beyond the opening galleries, and through a black curtain, is the main show – the 360º immersive experience itself. Paintings by the two revolutionary painters are projected across huge screens and floors, and accompanied by a soundtrack of atmospheric music. Given the surrealist nature of Kahlo's self-portraits, it's quite a trippy experience (especially if you've enjoyed a tequila cocktail or two).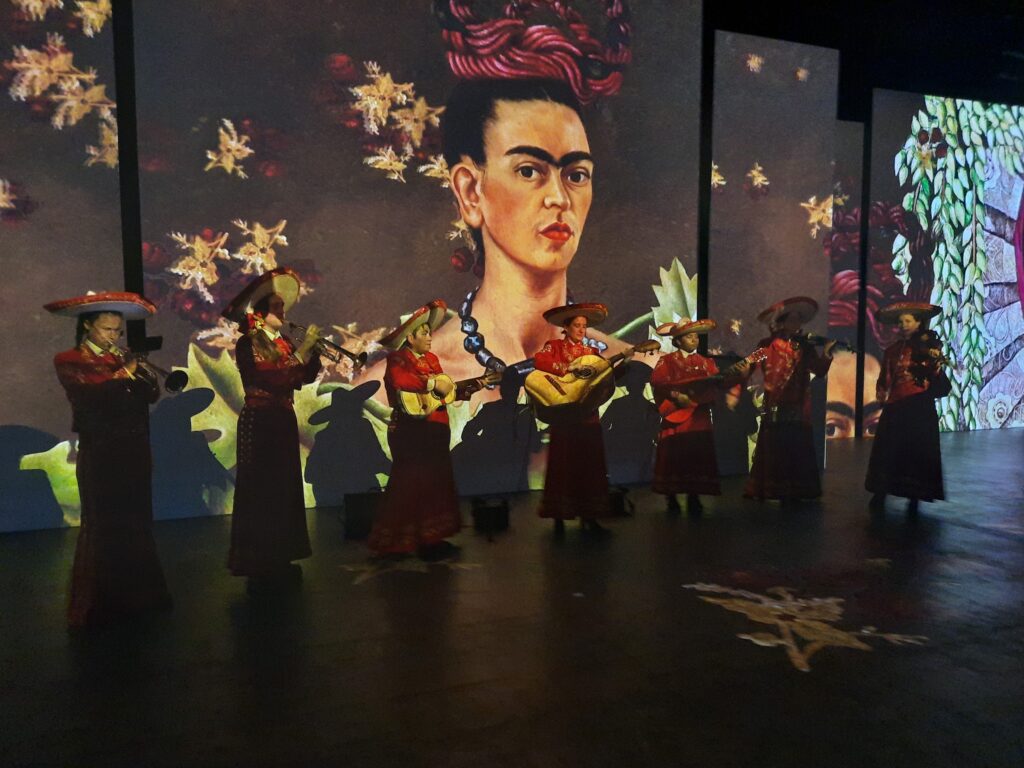 In contrast to Van Gogh Alive, there is less of a linear narrative to follow. Instead, the experience feels like a celebration of Mexican culture (and that makes sense, as it's been co-produced by Mexican company, Brain Hunter).
This approach also echoes the intentions of the two artists. Rivera was a muralist, who painted public walls all over Mexico; his images, which featured stylised representations of the working classes and indigenous cultures, espoused his communist beliefs and expressed Mexican national identity. The effect of the digital displays is like stepping into one of his enormous murals. He surely would have approved.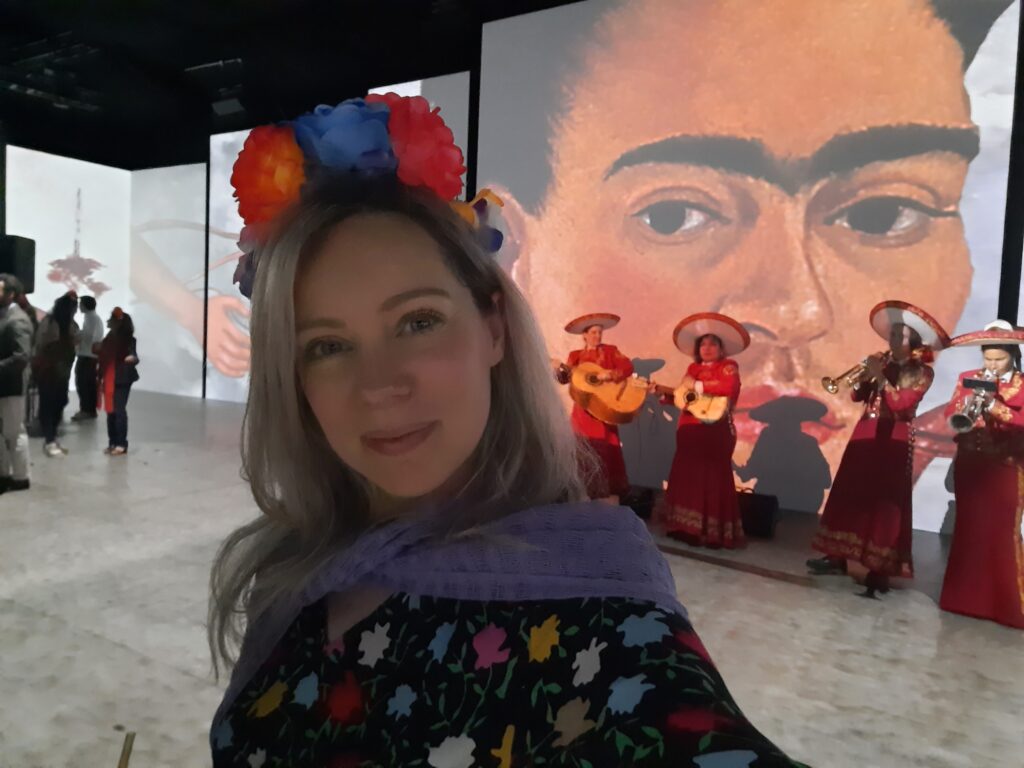 Likewise, Kahlo filled her paintings, including countless self-portraits, with the symbols, animals and flowers of Mexican culture. She carefully crafted a flamboyant Mexican persona for herself, wearing colourful folk dresses and pre-Columbian jewellery, in a performative display of her identity. This performance is exactly what you experience within Mexican Geniuses, as her imagery immerses you. It also encourages the taking of selfies against the backdrop of her self-portraits…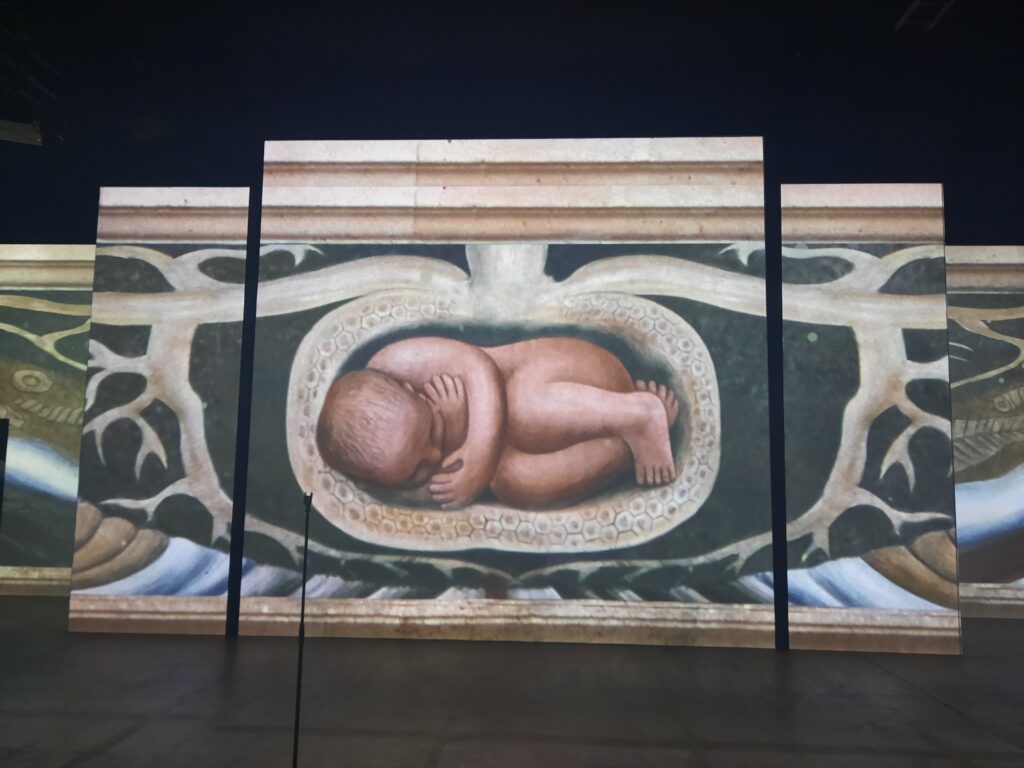 But, there is a much darker side to many of Kahlo's paintings, in which she expressed pain at her physical and mental health, as well as her deeply personal battles with infertility and baby loss. This is, of course a family-friendly show, but seeing screens of floating babies from Kahlo's confessional canvases does feel somewhat inappropriate. But, as Kahlo once said, "My painting carries with it the message of pain", and this is evident across the experience.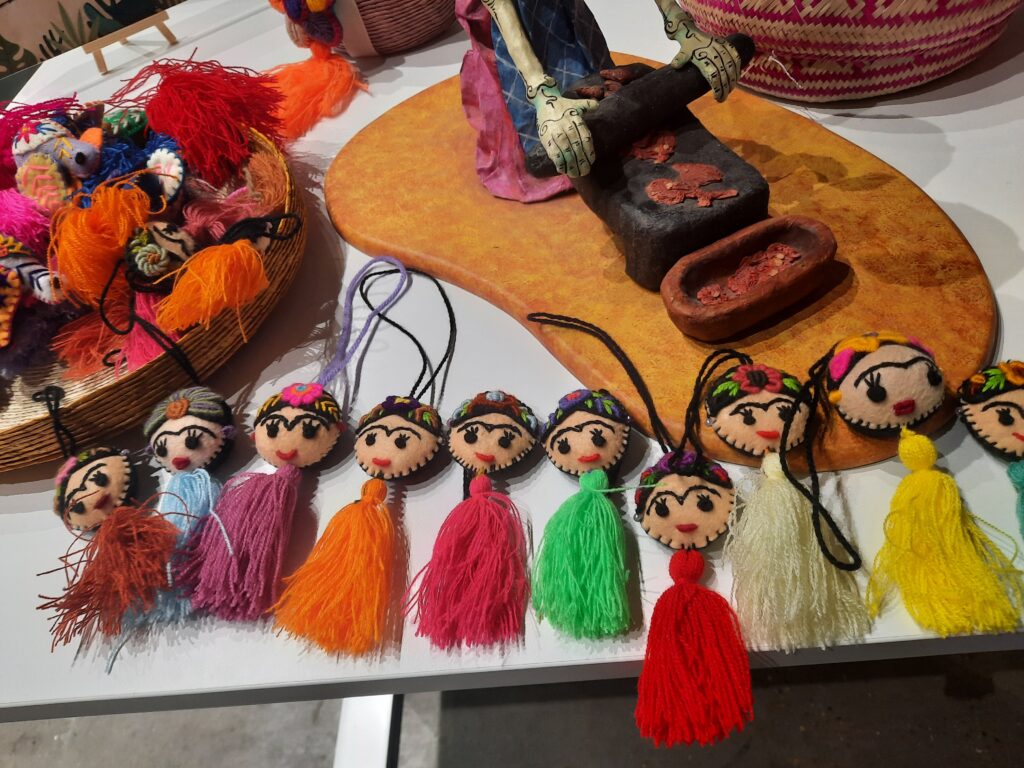 Nevertheless, this multisensory experience is truly captivating and does what it has set out to do – celebrate the art of these two great Mexican artists in a fun, engaging and colourful way, which is suitable for all the family. I also enjoyed the whiteboard-mural wall, which you are invited to colour in, as well as the extensive shop!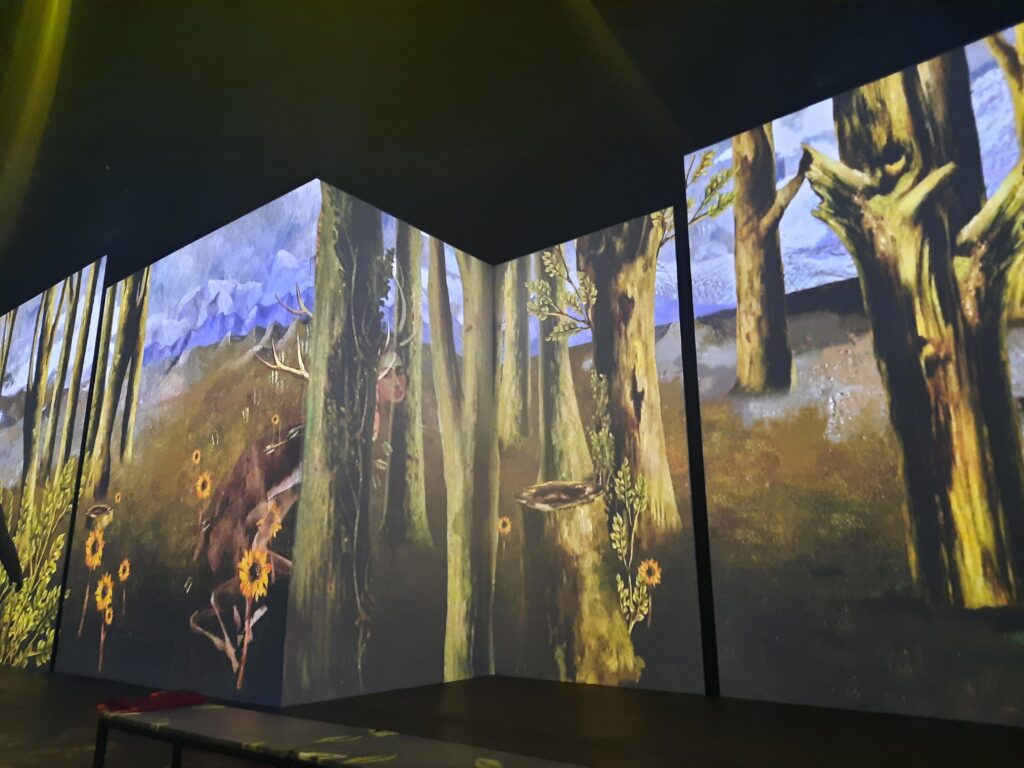 I am sure many art critics would be quick to critique this sort of show – it's not an exhibition, it's an experience, but one which surely introduce a new audience to the art of Frida Kahlo and Diego Rivera, and that's a great thing. And a sign of a very good night, I rode the tube home in my Frida costume, just like a big kid.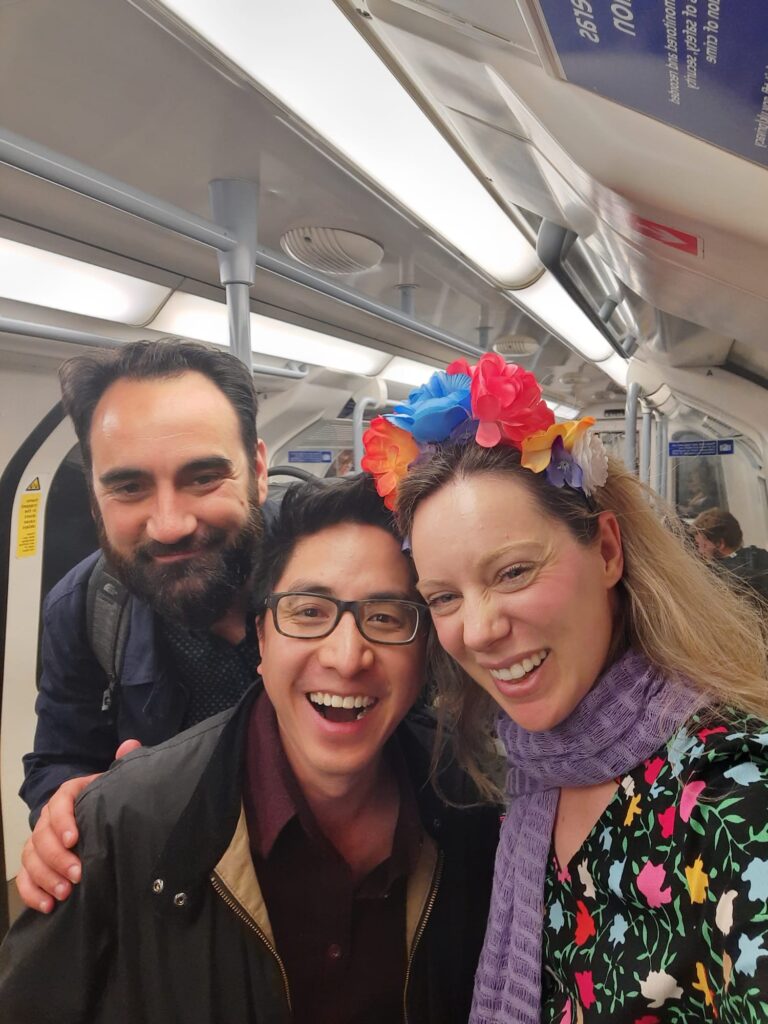 Tickets for Mexican Geniuses: A Frida & Diego Immersive Experience start from £18. You can book them ahead of time, which you'll need to do, here. I'd give an hour and a half for the full visit, and pair it with a trip to a Mexican restaurant/bar in London!