Feature image: Pixy Liao, 'It's Never Been Easy To Carry You', 2017 (Wiki Commons)
One current trend taking over the art world is gender. Contemporary artists who look at gender are being platformed by galleries and museums, at art fairs and in auctions. New work – which deconstructs and reconsiders gender norms – is being shown, and being sold. In this blog post I share 7 contemporary artists who look at gender in their practice, and consider why their work matters so much right now.
Sex vs gender
The art world's interest in gender reflects a wider societal shift. Increasingly, we are challenging traditional gender identities. Consider the recent ad by Gillette promoting a new kind of masculinity. Or Always' 'Like a Girl' campaign: it cleverly called out the phrase "like a girl", which infers that the way women do things is inferior to the way men do them.
While sex is biological, gender—the roles, characteristics, and activities that distinguish men from women—are not innate but socially constructed. Behaviours thought to be feminine or masculine differ from one culture to another and across time periods. For example, the notion that a girl wears pink, and a boy should be dressed in blue is gendered behaviour defined by Western society.
Just like adverts, art can play a powerful role in questioning and breaking down the boundaries between the male-female divide.
And these artists do just that.
1. Paula Rego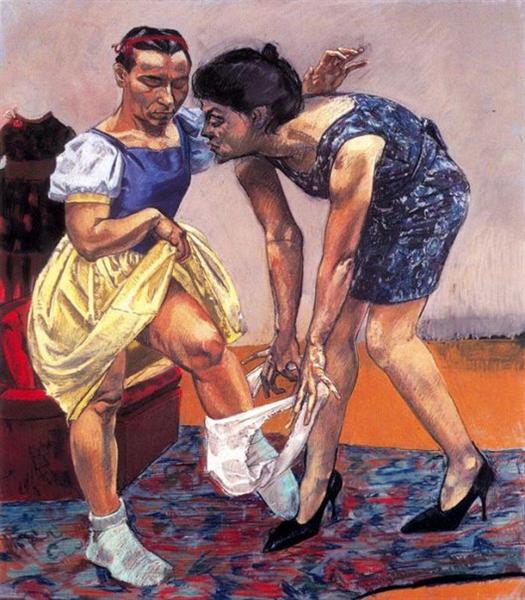 The themes of gender and femininity recur throughout Paula Rego's practice. The artist, who recently turned 84, has broached taboo topics from abortion rights to rape, in her work. She focuses on female experiences, and constructed myths around what it means to be a woman. In her 'Snow White' series she re-tells the Disneyfied version from a new point of view, in which Snow White is not the innocent princess we think her to be. She confronts the idea that women must be simplified into wicked older witch or pretty young princess. Hers are a grown-up sort of darker fairy tale, in which identities are far more complex.
2. Troy Michie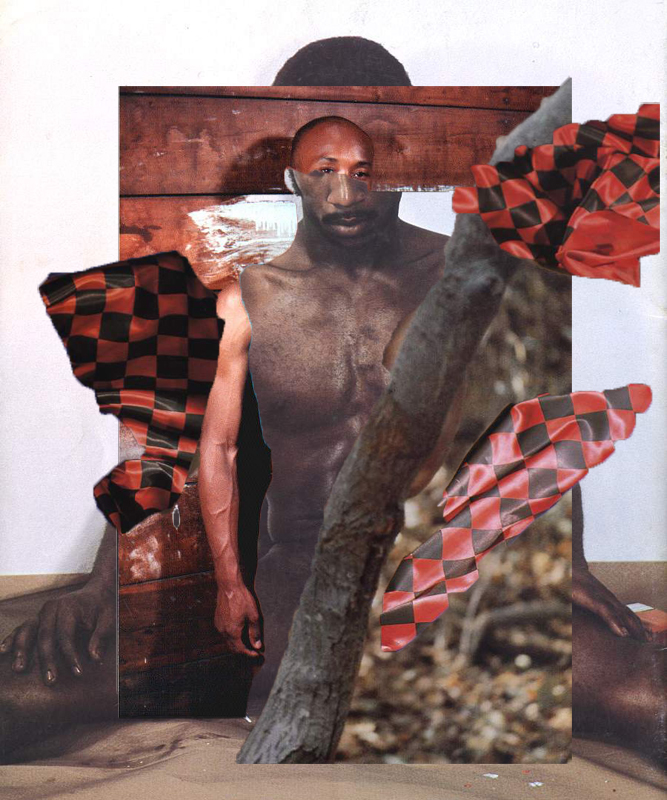 Troy Michie makes collage-based works, in which he deconstructs images from vintage gay porn magazines. He takes fetishised images of nude black and brown men, calling them out as romanticised and simplified. He turns his collages into a sort of hide-and-seek game for viewers. The parts of the model we want to see most are the parts the artist hides: he paints over and into them, and also uses lots of black tape. "Society tries to simplify gender and sexuality and collage is about breaking those frameworks apart. Because they're never really binary", Troy Michie explains.
3. David Hockney
David Hockney moved to LA in the mid-60s. There he began to make paintings of gay men, often in relationships, in swimming pools and showers. They were sensual, tender and personal, challenging heteronormativity and celebrating queer intimacy. The painting, 'Portrait of an Artist (Pool with Two Figures)', shows the artist with his partner at the time, Peter Schlesinger, standing at the edge of the pool looking down at a swimming figure, possibly Hockney. It was painted just five years after homosexuality was decriminalised in Hockney's native Britain. It's also the most expensive artwork by a living artist ever sold at auction.
4. Pixy Liao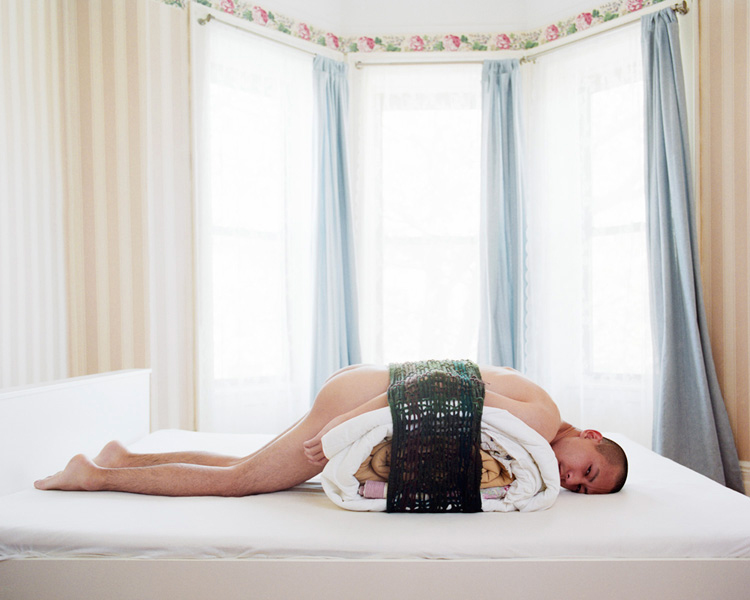 'Home-Made Sushi' belongs to Pixy Liao's 'Experimental Relationship' series of photographs. She features her Japanese boyfriend Moro (5 years younger than her). She has used this series to explore a relationship dynamic which contrasts to traditional one expected by Chinese heritage and upbringing. She assumes the dominant and authoritative role. She often strips Moro of all clothing and positions him to convey his diminished authority. In this work Moro is nude, laying passively on strategically folded bed sheets made to look like seaweed. He couldn't be more powerless, stretched across the frame, acting as a piece of raw fish to be consumed by the female photographer on the other side of the lens.
5. Jenny Saville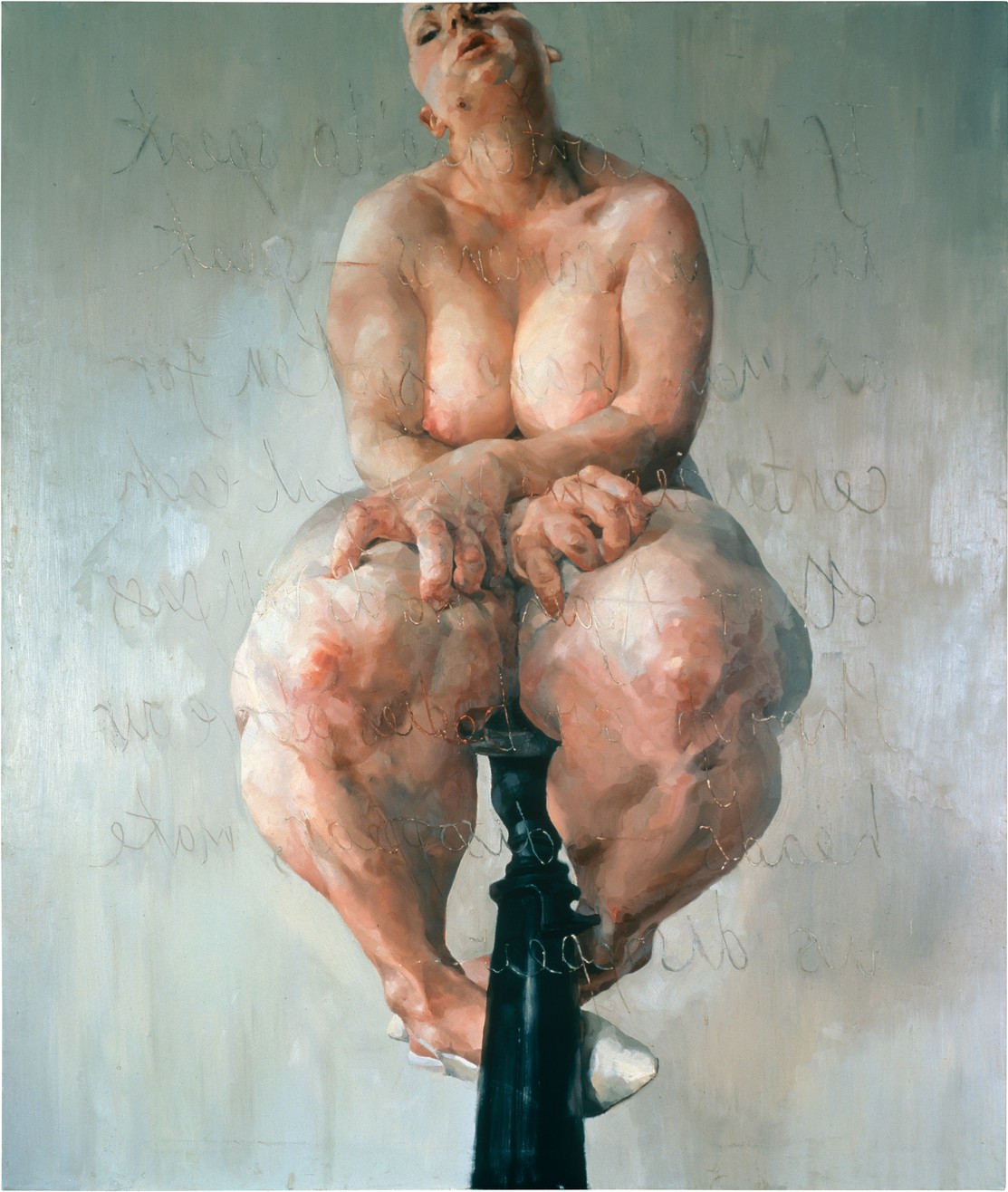 In her depictions of the human form, Jenny Saville paints bodies which challenge gender stereotypes. While she uses traditional oil paint, she subverts the practice of painting women as passive bodies to be looked at by men. Many of her subjects are obese women. Their bodies are posed in unflattering positions, with bellies bulging, and breasts hanging. Their skin is painted as blotchy, bruised, and pink. Her figures confront and challenge society's conventional ideas of beauty.
6. Grayson Perry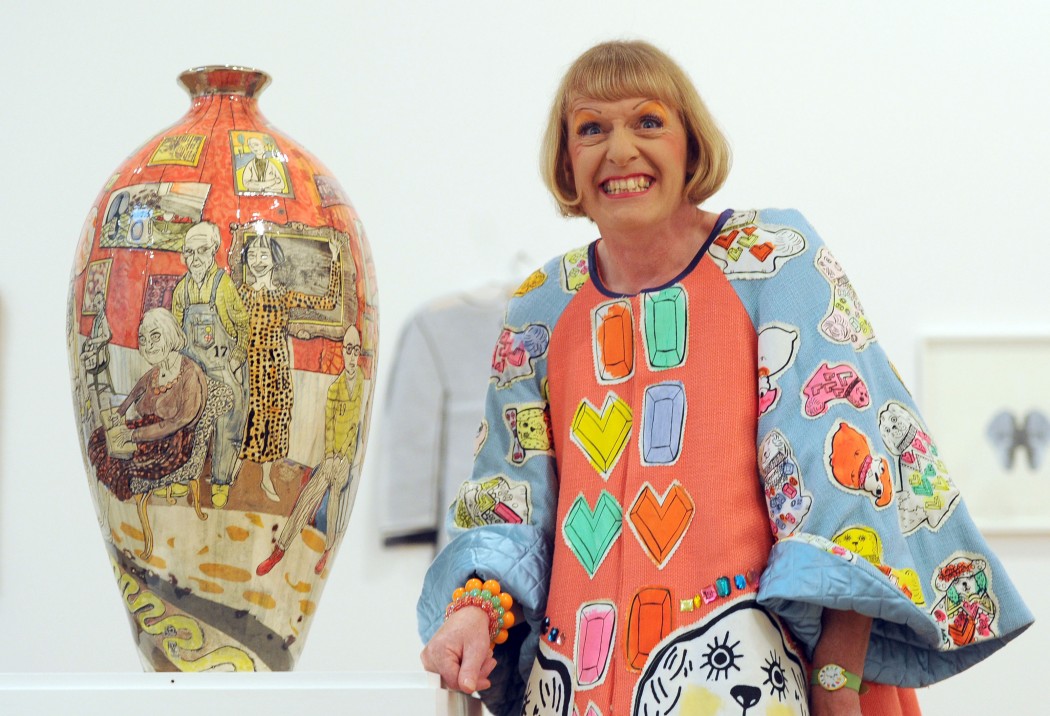 Many artists have used self-portraits that emphasise the fluidity of gender, refusing to adhere to statically masculine or feminine characteristics. Turner Prize winner Grayson Perry has taken this a step further. Fighting traditional male stereotypes (he recalls growing up amidst toxic masculinity and a violent stepfather), he has embraced a female alter-ego called Claire. Although "alter-ego" is a term he now dismisses. "It's just me in a dress," he says. In his work he creates hand-stitched quilts, pottery and outrageous dress designs, all conventionally considered more feminine art forms.
"Gender is great and I'm happy for anybody to celebrate wherever they are on the gender spectrum. It's got amazingly much easier in my lifetime" – Grayson Perry.
7. Juliana Huxtable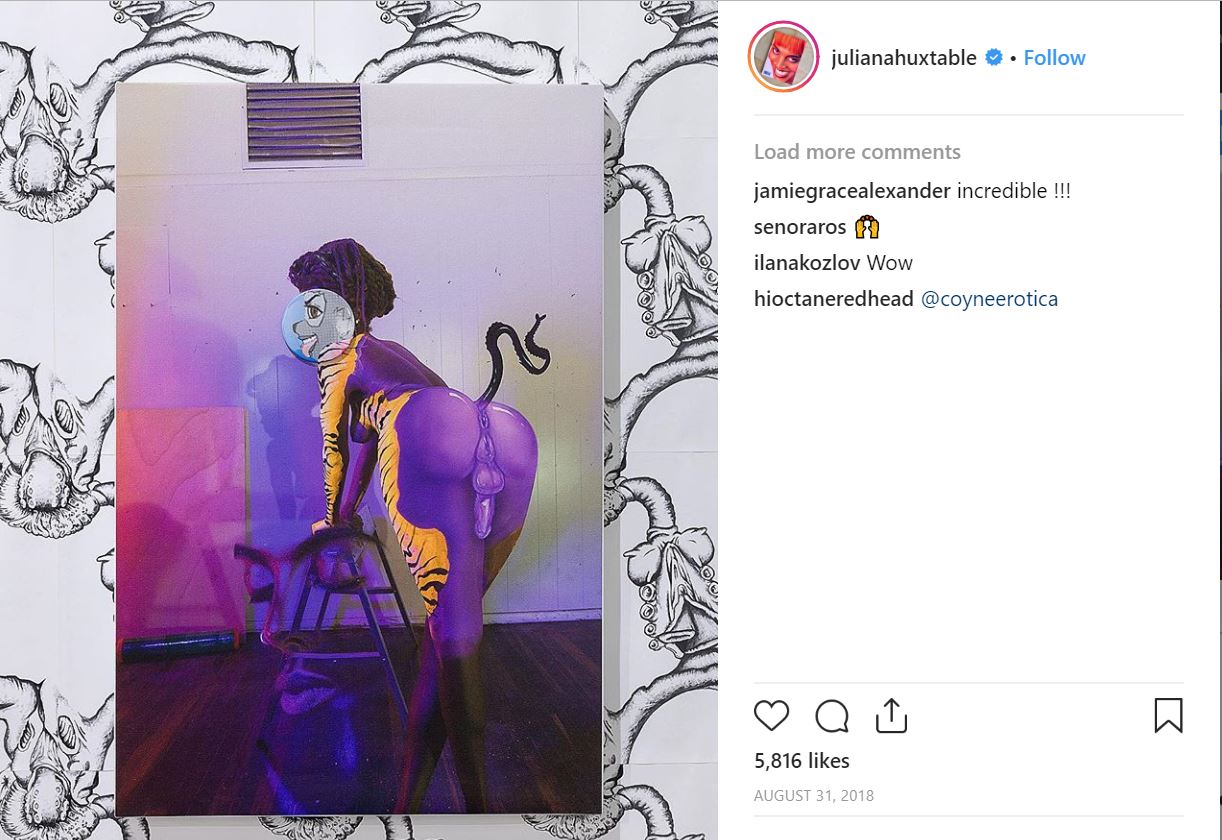 Juliana Huxtable explores the intersections of race, gender, queerness, and identity. She uses a diverse set of means to engage these issues, including self-portraiture, text-based prints, performance, nightlife, music, writing, and social media. She critiques existing social norms and categorical distinctions while indicating alternate, and more hopeful possibilities. In much of her visual work, Huxtable references her own body to examine socio-political issues. She also reflects on her own experience of gender transitioning as well as the cultural forces that inform normative conceptions of gender and sexuality.
Each of these 7 artists who look at gender show that art can have the power to make us question the male-female divide. They confront gender norms and binary narratives, presenting alternate realities.
Ruth x