It's beginning to look a lot like Christmas, particularly at Birmingham Hippodrome. Since moving to the city 5 years ago, Birmingham Royal Ballet's 'The Nutcracker' has become an important tradition in my festive calendar. I was especially excited to see it again this wintery weekend, as I'd been told this year a unique and contemporary adaptation would be taking to the stage. But, with joy in the familiar, would it still keep all of the magic of the Christmas classic?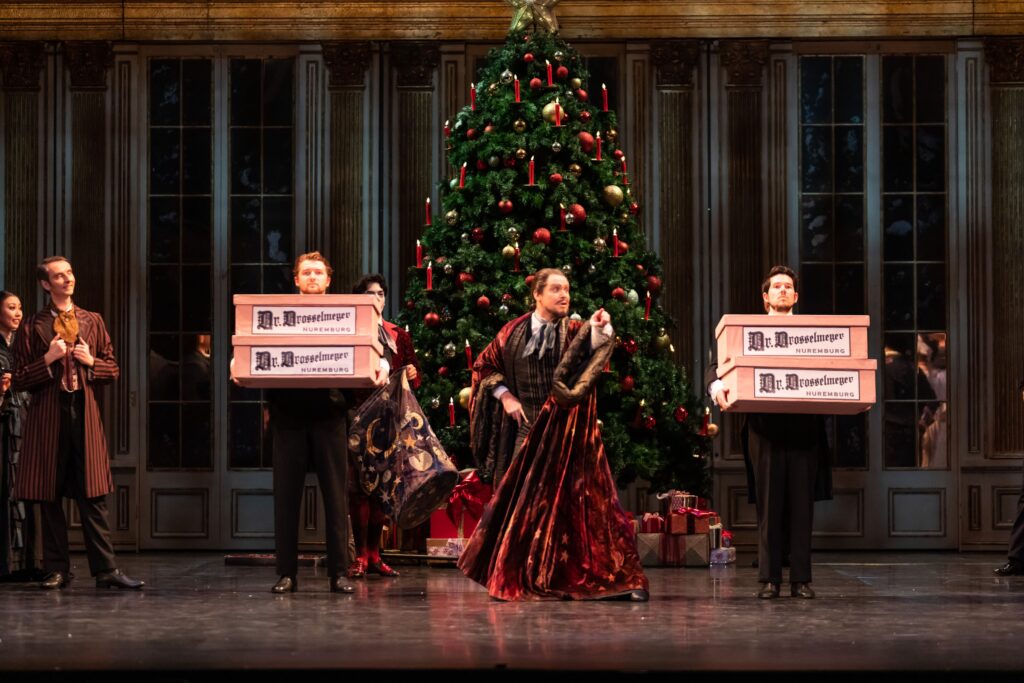 The show opens with an evocative, wintry soundscape. In a surprising twist, the 60-strong Royal Ballet Sinfonia orchestra have been given pride of place, brought out from the pit and onto a platform raised high above the stage. It's a fitting tribute to the musicians who were silenced, and denied the opportunity to perform, throughout much of the pandemic. It's clear from the start that is going to be far from a stuffy ballet, keeping tricks of the trade secret; instead, it's showing us just how the magic of ballet is created. Tchaikovsky's soaring, emotive score carries the story.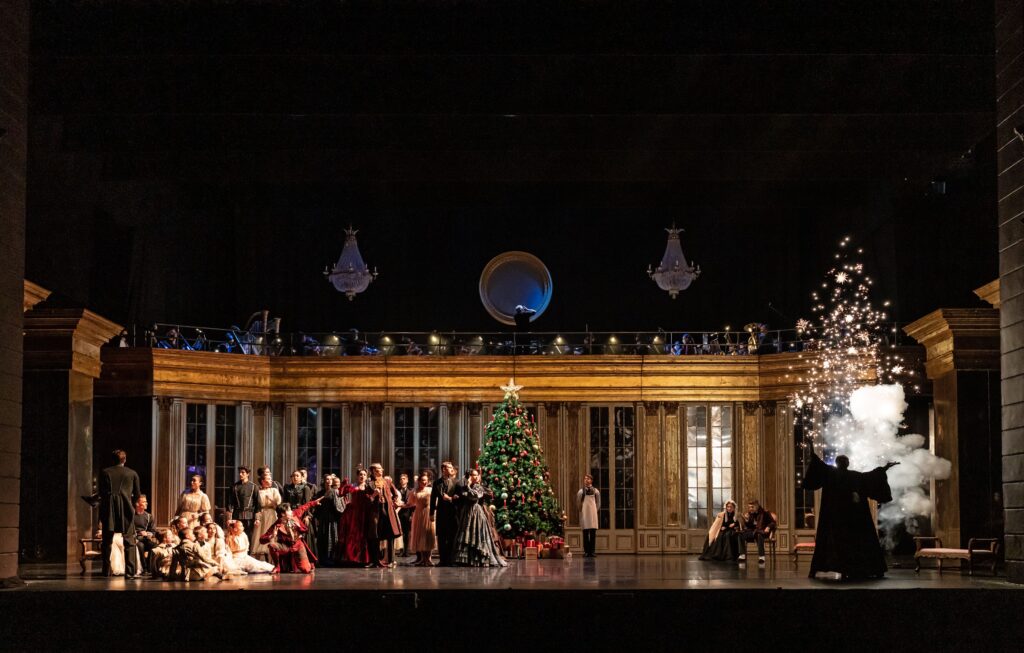 This production also gives voice to magician-styled toymaker, Drosselmeyer. The Dickensian tones of Simon Callow echo across the auditorium as he introduces the enchanting tale, with his beautiful wooden toyshop positioned centre-stage. I love the emphasis on his creativity as a joyful and powerful gift, which he shares. Inside carefully wrapped boxes are presents for each of the children present. And it is from him that Clara (Karla Doorbar), of course, receives the enchanted Nutcracker doll who soon turns into a fittingly handsome prince (Gus Payne).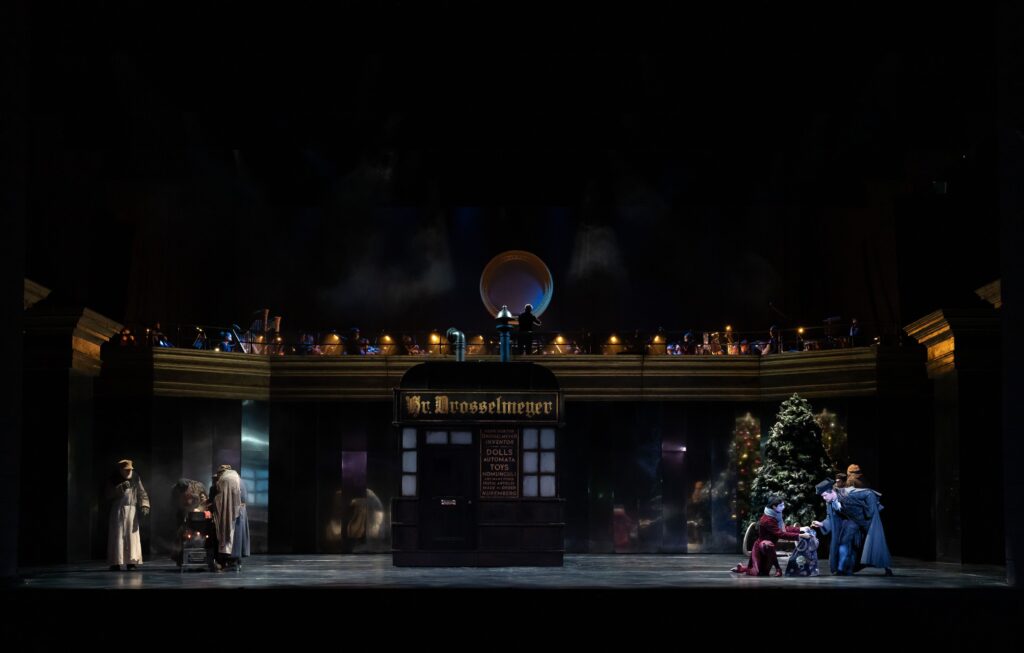 It had never struck me, quite so much before, that this is a tale about love. Within the Stahlbaums' home, before the beautifully decorated Christmas tree, families come together (and I must make special mention of the children dancers who are endearing as they crowd the toymaker and hold hands as they dance around the tree). With no need for social distancing between the dancers, this is a touching celebration of human closeness and our need for it.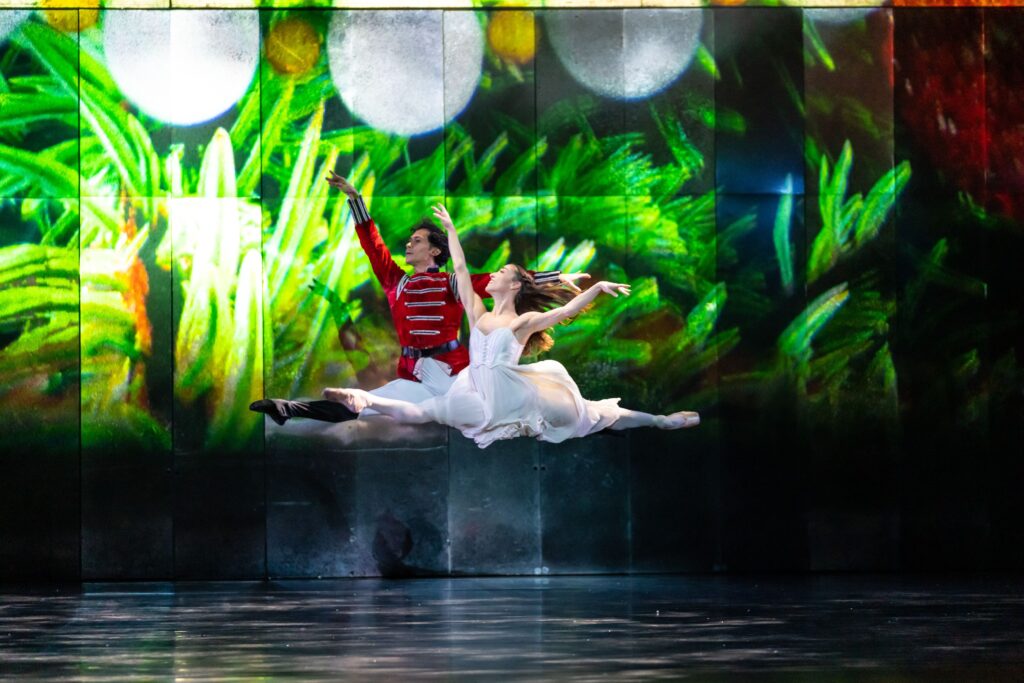 Then, as night falls, Clara dances with her handsome prince, in a poignant coming-of-age piece before saving him for the dark forces of the dangerous, duelling King Rat (Valentin Olovyannikov). From the scary world, Clara continues on her Christmas journey through a fantastical winter wonderland of dancing snowflakes to the romantic kingdom of the Sugar Plum Fairy (Beatrice Parma).
Birmingham Royal Ballet's company of world-class dancers are truly superb, demonstrating an exquisite grace and elegance which is spellbinding. Their dancing is only enhanced by atmospheric staging and stunning lighting; Set Designer Dick Bird's wall of mirrors, giant baubles and immersive projections create an magical Upside Down World for the cast. The audience are included in his spell too: colourful projections are cast onto columns, turning them into silver trees from which snow falls.
This is a monumental production of The Nutcracker, which has created a mesmerising, spectacular and modern dream world for all the family. It was an absolute joy to see it on stage at the Hippodrome again; this year it felt more touching than ever, taking the entire audience on a journey which celebrates creativity, Christmas and love.
You can see 'The Nutcracker' which runs at Birmingham Hippodrome until 11th Dec, 2021.