Conroy Maddox, is one of the most important figures in the history of British Surrealism, and the key founder of the Birmingham Surrealists. Coming across Surrealism by chance (which seems fitting for a movement which celebrated the illogical), he became a self-taught artist, producing paintings, collages, object-based installations and photographs which explored the surreal. He is also known for hosting wild parties from his home in Balsall Heath!
Surrealism
In contrast to Impressionism or Cubism, Surrealism was never a defined style. Instead, it was a way of thinking that found expressionism in painting, literature, photography, film, architecture and fashion. The Surrealists sought to go beyond the world of 'visible reality', investigating dreams and the unconscious, the irrational and the absurd, chance and the fantastical.
Birmingham bound
Conroy Madddox moved to Birmingham, aged 21, in 1933. He would regularly visit Birmingham City Art Gallery as well as the city's large public library, where a few years later he first came upon Surrealism, by chance.
In 1935, whilst reading books from the library's art section, Maddox became aware of modernism, including Surrealism. He describes this moment as 'a turning point, one of those doors that suddenly swings open to reveal a totally new direction', and abandoned traditional, realist paintings for Surrealism.
Writing to the Birmingham Post about his endeavours, he was soon joined by the avant-garde painter John Melville, who was already experimenting with Surrealism, and his brother Robert, an aspiring writer who later became an art critic of the New Statesman. Together, they introduced Maddox to a specialist bookshop in London, where he acquired books on Max Ernst and recent issues of the French magazines Minotaure and Cahiers d'Art.
And so, the Birmingham Surrealist group was born, and soon grew with fellow members Emmy Bridgewater, Oscar Mellor and Desmond Morris.
Birmingham v London
During the 1930s Maddox travelled to Paris, the birth place of Surrealism. It was here that he came to know the artists and poets of the Surrealist group, including Max Ernst, who had a strong influence on him, and Man Ray. Maddox dedicated himself to the original, radical intentions of the Surrealist movement, finding the British version of Surrealism, based in London, as inauthentic and confused.
To this end, Maddox refused to take part in the 1936 International Surrealist Exhibition in London. He criticised it for including artists whom he thought were neither committed to, nor informed about, the movement: Henry Moore, Roland Penrose, Eileen Agar, Paul Nash and Herbert Read.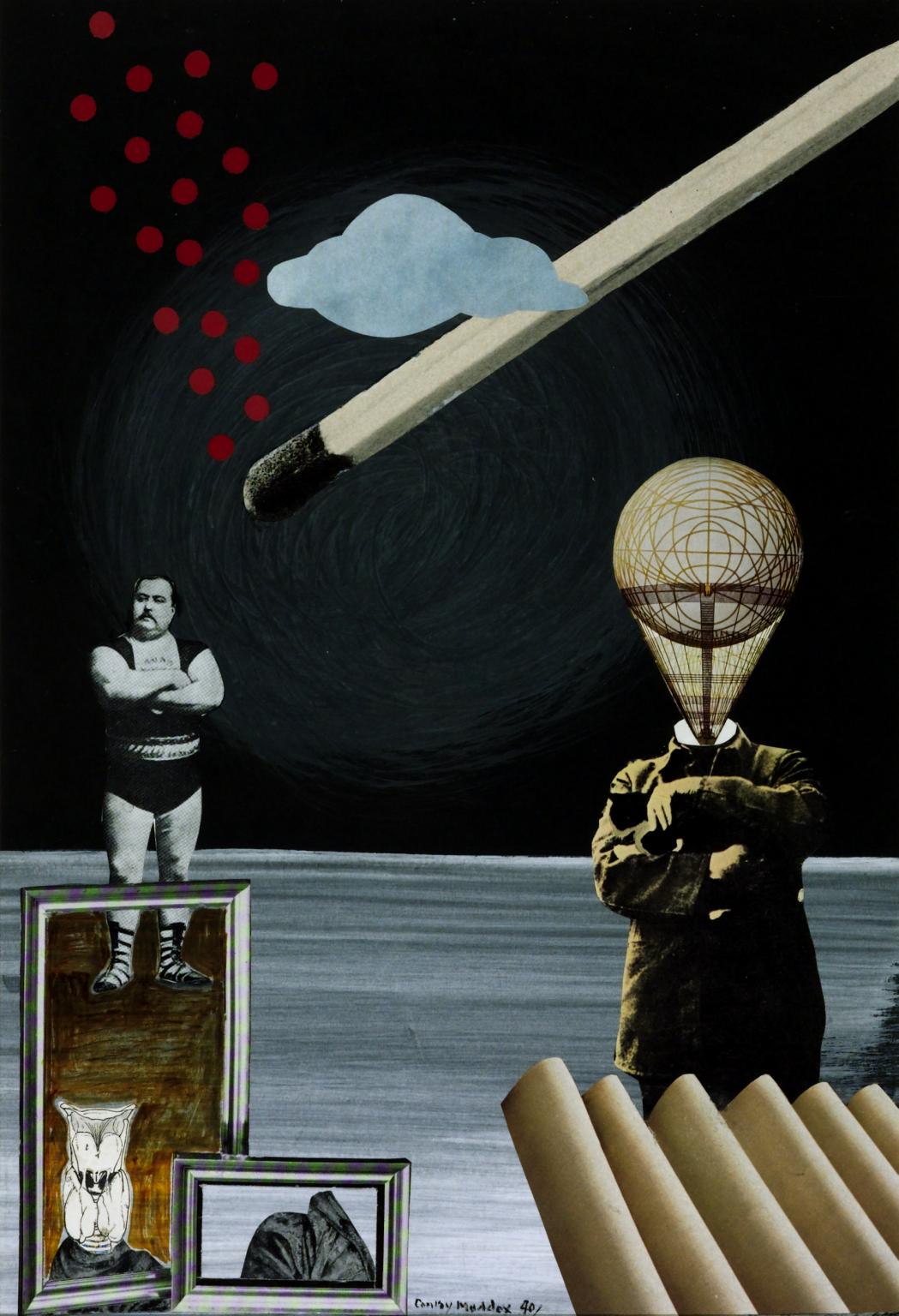 Mind over matter
Maddox's collage 'The Strange Country' (1940) is characteristic of the artist's cinematic staging of surreal narratives, based on his dreams, thoughts and fears. It shows the huge impact that the paintings of Giorgio de Chirico, Salvador Dali and René Magritte had on his practice.
Like Magritte, he has re-imagined ordinary objects in an unusual, irrational context. Rendering commonplace things strange, in an uncanny scene, he has made the familiar disturbing, posing questions about the nature of representation and reality.
The strange assemblage of artefacts in Maddox's collages also shows the impact of Maddox senior. The artist's father was an obsessive collector of artefacts, many of which he bought from rural house sales, so their home was filled with strange ornaments and objects.
'This collage was almost the first of many I produced during the war, although only a few have survived. It does illustrate the beginning of one aspect of collage that interested me as a Surrealist. And which I continued to develop. The use of the double-focus image. The figure with folded arms has a balloon for his head. Although we recognise its function as a head at the same time one does not lose sight of the fact that it is also a balloon. This wrenching of an image out of its accepted context through association diverts the image from its initial meaning and forces one to speculate on its believability within a newly created reality' – Conroy Maddox.
Drawings by Maddox belong to Birmingham Museums Trust
'The Boy' (1941-42) is one of a set of ink drawings which Maddox produced for a book of prose poems by Stefan Schimanski of 1942. The drawing depicts a large, grotesque figure looming out of the ground. Its extended right arm divides in two to reveal a second figure that sits on a tree-stump looking dejected. Like many of the images in the publication, this drawing conveys an apocalyptic mood that echoes the unsettling period of war.
Challenging conventional notions of reality, it is filled with Freudian symbolism. The staircase, in particularly, echoes the work of Dali in which strange objects and figures appear in desolate, landscapes of the mind.
Below you can see several images of this work.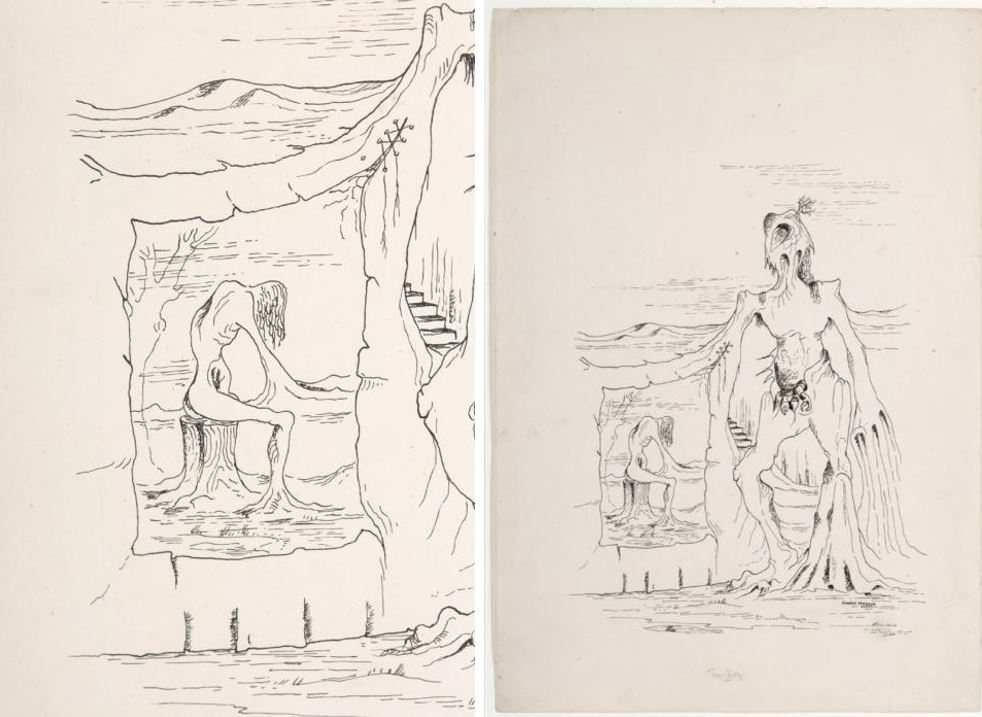 Unusual objects and Surrealist sculptures
Maddox openly admired the work of Man Ray, whose influence is apparent in Maddox's subversive 'Onanistic Typewriter' (1940), which is the image featured at the top of this blog post. This artwork is typical of Surrealist subterfuge: a ready-made typewriter is rendered useless by its keyboards being transformed into spikes.
WW2: saved by Birmingham
During the Second World War, Conroy Maddox escaped military duties through his "reserved" occupation as a draughtsman of aircraft and machine parts for a Birmingham design firm. Again, there is a similarity to Magritte, who began his career as a graphic artist, as well as Max Ernst, another graphic artist: all three were exceptional draughtsman.
Birmingham's sites of Surrealism
Maddox is also known, in the late 1940s and early 1950s, for hosting Surrealist parties from his home in Balsall Heath. At that time the area was Birmingham's largest red light district, worked by almost 500 women. The art critic Tim Hilton remembers: 'Festivities were common in Maddox's surrealist villa. I attended carousals there with other undisciplined children, women in Gypsy dress, poets, communist intellectuals from the University of Birmingham, and early postwar Caribbean immigrants'.
Nuns and Maddox
Much of Maddox's work was inspired by his antagonism towards religion. The Balsall Heath house contained dozens of unsold paintings and many photographs of Maddox in the company of a nun. Some of their activities involved a crucifixion, the naked but bespectacled Maddox its victim, while the nun drank from a two-pint bottle of the local brew, Mitchell's and Butler's. Maddox wished to enact his scenarios with nuns in Birmingham shop windows, but these projects were banned by the city council!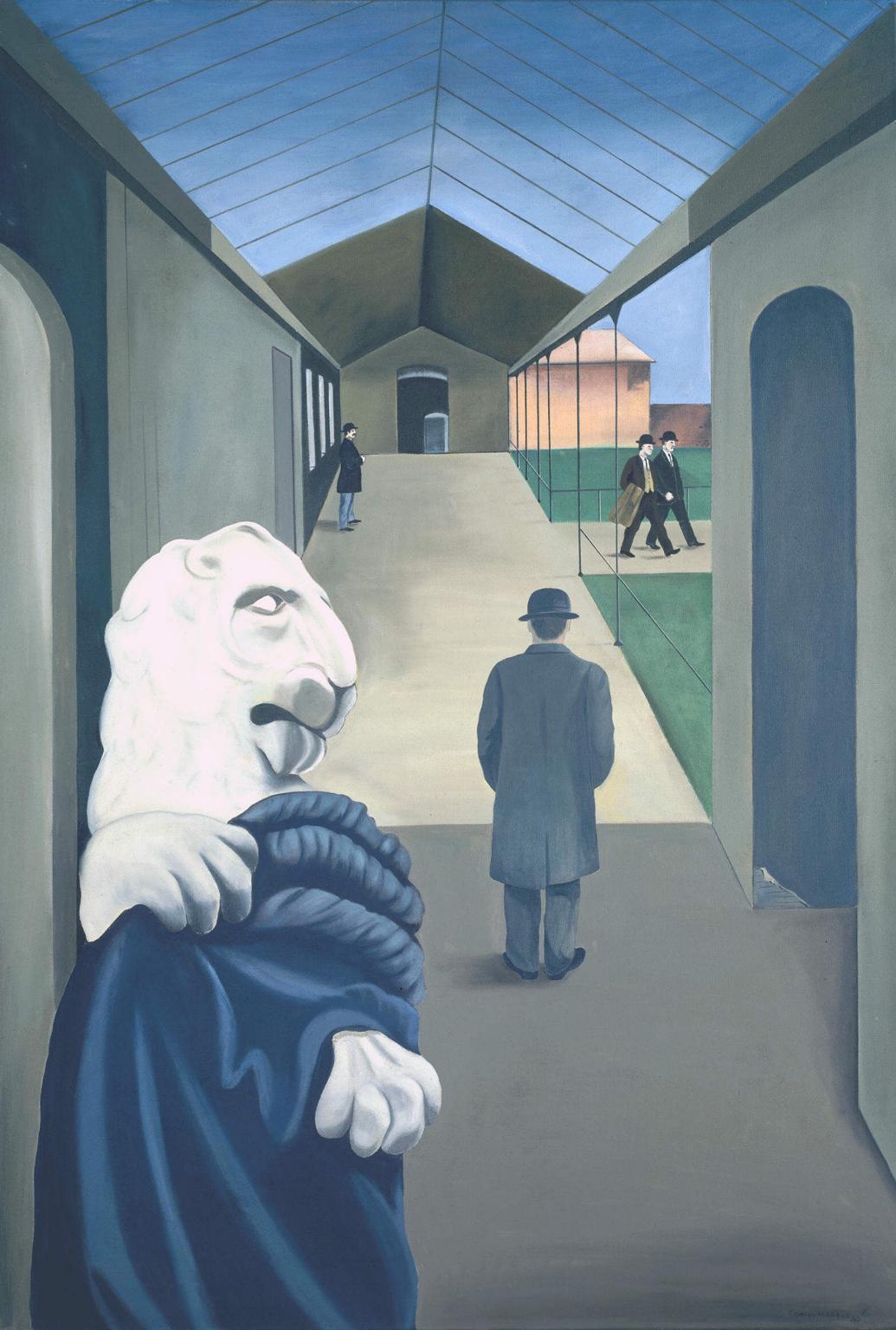 A bohemian, Birmingham Surrealist to the end
Throughout his career Maddox remained true to the original, radical aims of Surrealism. The influence of Parisian-based artists such as Ernst, Magritte and Dali, is clear in late canvases from the 1970s, depicting lions, tigers or other exotic creatures on the loose in arcades or deserted city squares.
The above painting, 'Passage de l'Opéra' was inspired by an arcade in Paris which had been the subject of a long essay by the Surrealist writer Louis Aragon. Maddox wrote, 'Aragon points out that his wanderings around the Passage de l'Opéra were without purpose, yet he waited for something to happen, something strange or abnormal, so as to permit him a glimpse of a new order of things. Such experiences … were conducive to Surrealism's attraction to the marvellous.'
At the same time, his more spontaneous collage and works on paper became the playground for plastic and psychological experiment. The "frottage", "fumage"' and "decalcomania" techniques of Max Ernst, Oscar Dominguez and Wolfgang Paalen were extended into Maddox's own pseudo-textural "invention", a water-based blotting technique he called "écrémage".
Maddox was both inventive and prolific, meaning that he made a successful career from his art. It is estimated that he produced more than 2,000 paintings throughout his life. While he eventually joined British Surrealism, moving to London in the 1960s when slum clearance and town planning ended the Balsall Heath bohemia, his convictions were always separate to the London-based artists.
With many thanks to Dr Stephen Forcer for sharing his research into the Birmingham Surrealists, as much of this content has been created based on his writing and work on the topic. Stephen is Head of the Department of Modern Languages at the University of Birmingham and you can find him on Twitter @DrStephenForcer